Brooklyn-based French painter and printmaker Amelie Mancini has discovered a new canvas: napkins and tea towels that she patterns with her own hand-carved linocuts. Amelie grew up in Lyon in a family of "painters, musicians, actors, and psychiatrists" and has a master's degree in fine art and design from the Sorbonne. ("Sounds way fancier than it really is," she says.) Of her new company, she tells us: "I was looking for ways to join art and everyday objects. I love linocuts and have been printing on paper for years, so all I had to do was figure out the technical aspects of printing on fabric." Actually, that's not all she has mastered. Her Ridgewood, Queens, studio is where everything gets designed, printed, stitched, and shipped.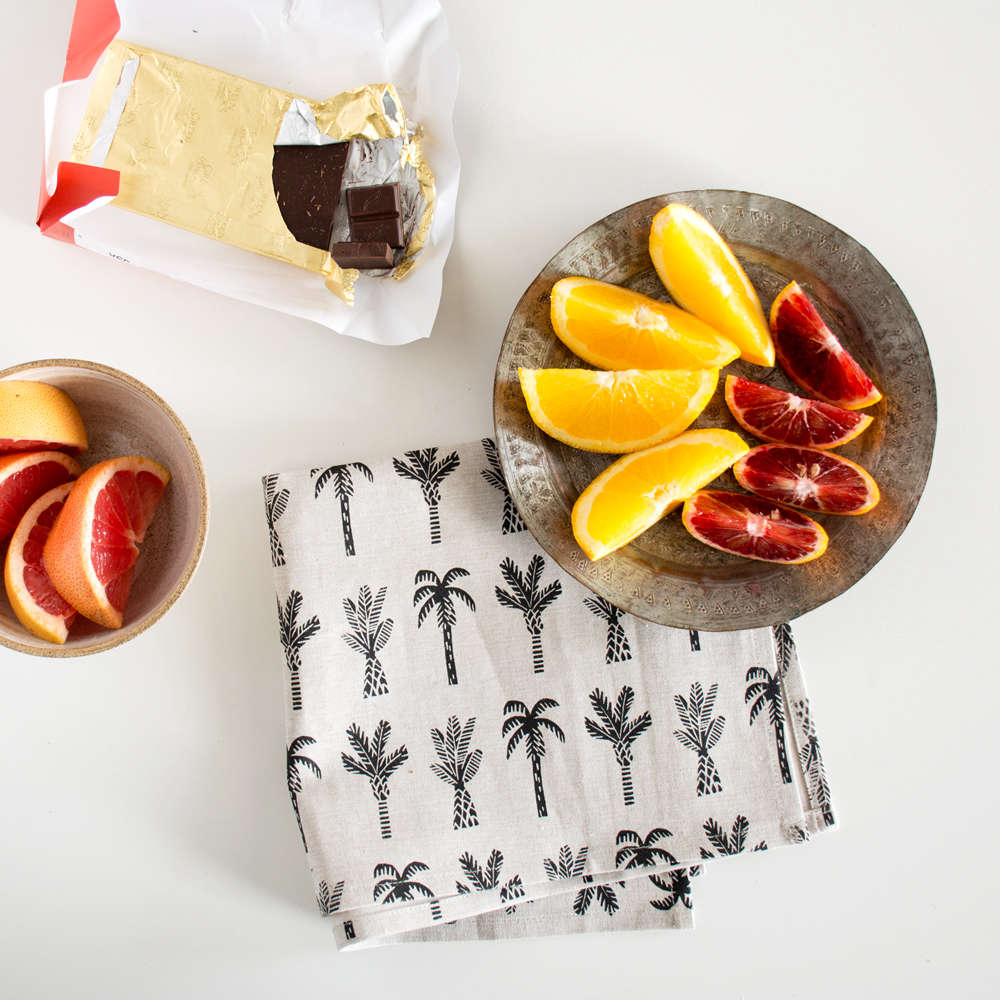 Above: Amelie's napkins and tea towels are made of what she describes as "a very nice, very absorbent blend of linen and cotton" in natural oatmeal. They come in six patterns (each in two color options); Palm is shown here in black; $30 for a set of two.
Above: The Mountain Tea Towel; $24. Amelie says her sources of inspiration range from Sonia Delaunay's textiles to ancient Mesopotamian, Greek, and Roman art.
Above: The Miami Tea Towel; $24. Amelie uses nontoxic, water-based inks that are wash-fast.
Above: The Fern linocut in progress. Amelie begins by drawing a pattern and carving it onto a block of linoleum. She then prints proofs and scans them to create a repeating pattern, which she burns onto a screen. She prints, cuts, and sews all her fabrics in her studio. "I also do some woodworking and fabric dying, as well as the less glamorous side of running a business, like invoicing and accounting." A one-woman operation for nearly a decade, she now has some assistants.
Above: The Ferns Napkin in black; $30 for a set of two.
Above: Sample patterns and dye colors.
Above: Amelie's Greenpoint, Brooklyn, apartment.
Above:  The studio. To see more, go to Amelie Mancini and also browse her Etsy shop.
Take a look at what some of Amelie's kindred-spirit neighbors are up to:
N.B.: This post is an update; the original story ran November 7, 2014, as part of our Holiday Prep issue.
You need to login or register to view and manage your bookmarks.