Althaus, a recently opened restaurant off a bustling walking street in the centrer of Gdynia, Poland, offers traditional Bavarian cuisine served in an unexpected setting–an inviting mix of rustic Southern German and modern chic with a lot of wood paneling. The space, designed by Hanna Bialic and Jakub Piórkowski of PB/Studio in nearby Gdansk, in collaboration with Filip Kozarski, extends over two stories, and shifts atmospherically: some rooms feature cowhide-covered seating and outsized gingham tablecloths, others
 green velvet and custom copper lighting. It all adds up to the most stylish Bavarian restaurant we've come across. 
Photography by Tomirri via PB/Studio.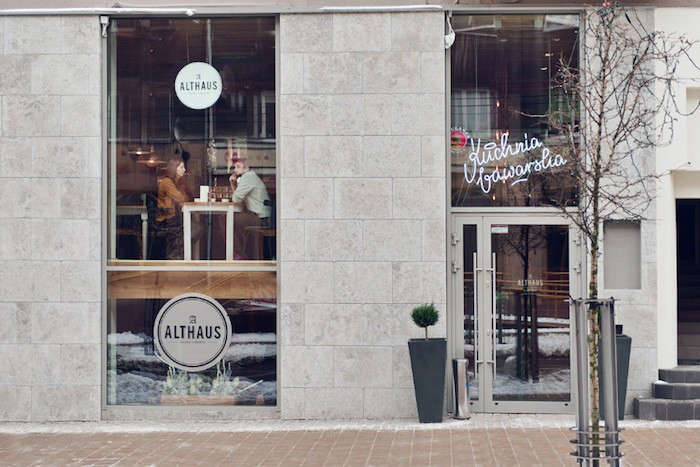 Above: Althaus has a modern facade with long windows that provide diners with an elevated view of street life.
Above: The designers embraced Bavarian woodcrafting traditions and tweaked them, creating a warm, entirely wood-paneled, two-toned entry. The floor is covered with handmade Moroccan-style concrete tiles by Purpura.
Above: The combination of old and new continues in the ground floor dining room where, under a wood-paneled ceiling, built-in-banquettes are paired with chairs upholstered in cowhide.The simple farm tables were custom-made for the space. 
Above: Lit by industrial pendant lights, the settings, with their outsized checks and clean white enamelware, present a fresh take on Bavarian folk style.
Above: Against contemporary bleached-wood paneling, a grandmotherly sideboard displays Bavarian beer steins and dishes.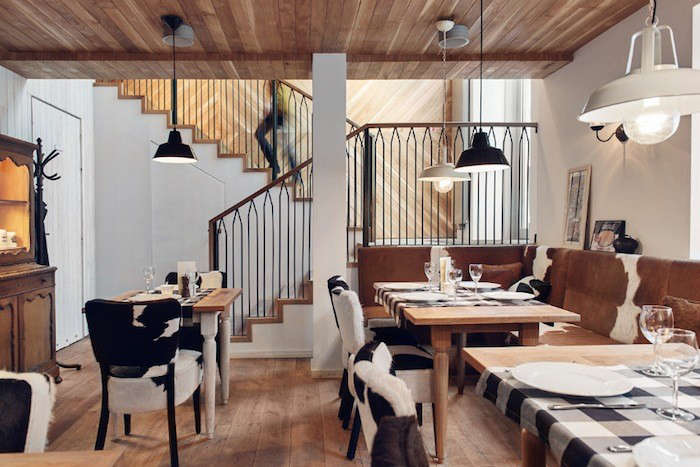 Above: The ambiance shifts as you make your way to the top level, from farm-styled dining area to fancy bar.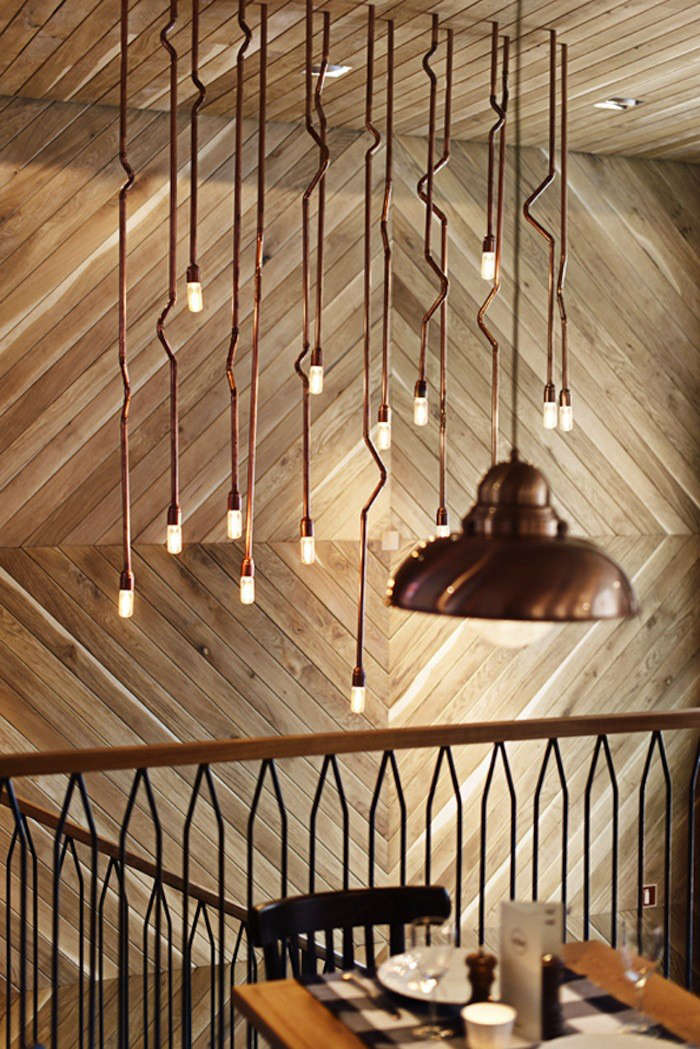 Above: Custom-made brass lighting hangs over the stair prompting the tone shift between the first and second floors. The pipe-like lights were created by the design team.
Above: On the upper floor, the bar and buffet areas are painted a bottle green, referencing traditional Bavarian style. Green velvet banquette seating follows along the wood-paneled wall adding a glamorous touch. The black chairs, 
Fotel 24
, are made by Polish company 
Ton
. 
Above: Oak flooring, paneling, and tabletops tie together the white brick space. Industrial lights are here mixed in with luxurious brass pendants.
Above: Open wooden shelving displays German wine and books. Wood paneling is offset by a wall tiled with faceted white subway-stye tiles from Art De Vivre. 
Above L: A custom wall-mounted brass lamp. Above R: A wood-framed round mirror against a wood-paneled wall.
Above L: The dining room's white brick tiles by Polish company Art De Vivre and wood accents carry over to the women's bathroom, which has
 octagonal floor tiles by
Dunin
. Above R: The men's room presents glossy 
black tiles
 from Dunin paired with a wooden vanity and a black-and-white checkerboard floor.
Above: Even the waiters are dressed in neo-Bavarian folk style. For more details, visit Althaus.
Headed to Eastern Europe any time soon? Don't miss these two restaurants in Bucharest: Romania Rustic Meets Nordic Modern and In Bucharest, Doors as Decor. On Gardenista, see The Dark  Mirror: A Reflecting Pool in Eastern Europe.