Is the laptop case the new briefcase? It's starting to seem that way, at least in certain (high tech) circles. We've noticed a proliferation of sleek, stylish storage (and toting) options for your laptop, whether you're a Mac maven or a PC loyalist. Here are five great options for toting your laptop in style.
Above: The 15-Inch Laptop Sleeve is made from thick felted gray wool with leather fasterners from Byrd and Belle: $74 on Etsy.
Above: Kenton Sorenson Laptop Portfolio fits a 15-inch laptop and is handmade in Wisconsin from vegetable-tanned leather; $225 from Context.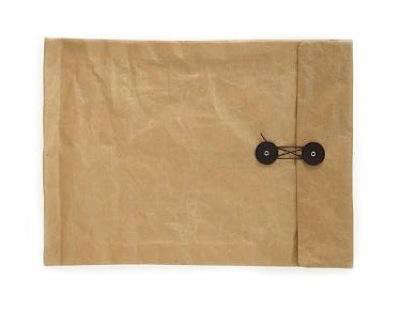 Above: The Siwa Envelope Case is designed by leading Japanese industrial designer Naoto Fukasawa in collaboration with washi paper maker Onao. The result is a smooth, highly durable, tear-and water-resistant product that measures 14 by 10 inches; $46.99 from @WorkDesign
Above: Gray Felt Sleeve from commeca fits a 15-inch laptop and is made from 100 percent merino wool felt: $62 on Etsy.
Above: For those looking for something more substantial, the Kansai Computer Portfolio is made from 100 percent leather and features interior pockets and compartments. Fits laptops up to 14 inches; $450 from WANT Les Essentials de la Vie.
We all have Mac laptops at Remodelista but can't agree on the best case. Which one do you like best? Or do you have a favorite to nominate?