Kristin Barone is an inveterate world traveler: Paris, London, Los Angeles, Kampala. So much so that her apartment in New York's Gramercy Park has become a sort of depository (only in the nicest sense) for the souvenirs she brings home.
Barone, an LA native (it's where she learned to surf), worked as international fashion director at WWD in New York and Europe (where she continues to travel as a creative consultant). Her most important travels, however, have been to Africa, in her role as a volunteer for The Global Support Mission, an NGO which delivers aid in the form of education, food, and medicine to the children and families of Uganda and Kenya. "I've been going to Africa for five years now," Barone says. "I always think I am going over to help, but in the end I am the one who benefits."
For more information, see The Global Support Mission and its subsidiary organizations, Know.Think.Act. and Red Earth Trading Company.
Photography by Michael Mundy /An Afternoon With.
Above: Barone in her brownstone apartment, with one of her favorite images, Helmut Newton's 1974 iconic photograph of a reclining Charlotte Rampling in the nude. Barone quotes Sophia Coppola, "She's (Rampling) so striking and cool, and you can tell she's smart. Who doesn't want to be that?"
Above: Barone's surf board was custom made to match her apartment. "I knew I couldn't hide it away," she says. The hat on the left is from Big Sur, while the Panama hat is from one of Barone's many trips to Rio (she once contemplated moving there).
Above: "I love the juxtaposition of metal and wood," Barone says about dining table and her Tolix chairs.
Above: A convergence of Barone's life from a blanket from the Masai Mara Tribe (L) to her gray and white surf board (R). "Every trip to Uganda, I bring military surplus bags," Barone says. "British Airways allows three duffel bags free of charge for donations to third world countries—so the military surplus bags are the donation bags I buy, fill, and then leave there every trip."
Above: To hide the small kitchen, Barone hung West Elm curtains from a curtain rod she created out of plumbing piping from Home Depot, which cost her $14. "It actually cost me more to get it home in the cab," she says.
Above: Barone's one-bedroom apartment means that lots of things take place in the main room—piano playing, TV watching, dining, lounging.
Above: Barone creates Maison Martin Margiela-inspired vignettes around her apartment by painting everything white. An ornate framed mirror painted white sits above her collection of vintage medicine bottles.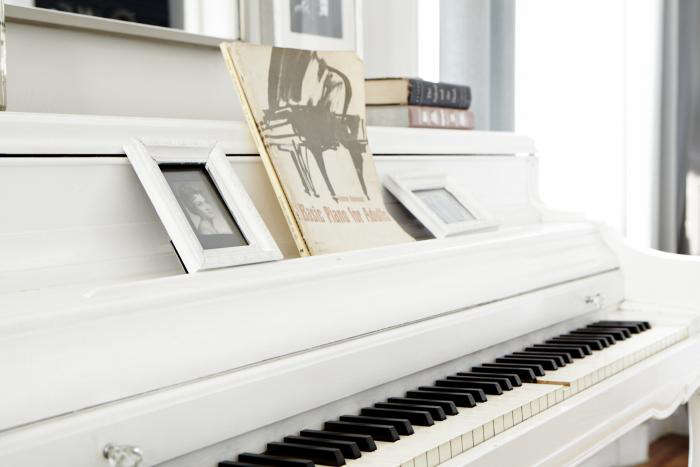 Above: Barone purchased her piano for $200 from a flea market in downtown LA and painted it white. "I played when I was younger," Barone says. "Going to Africa inspires me to practice as the children love to sing."
Above: "Since faith and spirituality are very important to me, I collect a cross from every country I visit," Barone says.
Above: Pale gray curtains from West Elm add a note of hushed color to Barone's Maison Martin Margiela-inspired interiors.
Above: The black and white geometric patterns on the pots from Uganda are paired with a black and white photo.
Above: Black and white photos and artwork from every place Barone visits sit above a black leather Chesterfield sofa. "I love traveling through countries on a motorcycle," she says. "This is how you really get the smell of a country."
Above: "My small bedroom was a designer challenge," Barone says. "I decided to overscale everything from bed to dresser."
Above: Barone's most recent souvenirs from a recent trip to Iceland, include the green Jielde lamp on her bedside table and a cross, of course.
If you enjoyed Barone's interpretation of Maison Martin Margiela, see 152 back posts where we feature either the designer himself or others who are inspired by him.
You need to login or register to view and manage your bookmarks.