Decorator Natasha Esch's curatorial eye brings a theatrical glamor to her recently opened design store Monc XIII in the seaside town of Sag Harbor. No surprise, really, when you learn that the former director of Wilhelmina Models Worldwide lived in LA for twelve years before moving to the Hamptons two years ago.
Esch and her husband, web entrepreneur Matthew Coffin, have spent the last two years painstakingly renovating a historic 19th-century storefront building. The resulting mix of rustic wood with metal creates a fitting backdrop for her particular design vision of European midcentury mixed with luxury home accessories; we call it Bi-Coastal Luxe.
Photographs via Monc XIII.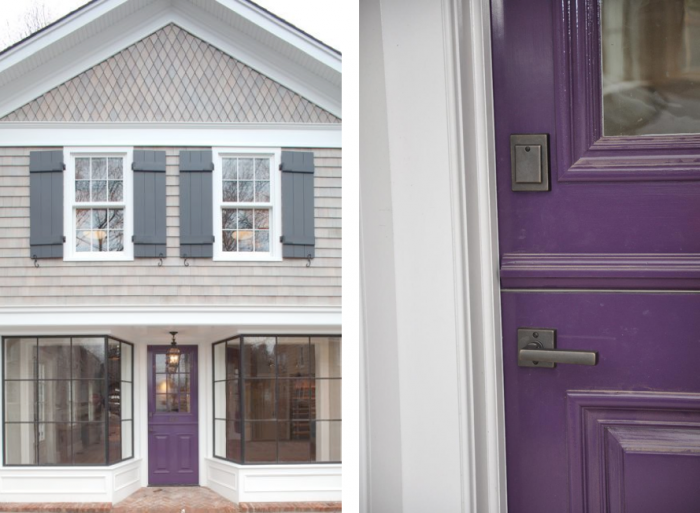 Above: A purple door adds a colorful accent to the quiet shingle-fronted storefront.
Above: Italian midcentury chairs surround a simple wood dining table.
Above: Esch and Coffin created a dramatic double-height space within the 19th-century historic storefront using rustic posts and beams salvaged from an old southern barn. Recycled-oak floor boards add warmth to the space.
Above: An Italian Midcentury Sofa with Vintage Flame Stitch Upholstery sits in front of custom designed, reclaimed oak cabinets, inspired by French midcentury design.
Above: LA-style glamor comes to Sag Harbor in the form of Zebra-Upholstered Chairs and a Chartreuse Chesterfield.
Above: A leather-wrapped Colman cooler is an example of the Esch's coastal luxe home accessories offerings.
Above: A leather-covered bicycle; how deluxe.
Above: Esch displays an array of French linens and mixed textiles.
Above: Monc XIII's garden speaks of the New England shoreline.
N.B. Looking for more midcentury inspiration. See 120 images of Midcentury Style in our Gallery of rooms and spaces.
You need to login or register to view and manage your bookmarks.