Here at Remodelista we're always trying to find ways to keep daily clutter (think mail, magazines, cords, etc) out of sight. Good-looking storage is hard to come by, so we went on a hunt and came away with this collection of leather baskets too pretty to hide.
Above: Weaver Caitlin Emeritz collaborated with Etsy seller Leather by Mike to design a series of Natural Leather Woven Baskets; the original design was available through Metrode, Caitlin's shop and blog, but similar styles can be custom made by Leather By Mike.
Above: The Natural Leather Tote is made in California by Emilie Douglas Ball from top grain leather. It has an integrated leather handle and doesn't require any hardware. The tote measures 16 inches wide, 11.5 inches deep, and 10 inches tall; $180 via Gildem's online shop; inquire about availability.
Above: A collaboration between artist Alissia Melka-Teichroew and Mimot Studio, the Leather Strap Large Basket is made in LA. It's made from leather straps, copper-plated rivets, cross-stitched rubber coated metal wires in yellow (that hide the leather end points), and is hand finished; $252.50 from Melka-Teichroew's online store, AMT.
Above: The Large Storage Basket is made in Sweden from full-grain, vegetable-tanned cow hide. The basket comes in one piece with interlocking sides, no hardware, and ships flat packed. It's 6.7 inches wide and 3.3 inches tall; $92 from Skandinavious via Etsy. Skandinavious owner Louise Vilma also offer other leather and felt home goods.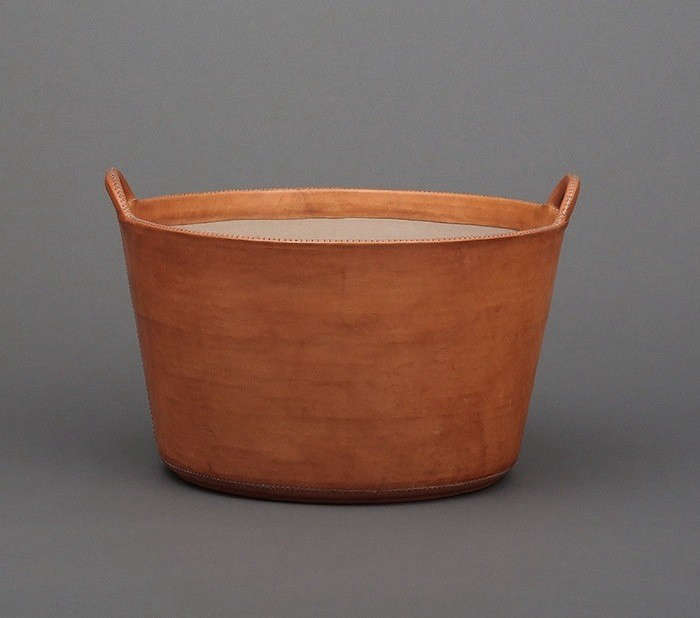 Above: The Natural Large Leather Basket by Sol Y Luna is made in Spain from vachetta (saddle) leather, a high-quality leather that only gets better with age; $420 via Monc XII.
Want to weave your own basket from wood (or leather) straps? Check out the DIY video: How to Weave an Elegant Basket for the Holidays. Have a look at our favorite storage and organizing finds, including 5 Favorites: Baskets as Wall-Mounted Storage.
You need to login or register to view and manage your bookmarks.