Last year, LA-based Garrett Colton, owner of g.Colton, asked me if I had any recommendations for an upcoming trip to Uruguay (the trip in question turned out to be his honeymoon). I suggested a few places, but when it was obvious Garrett already had the place wired, I asked him to take copious notes and report back. Here are his travel notes:
Photography by Garrett Colton, except where noted.
Remodelista: First stop?
Garrett Colton: First up, Buenos Aires, often called "the Paris of South America." Christine and I stumbled upon an area that had a lot of fancy galleries, including 30 Quarenta. The store is known for its table lamps, which the owner creates from old bases and colorful factory lights. Christine was immediately drawn to the collages that covered the walls of the store and are made by Miguel and his daughter (we ended up buying one for ourselves).
Above: A stall at Mercado de Pulgas. Photograph via Foto Ruta.
RM: Other shops?
GC: Miguel recommended Mercado de Pulgas, the Saturday flea market on Dorrego Avenue. It was pretty interesting–each vendor has his own cubicle of sorts, ranging from the serious hoarder type to a reclaimed wood maker. My favorite things were the monstrous old pieces which sadly, I couldn't take with me although I still managed to snag a couple of smaller things. There is an even bigger flea market on Sunday.
Above: Artemisia cafe. Photograph via Never Ending Voyage.
RM: Lunch?
GC: Food in Argentina is all about compromise. Lots of steak–but for every steak option, there was a vegetarian one. A friend of Christine's recommended Artemisia for lunch, where we had some incredible homemade bread and hummus to start things off and some really good fresh squeezed lemonade that was nice for the sunny day.
Above: The Libros del Pasaje. Photograph via Bridges and Balloons.
RM: Any other finds?
GC: I found a couple of books for myself at Libros Del Pasaje. It's a really beautiful bookstore and café with high celings in the Palermo district, not far from Artemisia.
Above: Cumana restaurant. Photograph via Pick Up The Fork.
GC: We headed to Cumana for dinner, a place where the cool kids go, apparently. We went because it was dirt cheap and good and had really great empenadas and good wine, too.
RM: Next on the itinerary?
GC: Casa Zinc in La Barra, Uruguay. To stay at Aaron Hojman's hotel is more like crashing at a friend's place. Aaron travels the world and picks up cool stuff, which he furnishes his hotel with. There are fewer than 10 rooms but a lot of time, detail, and effort has gone into each and every one.
RM: Did you check out his store nearby?
GC: Yes. The Trading Post is truly a showroom that highlights all of the incredible places Aaron has visited–from an antique rug he picked up in Turkey to a 1950s German light fixture to some silverware from an old Uruguay hotel–the guy has been everywhere. Aaron has a great eye.
Above: La Huella. Photograph via Lucianna Jardim.
RM: Food finds in Uruguay?
GC: La Huella. Located on the beach in Jose Ignacio, this place was recommended by literally every one of our friends that has been to Uruguay. One friend said that it's his favorite place in the world for a meal, and it's truly tough to argue with that statement. The view is beautiful, the staff is beautiful, everyone is relaxed and enjoying themselves and the food is perfect. They made a frozen vodka/mint drink that I could use use right about now.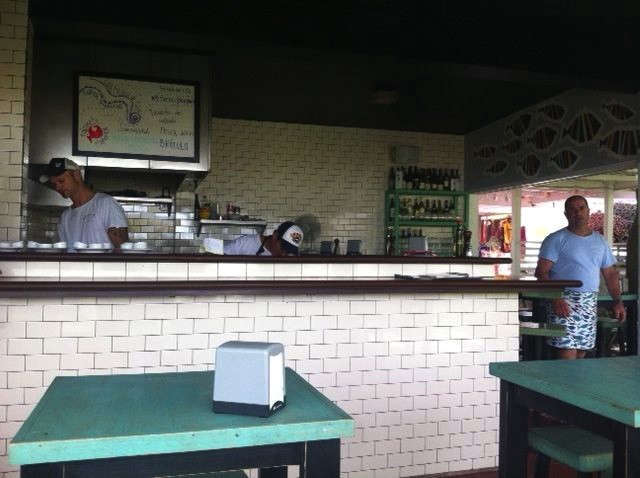 RM: Any other food stops?
GC: The Fish Market at Punta Del Este. It's close to Bikini Beach and has an open kitchen with some indoor seating but mostly it's outdoors–this makes for some great people watching by the way. You should order the fish sandwich, ceviche, clerico, and more clerico.
GC: Our friend Jeremy linked us up with Carolyn and Mariano, the owners of Alium, a store comprised of goods from local friends and designers. Alium is the only store in the tiny town of Garzon. It is, however, a stone's throw from Francis Mallmann's hotel, El Garzon, which attracts people from all over the world.
RM: Anywhere else?
GC: Although we didn't stay here if you're looking for somewhere modern to stay I would recommend Playa Vik in Jose Ignacio. We got a tour from Marcelo, who is the head chef at both Playa Vik and Estancia Vik. Even if you don't stay at Playa Vik, you can just sit by the pool, order food, and enjoy the view.
N.B. Garret asked Aaron Hojman to select a few goods for his occasional Guest Buyer Series, where can check out the offerings. See our previous post on Garrett's store: g. Colton.
 Considered Design Awards: Vote for Your Favorites in Each Category Once a Day
You need to login or register to view and manage your bookmarks.