I've been DJing and collecting records since 1998– yes, the nineties. Music is super important to me; it's shaped so much in my life, and it's how I met my wife, who is also a DJ. We have a three-year-old son, and records crowd our smallish Brooklyn apartment, but we love how they make the space feel. Since our son was born, we've developed a daily routine: We wake up, head into the living room, and he picks a record; as long as it's appropriate, we play it. We let him look through the album art and we enjoy some music while we eat our breakfast.
So now I'm trying to set up a listening station, or, at least, a seating area in the living room, that revolves around the turntable and not the TV. As much as I'm into music, I've never fully taken a leap down the audio hole, but now I'm ready. I've been doing tons of research over the past few months and have come across some really interesting and good-looking options at a range on the price scale.
Amplifiers
Above: Available in either a silver or black faceplate, the Pro-Ject Tube Box DS Pre Amp would be a beautiful addition to anyone's home sound system, especially the vinyl heads. Features include ultra-low noise circuitry, gold-plated RCA sockets, and a switchable subsonic filter; $699 at Music Direct.
Above: The Elekit Tube Amp from Japanese designer Koichi Futatsumata is a new generation vacuum tube amplifier. It features rear RCA jacks and side input for portable music devices. For pricing and availability, contact Case-Real. Alternatively, Futatsumata's first-generation amp, the Elekit TU-8100 PCL86 Vacuum Tube Amp Kit, is available for $299.99 on eBay. 
Above: I was told by a super-knowledgable audiophile that the McIntosh MPC 1500 Receiver is a piece you pass down to your heirs. There isn't a better receiver out there. Each is handmade in the US and the attention to detail is unmatched. For pricing and availability, contact McIntosh Labs directly.  
Turntables
Above: Last month, another audio expert told me to look up the Rega RP1 Turntable. He said for the money it can't be matched. I have yet to give it a listen, but it looks rad. It comes with two moving magnet phono cartridges, an upgrade drive belt, and a high-performance turntable mat; $640 at Sound Stage Direct.
Above: The Technics 1200MK2 is a classic: This is your DJ's favorite turntable. It's built for DJing because it's direct drive and not belt driven, but it also works great in the home. The sound quality is amazing, it's got a classic old -school look, and it's a piece you will have forever; $349.95 via Amazon.
Above: The Music Hall MMF Turntable is a straightforward, belt-driven turntable with a very warm, rich sound and some interesting interchangeable dust covers that come in a bunch of different colors; $499.99 at Crutchfield.
Speakers
Above: San Francisco designer Joey Roth has created this beautiful Ceramic Sound Speaker System. As far as small systems go, this is at the top of the list. It has more capabilities and a larger sound than most systems of its size. You can connect a turntable and it's Bluetooth optional; $1,095 for the complete system, which includes two speakers, a subwoofer, and Bluetooth receiver.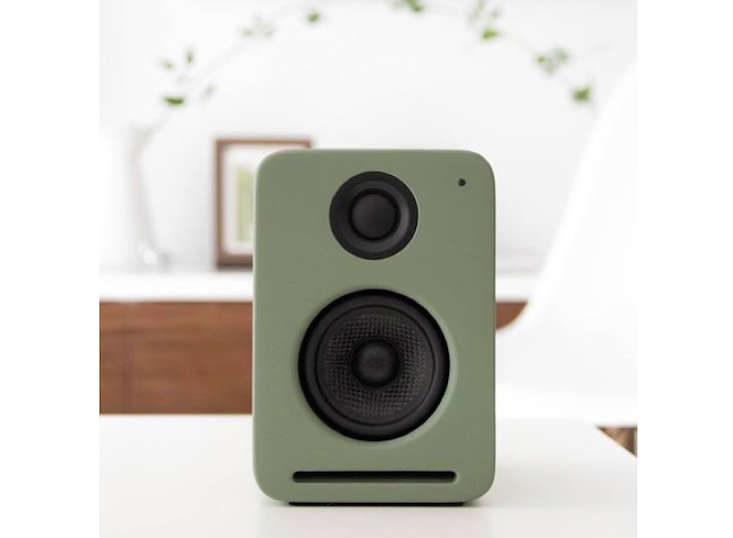 Above: The Nocs NS2 Air Monitors are great-looking speakers with exceptional sound quality. These are for the person looking to play music wirelessly from their Mac, PC, iPod touch, iPhone, or iPad. They come in a ton of colors, including gray (shown here), white, yellow, orange, red, and black; $299.95 for the pair.
Above: This walnut-encased, vintage-style speaker is huge: it weighs in at just under 190 pounds. And the sound is also huge. The Klipsch La Scala II Three-Way Horn-Loaded Loudspeaker, Subwoofer, and 2-Inch Composite Cone is something you'll be able to enjoy for the rest of your life. It features a three-way, horn-loaded loudspeaker, subwoofer, and a 2-inch composite cone; $3,499 at Amazon.
Above: I read about the People People Transparent Speaker a few years ago when it was a prototype, and was delighted to learn that it's now in production. Swedish designers People People have put together an amazing-looking speaker with exceptional sound. You can connect using WiFi or directly to the aux; $849 from People People.
Remodelista's newest contributor, Myles Tipley is a DJ by night and a designer blogger and DIYer by day–see MylesHenryBlog. Watch for his posts in the coming weeks.
For more of our equipment recommendations, see:
On Gardenista, take a look at 10 Essential Gardening Apps to Download Now.







(Visited 25 times, 3 visits today)