As we prepare our Lessons from Japan issue, we're appreciating neutrals, and we always appreciate stairs. Here are 10 standouts–in black, white, and natural wood–from members of the Remodelista Architect/Designer Directory.
Above: A dramatic wood staircase in a new three-story house by Seattle's Heliotrope Architects; the top floor contains the social spaces to take advantage of sweeping Puget Sound views. See more from Heliotrope in The Architect Is In: A Low-Impact Summer House on Orcas Island, Multiple Views Included. Photograph by Mark Woods.
Above: A modern stair with ebonized oak treads and steel rails hangs in a three-story vertical space designed by Alterstudio Architecture of Austin. The stair is backed by a wall of etched glass, with shadowy suggestions of the landscape beyond. Alterstudio was a recent finalist in our Considered Design Awards; read more in Vote for the Best Office in the Remodelista Design Awards.
Above: McInturff Architects of Bethesda, Maryland, added a guest house to a 1930s estate in King George, Virginia. The architects echoed the facade's white brick in the stairwell. For more from McInturff, see A Forest of Wood in Northern Virginia. 
Above: Architects Qb3 designed a new open-plan house on a vacant Philadelphia lot next to a span of traditional brick row houses. The building uses a steel ribbon stair to connect spaces from the entry to the roof garden, four tiers in all. See Architect Visit: Qb3 Hoeber Loft in Philadelphia for more from the firm. Photograph by Todd Mason.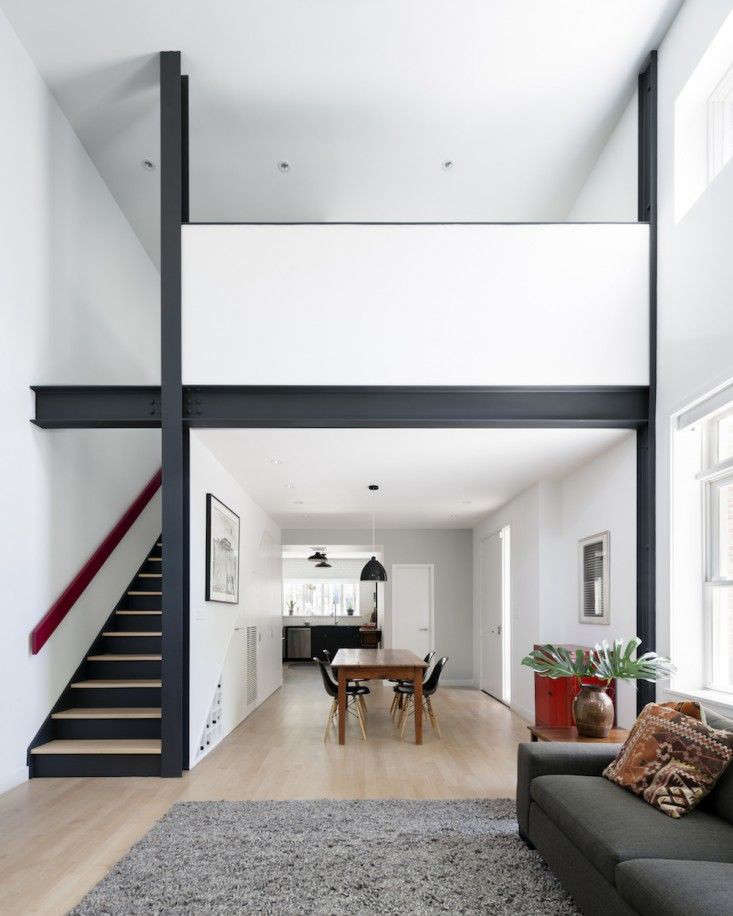 Above: This Cobble Hill home by Massim Design Studio in Brooklyn was the winner of our 2014 Considered Design Awards Best Living/Dining Space designed by a professional. The architect removed and replaced an existing stair to transform the "soulless vanilla box" she was presented with at the start. Get the project details in Best Professionally Designed Living/Dining Space: Massim Design Studio.
Above: In Brooklyn, Jordan Parnass Digital Architecture brightened a historic Park Slope townhouse by replacing the dark original staircase with a lighter version that has openings to reveal each floor. See more from the firm in 10 Ingenious Space-Efficient Kitchens. 
Above: In a San Francisco townhouse remodeled by Feldman Architecture, the main living spaces were isolated from the rest of the house by dark stairs and hallways. A new wood, steel, and glass staircase, flooded with daytime light, encourages residents to travel upward from the first-floor entry to the top-floor living space. Hear from Feldman in The Architect Is In: A Kitchen Expert Answers Your Queries. Photograph by Joe Fletcher.
Above: In another San Francisco design by Feldman Architecture, metal-screened staircases connect three floors while remaining open enough to allow parents to keep an ear on their three rowdy boys. A top-floor diagonal stair leads to a floating office and roof deck. 
Above: Elizabeth Roberts Design/Ensemble Architecture  of Brooklyn removed a non-original stair on the bottom floor of a Park Slope townhouse and exposed the original brick wall lining the period staircase on the top floor. Hear from Roberts in The Architect Is In: Elizabeth Roberts Adds Value in Brooklyn. 
Above: An ethereal, all-cream staircase by Deborah Berke & Partners in a Manhattan interior renovation. See more from Berke in Architect Visit: Deborah Berke in Litchfield County. 
Keep browsing for inspiration: 
(Visited 231 times, 9 visits today)