We've been slightly obsessed with terracotta pendants ever since we spotted dozens of them hanging from the ceiling of Souk, a Lebanese street-food market and cafe on the coastline of Athens. K-studio, design team behind Souk, introduced the pendants to add a handmade, warm touch to the otherwise modern space. We plan to do the same.
Here are 10 of our favorite terracotta lights. 
Above: K-studio sourced Souk's white-glazed pendants from London architect Thomas Housden. The Large Terracotta Pendant Light is £290 ($448) from Housden's studio, Hand and Eye Studio. Housden offers several different styles and sizes via his online site. For more, see our post Terracotta Pendants by Thomas Housden.
Above: The Half-Glazed Geometric Terracotta Pendant is handmade by London designer Nick Fraser. The hand-dipped pendant shade is also glazed on the inside to reflect the light; £36 ($56) directly from Fraser. The Geometric Pendant is also available in a terracotta finish.
Above: The Wide Chimney Light by Benjamin Hubert is made of hand-thrown earthenware with a glazed glossy white interior; £125 ($193) from Nest. The lamp is also available in different shapes and sizes.
Above: Designed by Laura Strasser, the Quadrature pendant takes its name and shape from the mathematical problem, the quadrature of the circle. Contact Strasser directly for pricing.
Above: The NUD Collection Exclusive Pendant in Terracotta is $96.25 from Lumens. The ceiling canopy is also made of terracotta, and you can choose from 14 different cord colors.
Above: The Scotch Club ceramic collection is inspired by revolving disco balls, and is a collaboration between Barcelona ceramicist Xavier Mañosa and Instanbul design studio Mashallah. Each variation comes in three colors (white, blue, and terracotta), and has a total of 72 faces, casting interesting lighting patterns in all directions. The Scotch Club 17 Pendant (shown) is terracotta with a gold interior finish; $883 from YLighting.
Above: The Marset Pleat Box Mini Pendant, designed by Fabien Dumas, comes in four size, five exterior colors, and white or gold interiors. Prices for the five-inch pendant start at $627.26 from All Modern.
Above: The partially-dipped Porcelain Pendant Lamp by Antonia Throsby is $240 AUD ($177.26 USD) from Country Culture in Australia.
Above: The Fabril Lamp, a hand-turned terracotta pendant lamp with a wooden ceiling canopy and yellow cloth cord, is made by Chilean designer Abel Cárcamo Segovia in his Primitivo Studio. Contact Segovia directly for pricing.
Above: Lamp Terracotta Naturel is a ceramic shade with a black metal lamp holder and black cloth cord; €69 ($75) from It's a Present, an online home-goods store based in the Netherlands.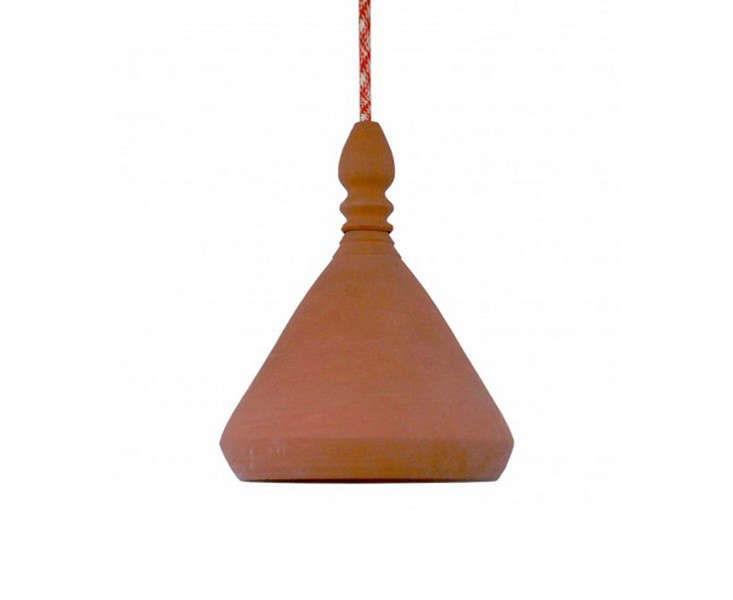 Above: The dome-shaped Meli Melo Terracotta Pendant is handmade in Greece; £250 from the Conran Shop in the UK.
Above: The Terracotta Suspension Lamp by Tomas Kral for Spanish design collection PCM is manufactured in the Extremadura region of Spain, an area known for its traditional terracotta jugs; €180 from the PCM Shop. 
Looking for more pendant lamps? Sift through 450 Lighting images from our Gallery of rooms and spaces. And if you're searching for ways to light trees, walls, and other garden elements, see 10 Easy Pieces: Landscape Up-Lights on Gardenista.
N.B.: This post is an update; the original story ran on May 19, 2014, as part of our Greek Isles issue.
You need to login or register to view and manage your bookmarks.