If you can't make it to a coast this summer, we've teamed up with Etsy to bring you a roundup of our favorite picks to add a nautical note to the home. Be sure to check out the rest of our picks featured on the Etsy blog today.
Above: Albuquerque-based architect Dierdre Harris transferred one of her mother's sketches, done in the 1960s depicting pebbles from the Icelandic shoreline, onto this deep blue linen tea towel. At Sometimes Jane; $18.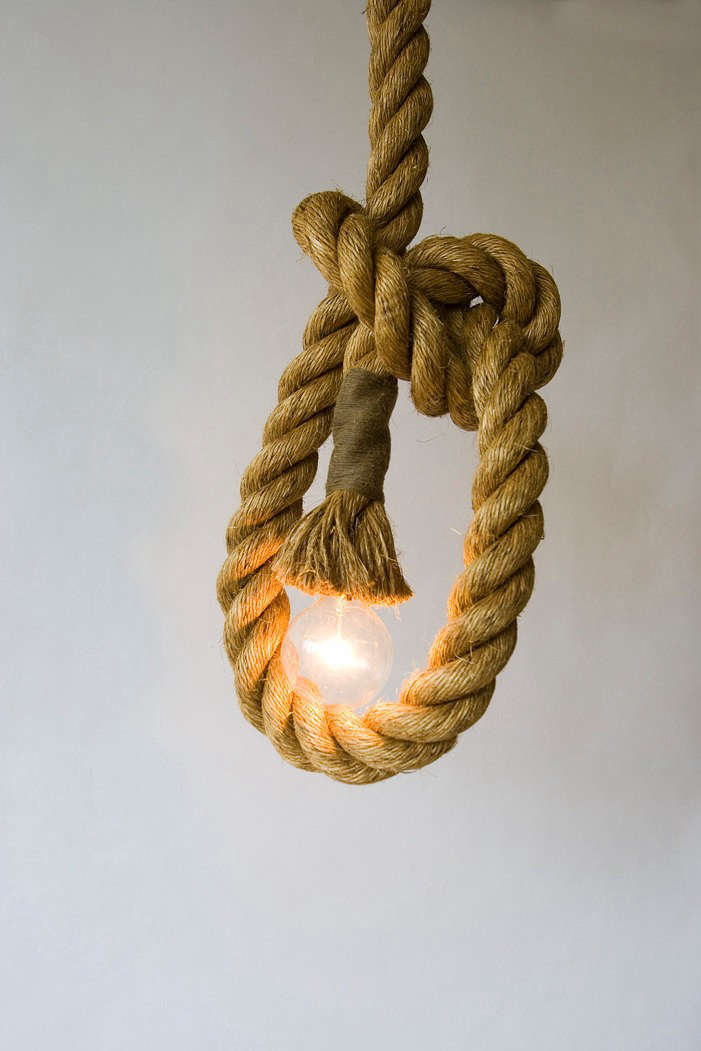 Above: Simple yet grand, Atelier's 688's Manila Rope Pendant captures both the utility and drama of life at port; $475.
Above: Banquet's bold, mid-century-inspired silhouettes, featuring marine animals and Tall Ships, add a mod note to your seaside cottage; $60.
Above: Utilitarian canvas or duck cloth has long been favored for beach bags. Reminiscent of salt-sprayed sails, this wine tote by Sewop is handy for picnics by, or on, the water.
Above: During the many "off" hours aboard old sailing ships, idle sailors would pass the time crocheting keepsakes, often for the family they left behind. La Casa De Coto's textured poufs, fashioned from thick cotton cord, remind me of these mariners' handiwork. Available as a Pouf ($86), Floor Cushion ($78), or as a handy Cover ($69) for Ikea's Alseda Stool.
Above: Drawn to the fanning forms and rich hues of seaweeds (and sea slugs), Chicago-based artist and illustrator Kate Pugsley captures the expressive personality of these aquatic specimens. Original Seaweed Painting above; $65.
Above: Screen printed with a simple, hand-cut design onto linen the color of gray beach stones, Modern Manual's Fish Tea Towel offers a subtle and contemporary nod to aquatic life; $20. 
Above: The organic forms and pristine finishes of these fine ceramics from Looks Like White remind us of sun-bleached shells. Perfect for the summer table; Platter, $83.
Above: I inherited a sailor's knot mat like this one when I purchased my own cottage by the sea. Made from coarse nautical rope, it's very effective for wiping sand off the feet. At Karen's Wedding Shop; $69.
Above: The sea is a textured landscape. To me, no fabric captures this essence more than crisp linen. Add a bit of subtle, sand-toned stripes, like these Towels from Knock Knock Linen, and you have the perfect summer accessory; $58.
Want more updated nautical ideas? Browse more of our favorite Accents Inspired by the Sea or see the rest of our picks on Etsy.
You need to login or register to view and manage your bookmarks.