Last week, we profiled 10 of the most beautiful–and functional–closet systems around. Today, architect and designer members of our Professional Directory share the closet systems they specify for their own clients, from custom and high-end to bargain priced.
For Julie's picks, see 10 Easy Pieces: Modular Closet Systems, High to Low.
Above: In a client's 650-square-foot Chelsea loft, Robert Garneau of Studio Garneau designed an efficient closet and shelving system replete with pull-down rods and door mirrors, all built by a local woodworker. Says Garneau, "In places like NYC it's often necessary to go custom in order to use every square inch." For details on the loft and its envy-inducing closets, see The Architect Is In: A Tiny Live/Work Loft Made Large. 
Above: Henrybuilt, an American designer of built-in kitchen systems, also offers customizable closet solutions that include features like electrical outlets built into shelving, leather-lined drawers, and hidden laundry baskets held in place by concealed magnets. Architect Jack Wettling (see below) specifies Henrybuilt when he's not designing custom systems for his clients. Photos via Henrybuilt. 
Above: UK architects Stiff + Trevillion like to partner with bespoke furniture company Knuckey Furniture in West Sussex, England, where two woodworkers fulfill their custom orders by hand in a tiny workshop. Here, a custom closet system in American white oak illustrates Knuckey's exceptional craftsmanship.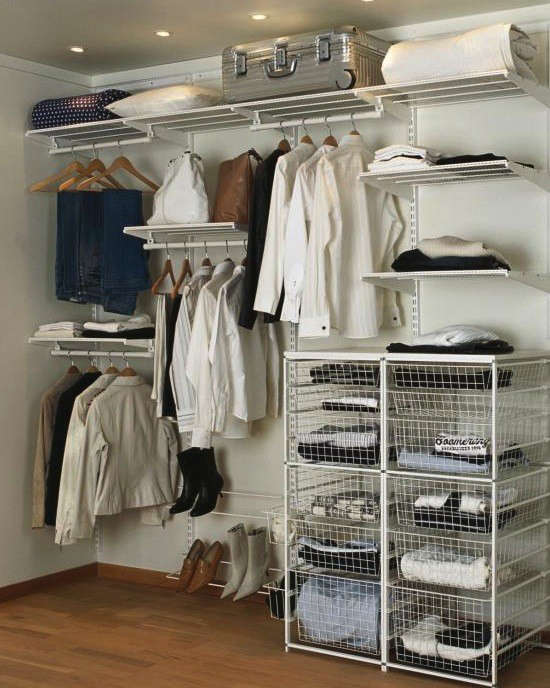 Above: On the high end, architect Amy Alper loves Poliform closets. Her "low" pick is Elfa from The Container Store. Alper has used the system in a client's laundry room as well as in her own home. She cites its merits as being sturdy, simple, and above all, flexible (which, says Alper, California Closets are not). Its flexibility means it can be easily dressed up with trim pieces and custom features, making Elfa suitable in any situation. Photo via The Container Store. (N.B. Elfa is currently on sale at The Container Store, down 25 percent.)
Above: NYC-based Jordan Parnass Digital Architecture designed a custom oak-veneer millwork closet and drawer system for his sons' room in his family's Boerum Hill, Brooklyn house. The system includes clothes hanging space, dresser drawers, bookshelves, a linen closet, a toy cabinet, recessed bunkbed cubbies, and adjustable desks.
Above: Kriste Michelini (of SF Bay Area-based Kriste Michelini Interiors) and Meg Joannides (of LA-based MLK Studio) both recommend Italian Poliform closet systems to their clients. The Ubik walk-in system shown here features glass-front drawers, pull-out shoe racks, and multiple shirt trays for easy organizing. Says Joannides, "They are on the 'high' side price wise, but it's worth it in the long run." Photo via Poliform. 
Above: SF Bay Area designer Nicole Hollis loves Italian design house Porro for their stylish systems. Says Hollis, "They have cutting-edge hardware and the most beautiful finishes and colors." The Scorrevole system shown here is meant to be a walk-in closet that takes the shape of a wardrobe. Photo via Porro. 
Above: For an affordable modern closet, Nashville residential architect Marcus DiPietro likes the no-nonsense Rakks system's aluminum poles and rods. Here, DiPietro used Rakks components for a home closet with custom-made cabinets and shelves.
Above: Over time, SF-based Boor Bridges Architecture has found that using a quality custom cabinet shop provides a far superior product at only a small upcharge over California Closets. As architect Bonnie Bridges notes, "We have tried to like California Closets as they have so many showrooms and clients are comfortable with the idea of using them, but the quality leaves a lot to be desired." On recent projects, the firm has partnered with Deegan Woodworks. Here, a custom laundry and clothing system for a house in Pacific Heights. 
Above: For this NoHo loft, NYC-based Wettling Architects designed a closet system with burled walnut millwork and completely customized interiors. They used a variety of inserts from Häfele, like fold-out ironing boards and slide-out hampers, tailored to their client's needs. "Going custom allows us to respond creatively to individual lifestyles and needs, and to address each client's preferences with total flexibility within their given space."
For more of our closet picks, go to 10 Easy Pieces: Modular Closet Systems, High to Low and 5 Favorites: Closet Storage Systems.
(Visited 1,551 times, 2 visits today)