I recently upgraded my bathmat and have since discovered the wonders of stepping out onto slatted mango wood post shower. The simple change has turned what I consider daily drudgery into a spa-like experience.
Here are 10 wooden bath mats in various moisture- and rot-resistant woods (towel shopping, too? See 10 Easy Pieces: Basic White Bath Towels).
Above: The Mango Wood Bath Mat is a slatted mat measuring 27 inches long by 18 inches wide; £42 from Toast in the UK.
Above: Prized for its bacteria-resistant resin, the Japanese Hinoki cypress used in this Hinoki Bath Mat, also prevents mildew and withstands humidity. Designed by Yoko Ueno Lewis in Japan, the bath mat is $100 from Design Within Reach.
Above: The Solid Ash Bathmat is handsanded to a smooth finish with an open slat design elevated off the floor to circulate air and water. The square measures about 22 by 22 inches to accommodate for small space bathrooms; $34.95 from CB2.
Above: The Skagerak Bathroom Mat is made of South-East Asian teak wood, a material resistant to wet and dry rot. Made in Denmark, the mat is $110.38 from All Modern.
Above: The oiled ash Thermowood Bath Mat is made from wood treated with a thermal process that renders it moisture, mold, and mildew resistant; €126 from Manufactum in Germany. For more made with the same material, see our post Bath: Thermowood Accessories from Manufactum.
Above: Waterworks' Teak Bath Mat is made from solid, moisture resistant teak and features rounded detailing; $255 from Waterworks.
Above: Canoe's Hinoki Bath Mat is designer in smaller proportions (24 inches long by 14 inches wide) than most; $50 each.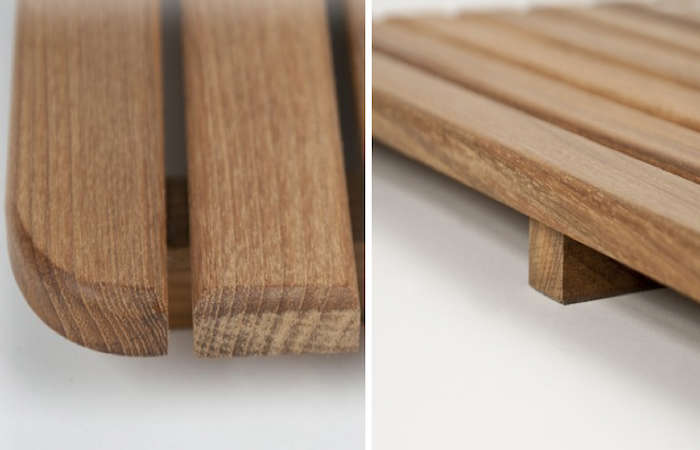 Above: Teakworks4u's Teak Shower Mat is made in the US and available in two sizes: 25- or 30-inch widths; $125.43
Above: The White Wooden Shaker Style Bath Mat features anti-slip pad and grooved white-painted pine wood for £15 each from Roman at Home. Contact directly for restocking and shipping.
Above: The recently-stocked Hinoki Bath Mat with slanted wood slats (to impede water form building on the surface of the mat) has quickly sold out at Mjolk in Toronto. Made by artists in Kiso, Japan, the mat measures about 20 inches long by 14 inches wide. $220CAD each, contact directly for restocking dates.
Thinking of remodeling your bathroom? Sift through 943 inspiration images of Baths in our Gallery of rooms and spaces, then shop 148 Bath Accessories in our Shop section.
Finally, get more ideas on how to evaluate and choose the various accessories for your bathroom in our Remodeling 101 Guide: Bath Accessories.