We believe in investing in high-quality fixtures and fittings that will stand up over time, and toilet roll holders are no exception. Here's our roundup of ten traditionally styled options; some are expensive, but think how often they will be used over the course of a lifetime. N.B.: We picture and price the holders with a chrome finish; most are available in additional finishes.
Above: UK-based company Samuel Heath makes high quality, classic, reasonably priced products. Julie and Janet both use Samuel Heath's Novis N37 Toilet Roll Holder. The versatile piece fits in any decor and is solid enough to withstand family use; $69.28 at Home and Stone.
Above: In the renovation of her Brooklyn brownstone, Francesca used the Yale Club Toilet Paper Holder from Urban Archaeology in New York City; $280.
Above: Sarah's favorite is the Samuel Heath N93/B Polished Chrome Toilet Roll Holder with wooden spool; $103.36 at Home and Stone.
Above: Waterworks Meridian Wall-Mounted Paper Holder; $80.
Above: Lefroy Brooks Classic Spare Tissue Holder with black or white ceramic acorn top; $192 at Ira Woods.
Above: Retro China Paper Holder from UK company Manufactum; €21.
Above: Handsome Edwardian Metal Lavatory Roll Holder from Czech & Speake; £240. The Lefroy Brooks Connaught Paper Holder, which is virtually identical, is $352.50 at Home & Stone. Aston Matthews also has a version, the Stirrup Chrome Toilet Roll Holder, for £58.80.
Above: The Urban Archaeology's Kitchen Hook can be used a vertical toilet tissue holder; $80.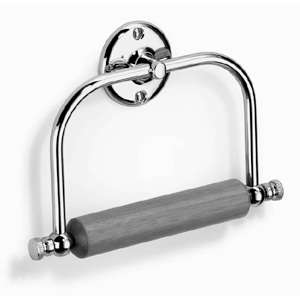 Above: Samuel Heath N20 Curzon Paper Holder in chrome plate and wood; $142.28 at Home and Stone.
Above: A budget choice is the simple Allied Brass Euro Toilet Tissue Holder in chrome-plated solid brass (other finishes available); $19.50 at Faucet Direct.