Remember the wok fad of the late 1970s, when hip households were stir-frying up a storm? (I may be dating myself.) The good news is that the virtues of the wok have made it a kitchen mainstay. A wok is an incredibly versatile piece of cookware that is not only ideal for stir-frying, but for steaming, braising, simmering, deep frying, and smoking. 
What makes a wok so effective? The secret is in the shape which concentrates heat at the bottom of the pan, allowing very high heat cooking that seals in juices and prevents food from becoming a soggy mess.  The tall sides make it easy to toss in ingredients and keep them contained in the pan.
When wok shopping, consider the pan's material. Chinese cooks will tell you that carbon steel and cast iron–the most affordable options–are the best choices as they are amazing heat conductors: they get hot fast and stay hot. These metals require seasoning, but many favor how they age, giving flavor and naturally developing a non-stick surface. Others, especially those with electric stoves, swear by anodized aluminum. And for those who don't want to bother with seasoning, stainless steel is another option. San Francisco's Wok Shop offers a very detailed explanation: see Wokology 101.
Last important detail: woks are available with round or flat bottoms. Flat-bottom models are recommended for Western stoves to get the best heat from the flat burners. Some gas stoves come with a special wok burner that cradles a round-bottom wok offering ideal heating. For a great primer, see the New York Times interview with Chinese cookbook author Grace Young, A Cook Talks about Woks and Stir-Fry. 
Here are our selects:
Above: The Hammered Flat Bottom Wok is crafted of carbon steel hammered by hand (note: because of its unevenness, hammered steel is not recommended for induction stoves). The 14-inch wok has two handles for easy maneuverability; $29.95 at Williams-Sonoma.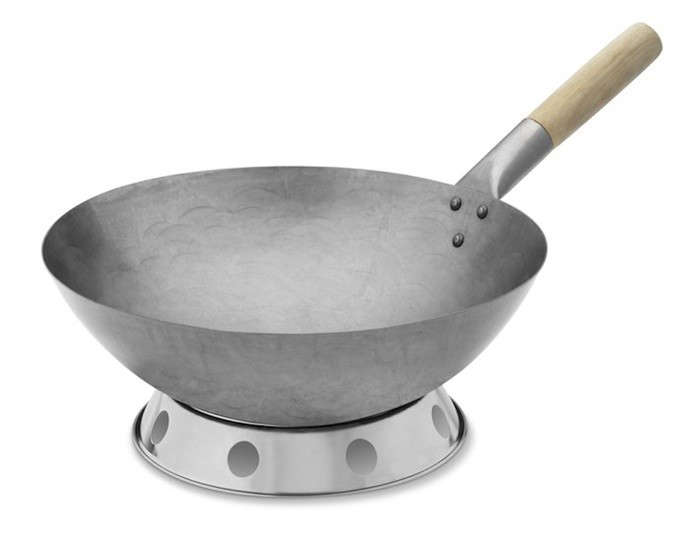 Above: Lucky enough to have a wok burner? Consider the Hammered Round Bottom Wok with a single wooden stick handle that stays cool to the touch. Hand hammered of carbon steel, it includes a wok ring; $34.95 from Williams-Sonoma. 
Above: The Wok Shop's Carbon Steel Flat Bottom Pow Wok with Wood Handle is hand hammered and available in four sizes ranging from 10 inches to 16 inches; $14.95 to $29.95. 
Above: The Joyce Chen Classic Carbon Steel 14-inch Wok Set is flat bottomed and has birch handles. It comes with a non-stick lid for steaming and a bamboo utensil; $34.62 at Amazon.
Above: Some prefer cast iron over carbon steel because of its durability (though steel heats up faster). The Thunder Group Cast Iron Wok is $18.19 at Food Service Warehouse.
Above: The Joyce Chen 14-inch Cast Iron Wok is a pre-seasoned, flat-bottom wok with a maple stick handle on one side and a small grab handle on the other; $43.12 at ATG Stores.
Above: From Lodge, the Pro-Logic 14-inch Cast Iron Wok, with two handles (that get very hot), comes pre-seasoned and can be used on any stovetop and in the oven; $63.35 at Amazon.
Above: Anodized aluminum is highly recommended for electric stovetops.  The Calphalon Elite Non-Stick Wok is $129.95 at Williams-Sonoma. 
Above: Another aluminum option at a lower price is the US-made Nordic Ware Wok with stay-cool removable grips and a non-stick surface; $39.55 at Amazon.
Above: For those who don't want the maintenance of seasoning, stainless steel is an option. The All-Clad Tri-Ply Stainless Steel Stir Fry Pan has an aluminum core that heats up quickly for rapid and even cooking. It features a stay-cool handle; $200 at Williams-Sonoma.
Above: Grace Young's Stir-Frying to the Sky's Edge won the 2011 James Beard International Cooking award and is a perfect companion for your wok; $24.50 at Amazon.  
Looking for cookware? Wander through our Cookware Collection, including our roundup of Cast Iron Skillets. A standout resource? See No Ordinary Kitchen Shop: Stock Culinary Goods in Providence, RI.
(Visited 138 times, 1 visits today)