If you ask us, a desk should work as hard as you do, offering up some benefit beyond just standing there. With all the time spent at work, it makes more sense than ever to invest in a desk that improves your life with storage solutions or better yet, saves your life by inspiring you to stand over sit. Here are our current favorites.
Standing Desks
Above: The Renew Sit-to-Stand Desk with Advanced Cord Management is a standing desk with cord management and built-in power outlets on the underside of the table. It's $2,893 for the desk in white (shown), ash, and walnut from Design Within Reach.
Above: From San Francisco-based Ohio Furniture, the Adler Table takes its cue from "machinist tables built at the turn of the century." Made with hand-rubbed, gun-blue finish steel legs (a process that creates a black/blue patina finish and protects the raw steel against rust), the table can range in height from 27 to 42 inches, making it easy to change positions throughout the day. Prices for the Adler Table start at $1,950.
Above: The M1 Configuration Desk from Stir Works, shown in white, has an integrated tablet (that's it on the lower left of the desktop) that you can double tap for height adjustment; $2,990 at Stir Works.
Above: Another desk from Ohio Design in San Francisco is the Lift Worktable that can adjust to three different preprogrammable heights; prices start at $1,379.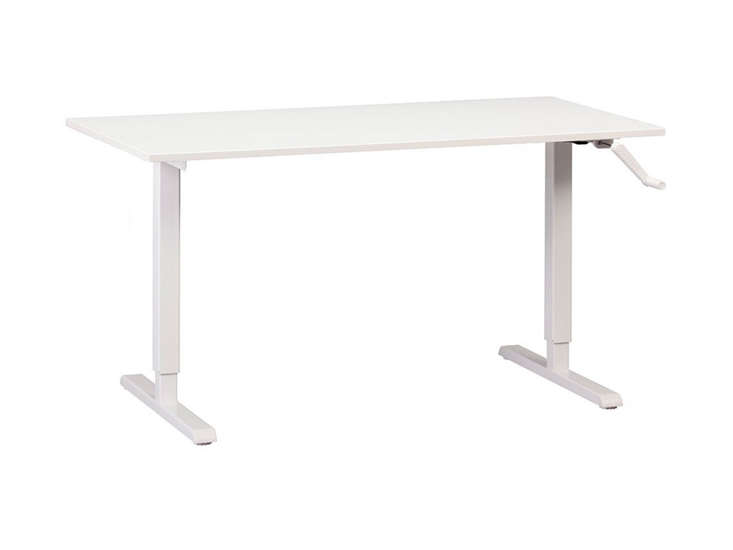 Above: The ModTable from MultiTable can be adjusted to a minimum height of 27 inches up to a max of 46 inches and comes in a variety of combos (the base is available in black, white, silver, and red, and the top in a variety of colors and finishes); ModTable combinations start at $599. Other configurations are also available, including a desk with a built-in Lifespan treadmill.
Storage Desks
Above: The Laura Desk from Portland, Oregon-based designer Ben Klebba has three cubbies in the back with cable ports. It also has two flat drawers that pull out to expose cutouts for pencils and desk accessories. Contact Phloem Studio for pricing and information.
Above: The Alex Desk from Ikea, $169, has built-in details for keeping cables and cords out of sight; it comes in white and gray.
Above: Room & Board's Portica Desk has power and USB outlets tucked discreetly on the underside of the desktop; $1,919 for the white MDF desk.
Above: The Cable-Tidy Home Office Desk from Wood Quail is a bamboo workstation with a sliding top that reveals a charging and storage area. Cables are laced through the wooden slot to bring them to the surface of the desk. Contact Wood Quail for pricing and more information.
Above: The Treble White Desk has a standard storage drawer, built-in bookshelf on one side (not shown), and charging storage; $399 at Crate & Barrel.
Sleeping Desks
Above: From German design firm Bless, the Workbed is a desk that rotates into a twin bed from the firm's No. 33 Artistcare collection. Contact Bless for pricing and availability and read more in our post A Desk that Transforms into a Bed.
Above: Japanese furniture company Hirashima makes the Caramella Bed with a full desk connected to the back of the headboard. Read more at Small-Space Solution: Live/Work Furniture from Hirashima in Japan.
For more ideas, see our posts:
You need to login or register to view and manage your bookmarks.