The slow coffee movement is all about the handmade: roast by hand, drip by hand, syphon by hand. So why not ditch the factory made for handmade when it comes to coffee makers? Here, for the pour over enthusiast, are 10 artist-made coffee drippers to complete the artful morning ritual.
Above: The Masanobu Ando Coffee Dripper is made in Japan with a precisely angled design for optimal extraction; $120 CAD at Mjölk.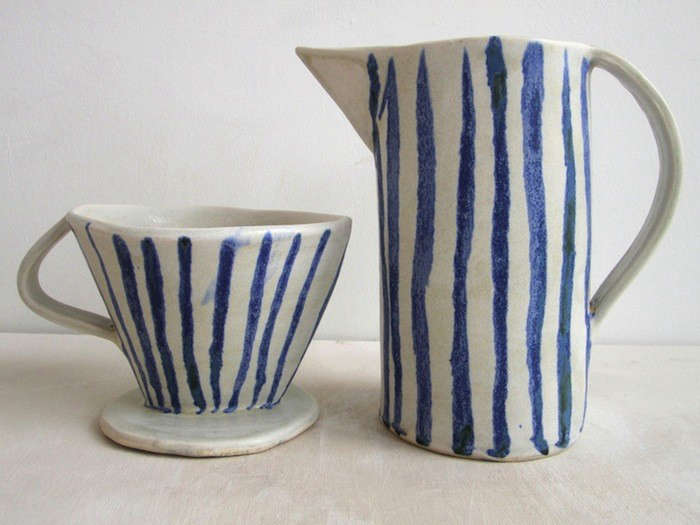 Above: Brooklyn ceramic artist Paula Grief makes a porcelain 2-cup coffee dripper with a blue striped design; contact Paula Grief to custom order one of her designs. See our visit to her handmade kitchen Paula Grief in Brooklyn.
Above: Handmade in Japan, the Ceramic Coffee Dripper has an ash glaze that resembles iron; $80 at Alder & Co.
Above: Made from white stoneware, the Ceramic Coffee Dripper and Carafe by Merkleware is available through Iko Iko; contact directly for pricing and availability.
Above: Manchester, UK-based Joseph Hartley's coffee system consists of a thrown jug and funnel; his Terracotta Coffee Dripper, compatible with Hario v60 filter papers, is £80 from Fao Shop.
Above: Made in Bushwick, Jennica Johnstone's Ceramic Coffee Dripper is $35 from Beckon and comes with a glass mug and coffee filters to get you started.
Above: A faceted coffee dripper from Tenstone in Japan.
Above: Artist Elizabeth Benotti's Porcelain Drip Coffee Maker has a herringbone pattern; $44 on Etsy.
Above: From Silverlake, LA-based ceramicist Ben Mendansky, the Coffee Dripper includes a satin white glazed dripper and a brass stand. Available from The Primary Essentials in Brooklyn; contact for pricing and availability.
Above: From Craighton Berman Studio in Chicago, a Kickstarter project: the sculptural Manual Coffeemaker is made of borosilicate glass with a wooden base, and doubles as sculpture.
Still artful but not quite handmade, the Donut Coffee Dripper from Torch in Japan, which we featured in a gift guide. Also have a look at our visits to Caffé Spina in Brooklyn and The Grounds in Sydney on Gardenista.
You need to login or register to view and manage your bookmarks.