Discovered on Freunde von Freunden (FvF): a new house with a colorful and modern open kitchen belonging to multi-faceted artist and designer Alyson Fox. Located on a ridge of land outside Austin, the design and build-out of the structure was a family affair: Fox, her husband, and father-in-law all contributed to the plans, while her brother-in-law served as the the general contractor. As Fox tells FvF, "We wanted a simple floor plan with as much glass as we could afford; plus an outdoor shower. We wanted to live light and have lots of natural light." The kitchen in particular evokes this feeling of "living light" with open shelving, a DIY white brick kitchen island, and floor-to-ceiling windows. Here's a tour, followed by a dissection of the key elements (those that can be sourced, anyway) for creating a similar look.
Read the full interview with Fox by Leigh Patterson over on Freude von Freunden, with photography by Michael A. Muller.
Above: The light-filled house has wood-paneled walls and ceilings and a concrete floor. To separate the kitchen from the living space, Fox and family installed an island made from bricks painted white. For a similar kitchen island built from concrete blocks, see Steal This Look: A Low-Cost Kitchen for Serious Chefs. Curious about concrete flooring? See Remodeling 101: Polished Concrete Floors (and you might also be interested in Five Things to Know About Radiant Floor Heating).
Above: The kitchen has a large industrial sink, subway-tiled backsplash, and open wooden shelving–all livened up by a sprinkling of bright accessories 
The Basics
Above: The John Boos Stainless Steel Prep Table (96 inches wide by 30 inches deep) is equipped with two sinks, a utensil drawer, and a cutting board; $2,351 from Central Restaurant Products. 
Above: The Chicago Faucet Wall-Mounted Sink Faucet (Model number: 540-LDABCP) is $214.20 from Plumber's Surplus. 
Above: Fox has a pre-rinse sprayer next to her kitchen faucet. The T&S B-0100 Pre Rinse Spray Valve with Flexible Stainless Steel Hose is $89.99 from Web Restaurant Store.
Above: The Thermador 30-inch Masterpiece Series Induction Cooktop is $2,599 from Warehouse Discount Center.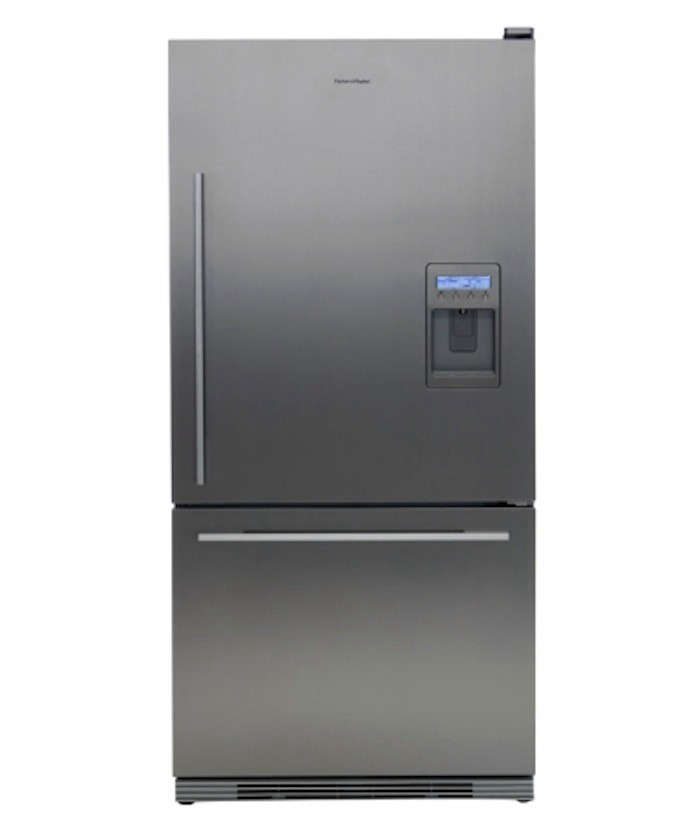 Above: Fisher-Paykel ActiveSmart Fridge 17.5 cu. ft. Counter Depth Bottom Freeze; $2,109 from AJ Madison. 
Lighting and Furniture 
Above: The 365+ Brasa Pendant Lamp is made from powder-coated steel; $39.99 from Ikea.
Above: Fox installed wooden shelves for storage with a pipe underneath for different hanging dish towels. This Oak Wood Shelf comes in two sizes (shown here in 150 centimeter width) with two built-in rails; €290 from Manufactum.  
Above: The Adaptable Table by Muuto is available with an oak (shown), white, black, or gray top, and a steel frame in white (shown), gray, or green. You can choose from legs in natural oak, white, black, or gray; $2,875 from A+R in Los Angeles. 
Above: The Eames Molded Plastic Side Chair with a Wood Dowel Base is $339 at Design Within Reach. In addition to white, it comes in black, light blue, lime yellow, and red orange.
Above: The Step Ladder in black by Design House Stockholm is $434 from Royal Design.
Accessories
Above: Fox displays–and uses–a mix of cutting board. Objets Méchanique's 23-inch-long Maple Cutting Board 1.2 is made from cherrywood with a dip-dyed handle; $98. For more cutting boards, see 10 Easy Pieces: Wooden Cutting Boards with Cutouts for Hanging.
Above: Neon Tea Towels in a grid pattern by Hay & Sholten & Baijings are $32 for a set of two from A+R. 
Above: Ikea's Fintorp Magnetic Knife Rack in black is $12.99.
Above: The lucite pink bowl perched on the island came from an online store in Australia. For a similar option, consider the AVF Colored Acrylic Chiclet Bowl in Neon Pink; $185 from Dering Hall. 
Above: A green bucket brightens Fox's sink; this Lime Green Metal Pail with Handle is $0.99 from Hobby Lobby. 
Check out all our Steal This Look posts for more inspiration. Over on Gardenista, they've got their own Austin-based Steal This Look–featuring a Home in A Silvery Blue Palette.
You need to login or register to view and manage your bookmarks.