The vision for the modern house at Baker Lane Vineyards in Sebastopol, California, the estate of winemaker Stephen Singer and his partner Michel Boynton, came about 36 years ago when Singer converted a loft building in Berkeley into his home: "I took a raw space that was open and airy, with high ceilings and rough materials, and built a small domicile and artist studio in it," said Singer. The experience taught him "that what I ultimately wanted was to have that kind of volume and light and space on a piece of open land." The concrete-and-stucco house that stands today on Singer and Boynton's 15 acres at Baker Lane is his "dream house, for want of a better term."
In the almost four decades since building his Berkeley loft, Singer has had a career as a painter, wine seller, restaurateur, and olive oil importer. Fifteen years ago, he decided to venture in winemaking, while realizing "I could combine my goal of becoming a grape grower and winemaker while also building my ideal house."
He and Boynton sought property for some time, attracted to "a very up-and-coming cooler climate viticultural zone, which was a big priority for me," he said. "I wanted to be in a place at the vanguard in terms of quality of winemaking and grape growing."
He acquired the Sebastopol property in 2002 and turned to San Francisco architect Keith Anding, who had designed homes for some of Singer's friends. Anding developed a master plan for the property (see our story on Gardenista today for more), and designed the main house and its interiors, working closely with Singer and Boynton in selecting furniture, lighting, and finishes for their home. The property was completed in the fall of 2005, and though Singer credits Anding and builder Simon Fairweather generously for their contributions, "I knew all along what kind of house I wanted," he said. "Very much so."
Baker Lane is open for wine and olive oil tastings by Reservation only. In the meantime, join us for a tour.
Photography by Daniel Dent for Remodelista.
Singer grows his grapes in a cooler viticultural area than where they might typically be found: "There's an inverse relationship between temperature and the potential for flavor detail" he says. "The warmer it is, the more the heat can overwhelm the character of the grapes and make them somewhat mono-dimensional. Growing grapes in a cooler climate allows for more opportunity to explore the flavor of the wine."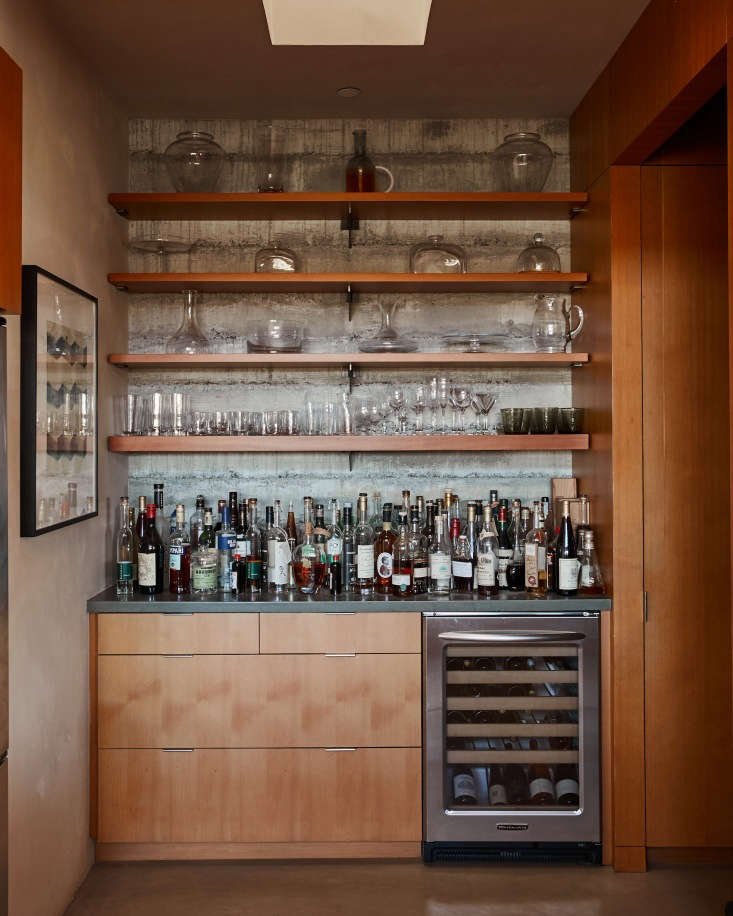 Singer was a longtime importer of Italian olive oils, and he planted olive trees on the Baker Lane estate with the intention of creating the same flavor profiles as the Tuscan oils about which he has long been passionate.
Baker Lane produces two olive oils: Its Occidental Blend ($38 for a 750mL bottle) from olives grown on a nearby orchard owned by a longtime friend, and the Estate Tuscan (starting at $24 for a 375 mL bottle)—Baker Lane's signature blend of Tuscan varietals grown on the estate. "We don't make a lot of oil, but it's really good," says Singer.
Baker Lane makes efforts at environmental sustainability in winemaking, an ethos Singer has carried through to the house. Architect Anding points to high-performance windows and insulation to minimize the need for heating and cooling, while "strategically placed" operable windows allow for natural ventilation and overhangs "limit solar intrusion in the summer."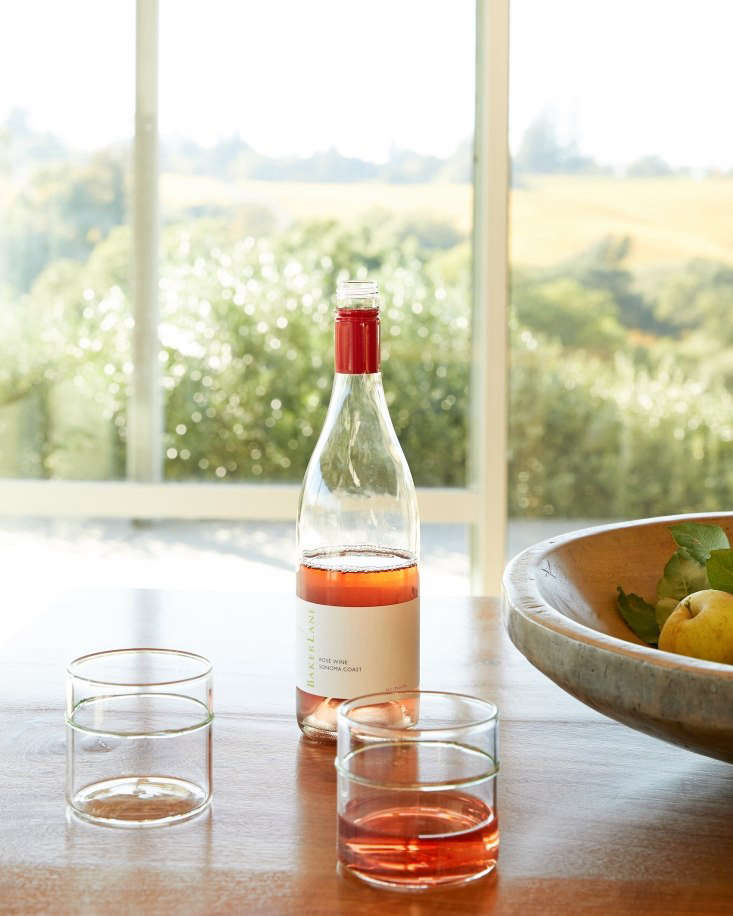 Baker Lane's signature wine is its
Estate Syrah
($5o for the 2012 vintage)—the grape is "an outlier choice for where we are," said Singer, referring to the property's cooler climes. At Baker Lane, he says, the grapes "barely get ripe instead of tumbling into ripeness."
Another energy-aware choice: Concrete floors—which have a subtly brown, integrated pigment—help keep the house cool in the hot Sonoma County summers.
When the repurposed wood was first installed, it—fittingly—gave the house a "faint fragrance of wine," said the architect.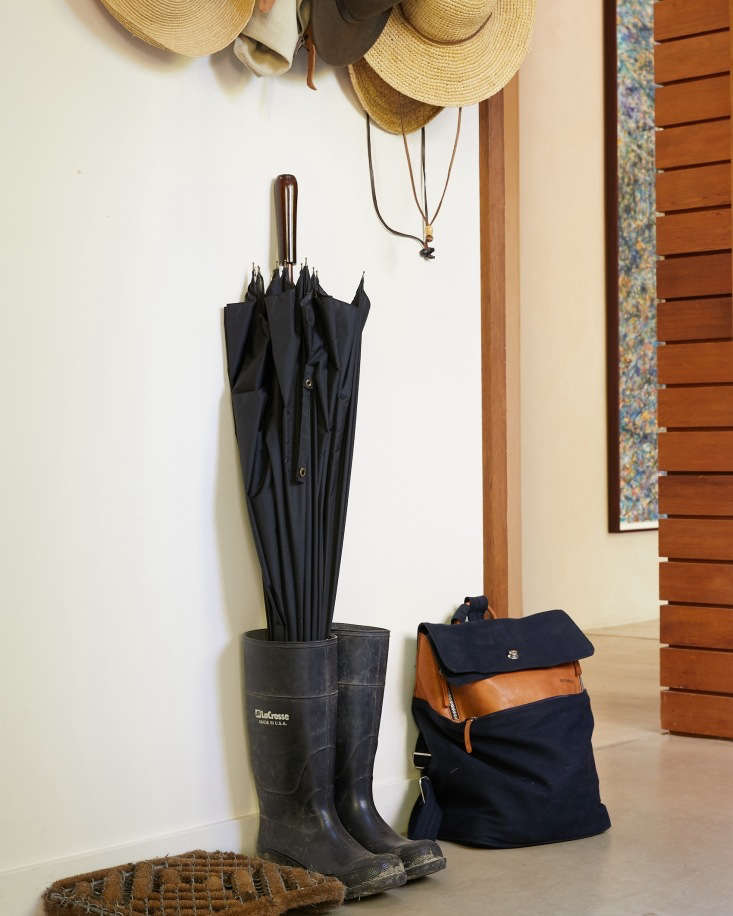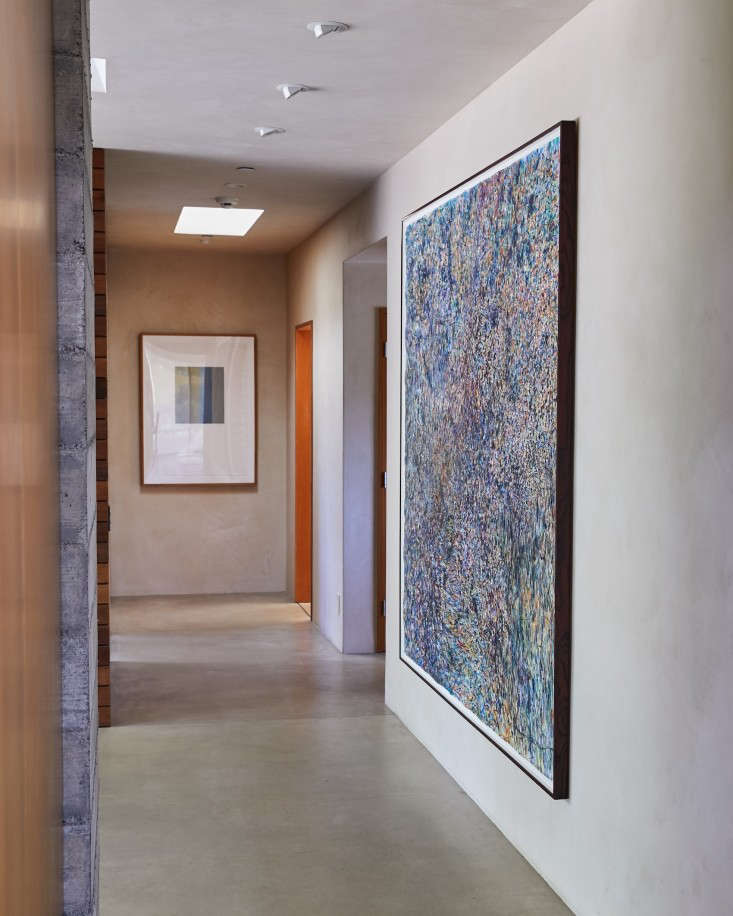 Though the house is clearly modern in style, Anding is proud of its timelessness, "achieved by designing spaces that function well, delight the senses, and are straightforward," he said. "Also, it is extremely important to use honestly beautiful materials that are durable."
Bordering the entryway is a large wall of board-formed concrete, which Singer calls Anding's "most dramatic bit of architectural flourish." It has a purpose, of course—it separates the outdoor kitchen and dining area from the spare entryway—but it also serves as the apex of Singer's desire "for a porous border between indoors and out."
Browse more wine country estates in: