Our judges have selected the finalists, now you choose the winners. Vote in each of the 17 Considered Design Awards categories, on both
In the Best Office Space/Amateur category, our five finalists are Tessa Neustadt, Caitlin Long, Corinne H., Rebecca Hepburn, and Jane C.
Project 1
Tessa Neustadt | Los Angeles, CA | Bungalow Office
Design Statement: "My office is a cozy 30 square feet, and was a tiny kitchen before I took over the unit next door and joined it to mine. We took out the countertops, kept the built-in cabinets, and unfortunately had to leave in the laminate flooring. I work from home so I was really excited to finally having a real office. I wanted to create a warm environment filled with some of my favorite objects, so I would want to spend time there. As a young professional with a mountain of student loan debt, I am always designing my house on a budget and gleaning objects from the different environments I find myself in. Other than my desk, I sourced everything for under $50. As much as I drool over designer pieces, I like the uniqueness of the spaces I create with my found objects: a crystal dug up in a garden, a sea worm shell from a walk on the beach, an old brass porthole found in the desert. In addition to that, there's a lot of 'sidewalk shopping' and thrift-store hunting!"
Chosen by: Guest judge and fashion designer Jenni Kayne, who said, "I could see myself happily working here. I love how simple, bright, and natural it feels. I am most inspired and relaxed when I'm in a clean, minimal space, but I also love being surrounded by beautiful things. All of the details in this space–from the plants to the family photos and heirlooms–felt thoughtful, balanced, and truly special."
Above: Mirror from Anthropologie and straw hat from a thrift store.
Above: "The collection of framed photos and prints on the wall above my desk includes a print of my love (top left) that I had made by Artifact Uprising, a snapshot of my grandmother in the 1940s, and a postcard of a horse."
Above: "A faux sheepskin rug from Etsy for my vintage wire chair. White desk and jute rug from Overstock."
Above: "I scored this wood shelf for $10 at a thrift store. It holds books, small ceramic pieces that I made, my found brass porthole, and plants."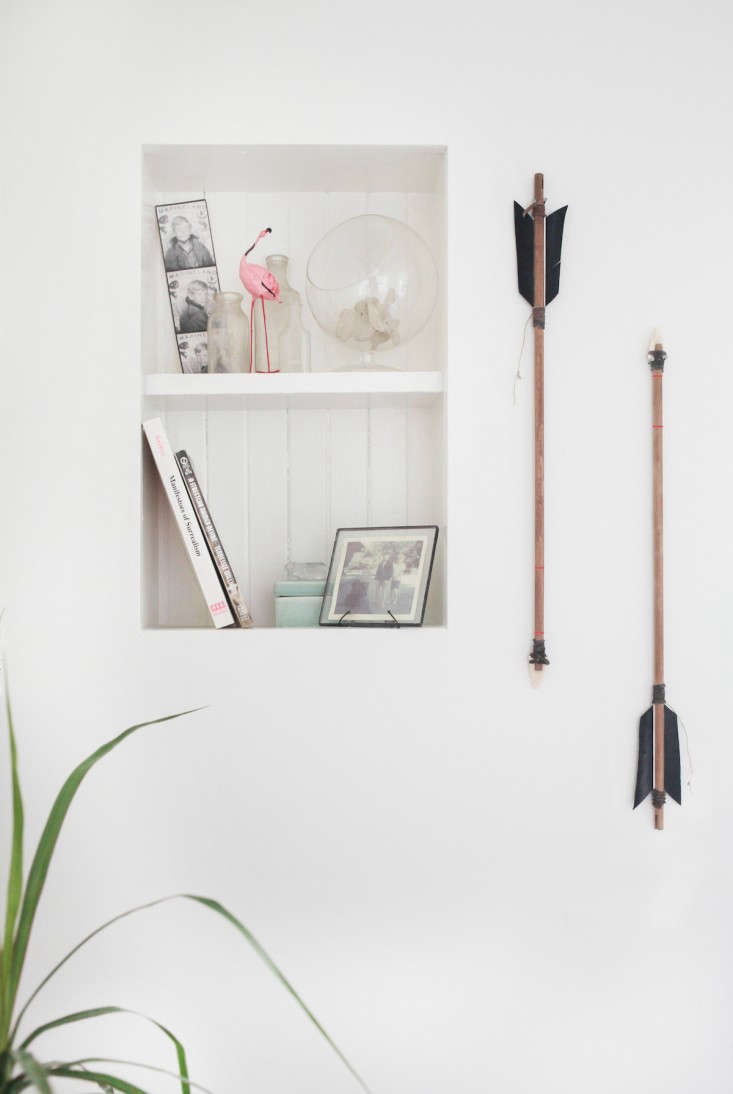 Above: "Odds and ends–the photo strip is of my dad in the early sixties."
Above: "Woven wastebasket from Target, lucite drawers from Muji that's barely visible on left side of my desktop, a leather and gold mouse pad from Freshly Picked, and my puppy, Olive."
---
Project 2
Caitlin Long | San Francisco, CA | Office Shed
Design Statement: "I converted this 100-square-foot backyard garden shed into an office space for late-night studying and early morning business calls. I paneled an existing concrete wall with cedar, installed a portable camping woodstove for coziness, and painted the remaining trim a dark gray."
Chosen by: Jenni Kayne, who said: "I was drawn to this office immediately. I love the mixture of dark-painted wood walls and exposed cedar, as well as the warmth and coziness that the plaid pillows, sheepskin, and layered vintage rugs bring. I like the fact that the interior feels as if it's exactly what the exterior calls for."
Above: The west wall in Benjamin Moore Lead Gray, eggshell finish. Ikea wall sconce.
Above: Flea market art and a pillow handmade from Burberry wool.
Above: Cedar paneling and a Restoration Hardware leather chair. The Andy Davis poster is from Mollusk Surf Shop, in San Francisco.
Above: The Burberry pillow is paired with a flea market vintage Pendleton pillow.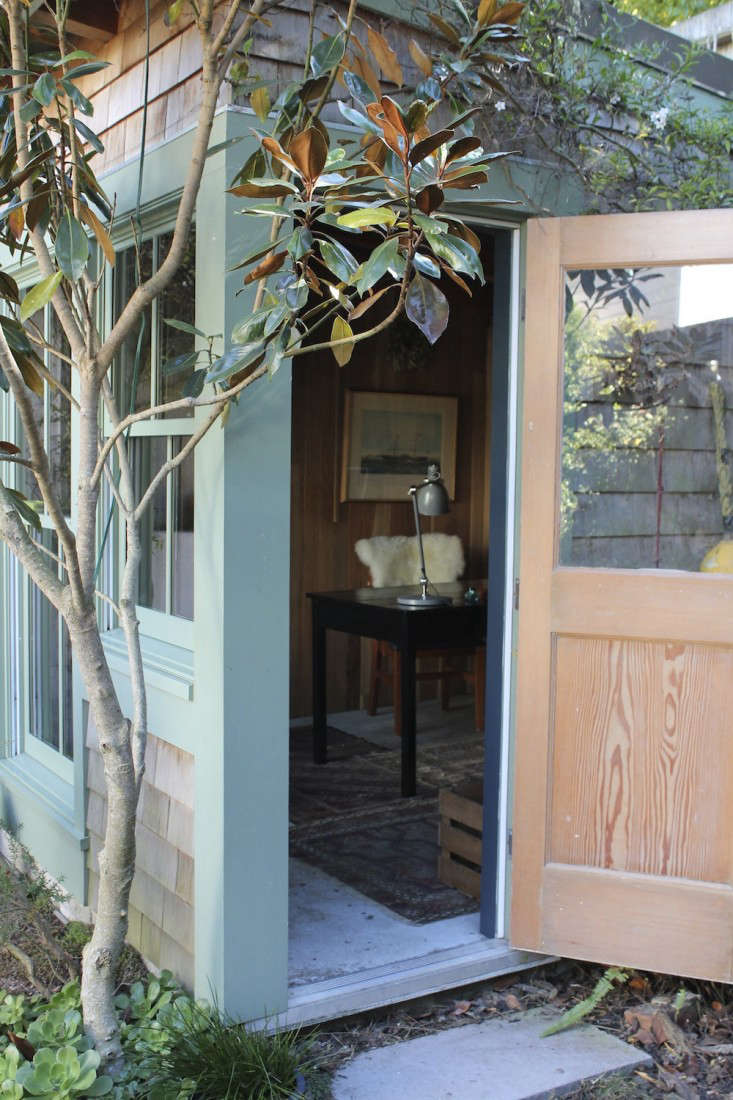 Above: Shed entrance.
---
Project 3
Corinne H. | Dartmouth, Canada | Converted Mudroom Office
Design Statement: "The office area was created out of an old mudroom. We were able to rip up multiple layers of linoleum and plywood to expose 140-year-old original pine flooring. The computer and printer sit beside a window that's over seven feet tall, so there's a lot of natural light. We decided to accent the computer area by painting the wall Benjamin Moore's Galveston Gray. The hanging light is a modern black industrial piece, and there's a cool industrial light that also serves as a sculptural piece over an antique chair with a kilim seat and pillow. The antique oak fireplace mantle, found on Kijiji, was a perfect fit for the space. It was stripped to achieve the beautiful natural patina. The antique glass above the mantle adds even more character. We decided to tile the inside area of the mantle to give it an interesting look. The cube that sits below the mantle is a modern reference to fire. It can change color and adds a warm element to the room. It can also become a strobe disco cube for parties. Files are kept in an old Dutch pie cabinet. Finally, a passageway that had been closed off was opened up for better light and flow. This study is a unique and inspiring space to work in."
Chosen by: Jenni Kayne, who had this to say about the project: "This office took me back to another time in the best way. I fell in love the minute I saw the old pine floors, which really set the tone. And while everything from the antique mantel to the cabinet to the corner chair catches your attention, I love how effortless and minimal the space feels."
---
Project 4
Rebecca Hepburn | Vancouver, Canada | Home Office
Design Statement: "My home office was designed to be a creative and clean space for work as an interior design student. The shelves are mounted at arm's reach, and goods such as pens and drafting tools are accessible. A mixture of boxes are organized so that my reference materials and odds and ends can be stowed away but aren't so out of sight that I forget about them. It was important that the boxes have lids to maintain the clean lines and organized look and feel of the space. The desk is the focal point, and I wanted to make sure that it's well displayed and that the surface is kept open for drawing and drafting. The desk is a special piece that my husband and I had locally made after selecting black walnut slabs dried for five years from a nearby farm. I look forward to seeing how the wood matures and naturally wears, and expect it will become more beautiful with age. Living in Vancouver, we see our fair share of gray and rainy days, so I wanted to make sure to freshen and brighten the area with greenery, which is such a complimentary contrast to the white walls and objects in the room. With Vancouver's lighting and robustly green landscape, bringing green into the home and workspace feels like a natural fit."
Chosen by: Remodelista editor in chief Julie Carlson, who commented: "Rebecca achieved a nice modern/organic balance in her home office. I love the live-edge black walnut desk paired with the crisp white shelves; everything is in its place, but the space doesn't feel too perfect or over designed."
---
Project 5 
Jane C. | Waban, MA | Light-Filled New England Office
Design Statement: "We transformed our dilapidated, three-season sunroom into a flexible, indoor-outdoor office space. We went for a clean, Scandinavian-influenced look inside, and a modern, New England look outside."
Chosen by: Julie Carlson, who said: "Lighting is so important in a workspace, and this home office is flooded with natural light, which encourages creativity, in my opinion. I like the simplicity and modesty of the space, and the fact that Jane repurposed her childhood desk chair. And I'm all for rooms that serve a dual purpose; this one manages to be an office by day and a media room by night, keeping the TV out of the main living space–one of my pet peeves."
Above: An exterior view of the office.
Above: The office door opens onto a small deck with a built-in planter.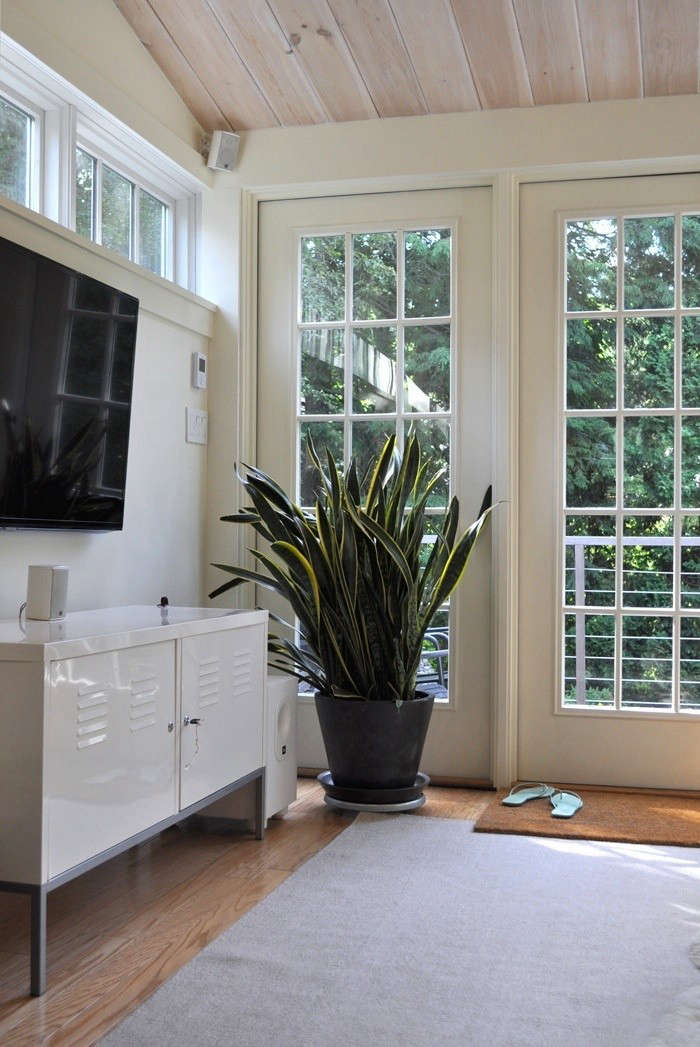 Above: "Windows are on three sides of the room overlooking our garden. At night, the office becomes a media room."
Above: "Close-up of my desk, with works in progress on the wall."
Above: "To make the small space feel airy, we opened up the ceiling and stained it white."
Above: "My desk area. I chose the Helix desk from CB2 for its openness and clean lines; the chair is my desk chair from childhood."
Start voting–and vote daily, now through August 8, on both Remodelista and Gardenista. Winners will be announced on August 9.
(Visited 183 times, 3 visits today)