I can't count the number of times I've heard someone refer to a Vitamix as their "someday" blender–including Julie (see The Last Blender You'll Ever Buy). Make someday come sooner by entering our Vitamix giveaway. Just leave a comment below and tell us: What goes into your favorite smoothie?
To get you started, here's our new favorite concoction. We learned about it when I asked a friend who's a great cook how she gets her son to eat his vegetables. She revealed that she slips vegetables, like spinach, carrots, and avocado, into bright berry smoothies. She uses a Vitamix to cover her tracks, and her picky eater is none the wiser.
UPDATE: This giveaway is now closed. Congratulations to our winner, Chloe!
Photography by Liesa Johannssen.
Above: The inspiration for our kid-approved vegetable smoothie is this Black Forest Cake Smoothie, variations of which my friend swears by as a vegetable vehicle for her son. She's tried tropical fruits in vegetable smoothies, but says that berries are ideal (in color and flavor) for hiding things that are good for you.
Above: I used the Vitamix 5200 Standard Getting Started machine in red; $449 at Vitamix.com. Vitamix offers a range of Blenders starting at $399, and Certified Reconditioned machines starting at $279.
Above: The recipe's basic stock is dark red fruits that kids love: Here, I added a small handful each of frozen cherries, blueberries, and blackberries, plus mango as a thickener. (If available, you can also consider adding currents, grapes, or huckleberries.)
If you're aiming for a vegan version, adding a dense fruit like bananas or frozen mango works well to make the smoothie more substantial.
Add some cinnamon for kids who like it.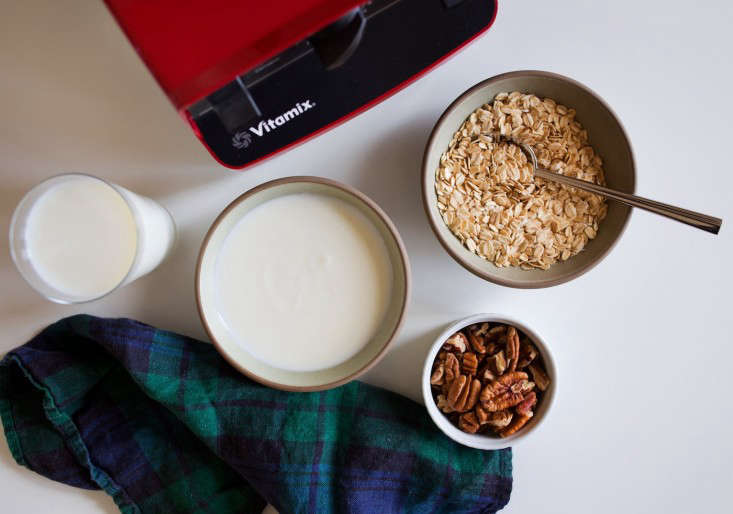 Above: Pecans lend great flavor, but use any nuts you want. Raw oats are optional and will also thicken the drink. I added a large spoonful of pecans to our drink. Had I used oats, I would have added about the same.
Use any combination of dairy or vegan milk or yogurt for a thinner or thicker consistency, and use as much as you want.
Above: Vanilla goes far in making smoothies more palatable for kids. At the insistence of the original Black Forest Cake Smoothie recipe, I used vanilla bean paste instead of vanilla extract, and the finished result had a great vanilla flavor without the alcohol extract taste. (Widely available in specialty or health-food grocery stores, vanilla paste is more expensive than extract, but it's far more concentrated and a little goes a long way.) Use only a tiny pinch.
Above: Next, add vegetables and lemon juice. Spinach, avocado, and carrots are wonderfully easy additions; the Vitamix decimated them all without a trace. I added a single whole carrot, a large handful of spinach, and four slices of avocado.
Adding a splash of lemon juice is critical if you're adding vegetables and want the color of your smoothie to stay bright–I learned this the hard way.
Above: Looking good enough to drink? Don't forget to enter to win a Vitamix blender by telling us about your favorite smoothie in the comments section below. We will choose a winner at random from all the comments left on this post before 10:00 am Pacific time on March 4, 2014 and will contact the winner by email via the address you leave when you register with our Disqus commenting system below. Visit our official Terms & Conditions for details.
UPDATE: This giveaway is now closed. Congratulations to our winner, Chloe Hensold!
You need to login or register to view and manage your bookmarks.