Located in a former Laundromat, Vergennes Laundry in Vermont is an example of community enterprise at its best. Julianne Jones raised the seed money through Kickstarter and offers $500 memberships, redeemable in pastries.
Jones and her French husband, Didier Murat, opened Vergennes Laundry in 2010, creating an all-white interior featuring concrete, wood, and white-painted paneled walls that allow the food and the customers (and the wood-burning bread oven) to dictate the atmosphere. Jones was inspired by Scandinavian design when she created the interiors, "especially Aalto; and on the French side, Prouvé, Perriand, and le Corbusier (all through my architecture studies at Middlebury and in Copenhagen)." The bakery was built by hand: Murat made the counters, the cases, the shelving, and the wooden tables, while Jones' mother sewed the aprons and napkins out of rustic linen. For more information, go to Vergennes Laundry.
Photography by Corey Hendrickson, unless otherwise noted.
Above: Jones and Murat, in their hand-sewn linen aprons.
Above L: A simple breakfast of canelles and coffee. Above R: Murat behind the coffee counter.
Above: Jones says, "We limited the wall decor to a single painting and an antique caribou."
Above: Murat made the tables of birch wood and unfinished steel; the chairs are Aalto's Artek Birch Chairs.
Above: Coffee made in the museum-worthy Chemex. Photo via Pop Wars.
Above L: A hand-sewn canvas bag in a Steele Canvas Basket. Above R: Jones collects the morning haul of fresh bread.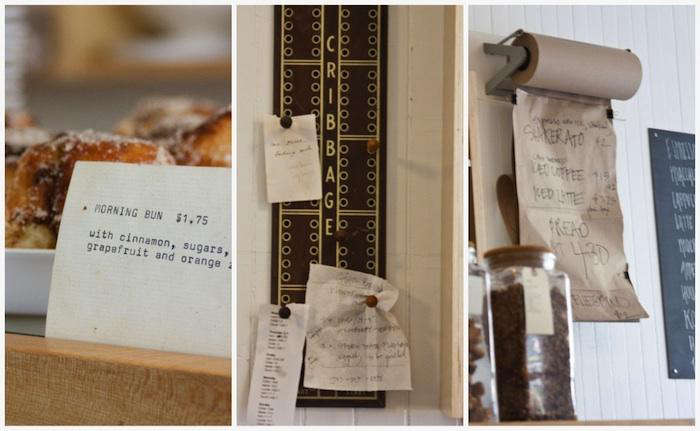 Above: Scenes from the bakery; photo via A Sweet Spoonful.
Above: An antique caribou (called Benjamin) presides; photo via Pop Wars.
Above: The bakery's entrance; photo via Traveling Near and Far.
N.B.: This post is an update, the original story ran on May 9, 2012.
You need to login or register to view and manage your bookmarks.