Instead of dining out on Valentine's Day—in a restaurant packed with strangers and dripping with paper hearts—wouldn't it be more intimate, in every sense of the word, to stay in? That's always been our preference: candles, a table set for two, and perhaps pajamas over crowds and cold.
When we emailed recently with Ajiri Aki, the France-based doyenne of stylish, effortless table settings (she runs the vintage tableware shop and linen purveyor Madame de la Maison), we were happy to hear that she feels the same, all the way over in Paris. Here's how she sets the table for a simple Valentine's dinner for two—plus her tips for making it just a bit romantic, never fussy.
Photography by Ajiri Aki.
1. Resist the urge to go pink.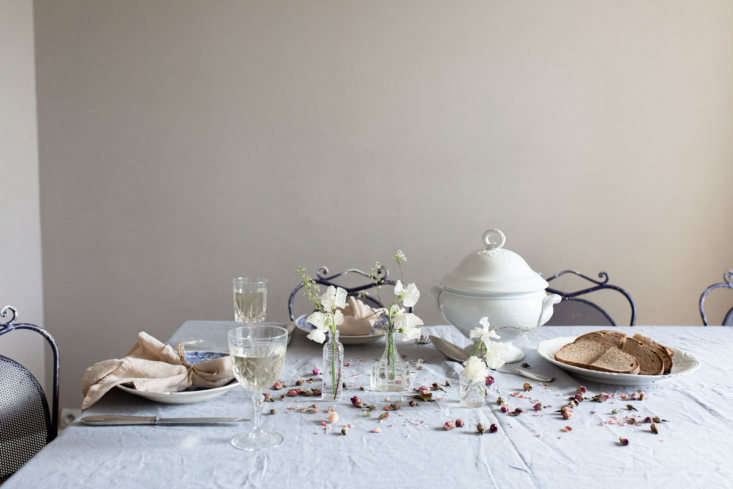 2. Choose petite flowers over big bouquets.
3. Sprinkle some roses.
Above: "I always add one little stereotypical element that connects to the holiday," Ajiri says. For a romantic touch, she scattered a handful of dry rose buds down the center of the table.
4. Use the good china.
5. Embrace imperfection.
6. Sit kitty-corner.
P.S. See more of Ajiri's entertaining tips in Joyeux Noël: How to Throw a Holiday Party the French Way. And here's our original feature on her work: Vintage French Style You Can Rent: Madame de la Maison in Paris.
(Visited 175 times, 2 visits today)