Lately we've noticed a new crop of furniture designers resurrecting rattan, the Southeast Asian fiber known for both its durability and flexibility. Like their European design forebears (Arne Jacobsen, Charlotte Perriand, and Franco Albini are just a few who worked in rattan in the midcentury), designers and stylists are integrating rattan chairs and chaises into modern spaces. It's a new use for an old idea and it's one we're on board with. Here's a look.
N.B.: You can also add Piet Hein Eek to our list. His most recent collection for Ikea, full of rattan, was recently unveiled; coming in 2017.
Above: The Franco Albini Belladonna Sofa from 1951 is part of Sika Design's Icons Collection, reviving iconic rattan and wicker furniture from midcentury European designers. The sofa is €1,865 ($2,052) from Sika Design. Shown here in the Artilleriet apartment in Gothenburg, Sweden.
Above: The pale Monet Chair is made of Alu-Rattan, an aluminum frame woven with Artfibre material that works as well outdoors as in; €495 ($545) at Sika Design.
Above: The Pari Rattan Daybed is $998 at Anthropologie who offer companion pieces such as the Pari Rattan Chair ($98) and the Curved Rattan Daybed ($1,798 to $1,998).
Above: The Tivoli Rattan Chair by Scandi design company Bloomington is €279.95 ($308) at Living and Company. The chair is one of seven featured in our post on the Best Rattan Lounge Chairs on Gardenista.
Above: Designed by Vincent Sheppard, the Lucy Lazy Arms Armchair in powder-coated wicker and aluminum; €512 ($564) from Colonel.
Above: The Blush Pink Rattan Chair by Bloomington is €279,95 ($308) at Living and Company.
Above: The Frames Armchair in black rattan was designed by Jaime Hayon for Expormim. Contact Expormim for pricing and availability.
Above: The Colony Lounge Armchair from House Doctor in black is €387 ($426.57) at Colonel.
Above: The Avia Tall Rattan Chair (left) by the Bilbao airport in Spain designed by Santiago Calatrava. The chair is currently on sale for £150 ($198) at Habitat in the UK.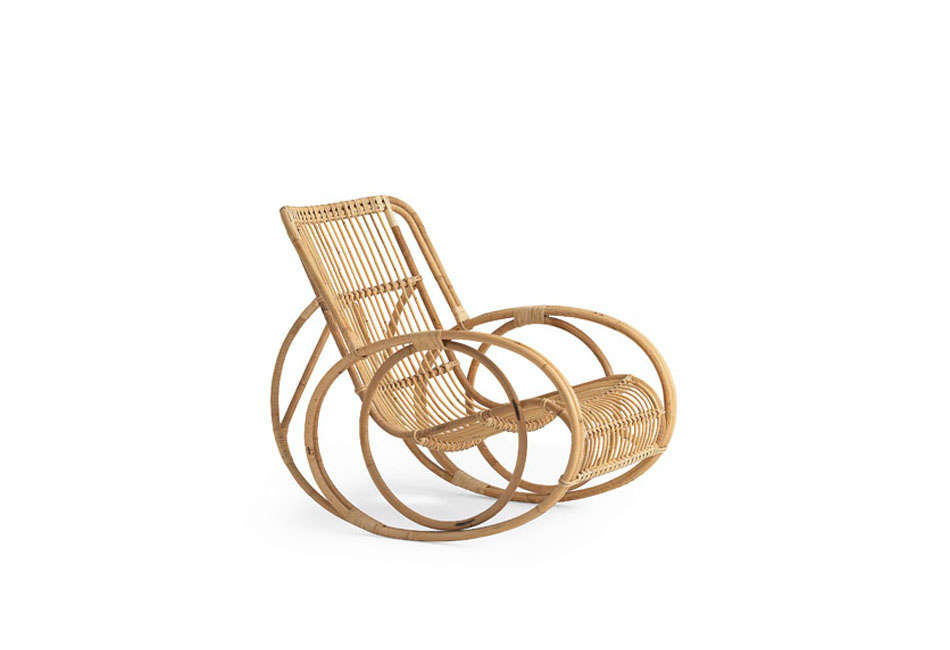 Above: The Waltz Rocking Chair by Mette Munk Plum is based on an original design from the 1950s for Liggestolen; €563 ($620) from Liggestolen.
Above: The Croqueta Dining Chair is part of Spanish company Expormim's "70s Re-Edited" collection of peeled and tinted rattan furniture. Contact Expormim for pricing and availability.
Above: The Fontal Dining Armchair is made of peeled and tinted natural rattan with a caned seat. Contact Expormim for pricing and availability.
Above: The Rattan Screen Room Divider is $298 at Urban Outfitters.
Above: The Michelangelo Daybed by Sika Design is based on old drawings and updated for ergonomics; 4,365 SEK ($507) at Artilleriet.
Above: From Danish designers Foersom & Hiort-Lorenzen, the Nest Sofa is made of sustainable rattan for $1,204 at Cane-Line. The collection also includes the Nest Club Chair, Nest Lounge Chair, the Large Nest Footstool, and the Small Nest Footstool.
For more rattan in context, see our posts:
You need to login or register to view and manage your bookmarks.