Recently, while having lunch at a friend's house, I admired her striking flatware in matte black. Now I'm seeing it everywhere along with its summery counterpart: white enamel camp-style cutlery.
Above: Made by a third-generation, family-run business in Portugal, Almoco Flatware's Five-Piece Setting in Black is crafted from stainless steel; $53 from DWR. 
Above: Another family-run business from Portugal, Cupitol makes a number of black flatware collections that we admire. Sleek and modern, Moon Cutlery in Brushed Black is available at Horne; $89 for a five-piece set.
Above: A bargain option, Hampton Forge's Melodie Oxidation Flatware 20-Piece Set is $99.99 from Amazon.
Above: Inspired by mid-20th-century Scandinavian flatware, the Oslo Five-Piece Set in Matte Black is available at Greentail Table for $72. The collection, made in Portugal from stainless steel finished with a black titanium electroplate, can also be found at Poketo, Canvas Home, and Dwell Studio.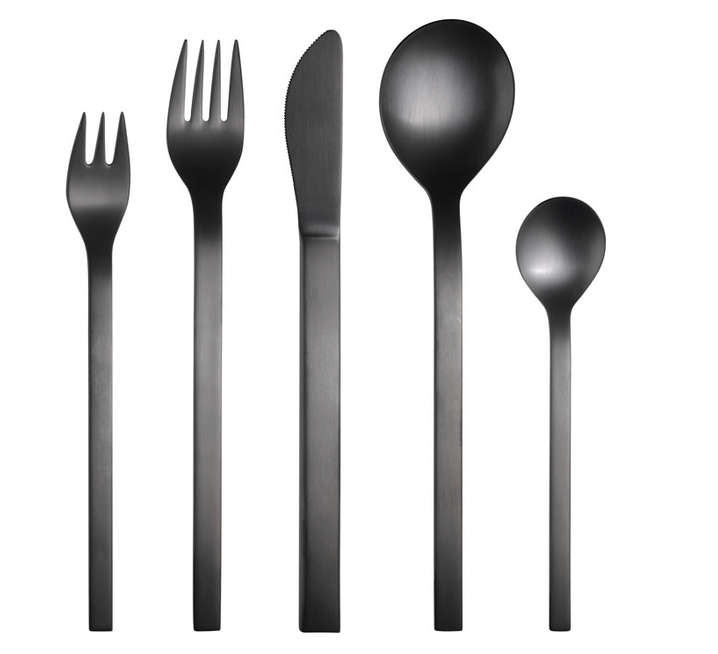 Above: The classic Mono-A Edition 50 collection was designed in 1959 by German professor Peter Raacke; $400 for a five-piece setting at All Modern.
Above: Made in the village of Sao Martinho de Sande, Portugal, Cutipol's Duna Matt-Black Cutlery is available at Amara; $426 for a 24-piece set.
Above: Also on board with the black flatware trend, CB2 offers its own Matte Flatware Set made of powder-coated stainless steel; $24.95 for a three-piece place setting.
Above: Made in Vietnam, Crate & Barrel's stainless Jett Flatware has a heat-treated black satin finish; $69.95 for five pieces.
Above: Vera Wang's Wedgwood Polished Noir flatware is a Bloomingdale's exclusive; $125 for a five-piece setting.
Looking more black accents for the kitchen and table?
(Visited 122 times, 1 visits today)