If there was one thing missing from my life in New York for the past three summers, it was easy access to a grill. On hot summer nights the smells wafting from our neighbors' grills would taunt me as I sat cheek pressed against the screen, trying in vain to see whatever it was one neighbor or another was grilling.
In a stroke of luck, the public park down the street from our apartment installed grills, and since last summer my husband, James, and I have been taking full advantage. After a bit of trial and error, we've figured out a pretty good routine for making picnicking in the park.
To be clear: no matter what you do, picnicking in a public park means a certain amount of schlepping, and compromise. But once you've gotten accustomed to the drill, there are ways to bring the comfort of home to a public setting. At the risk of getting a bit precious on you, here are a few ideas for hosting a pretty barbecue in a public park, without too much fuss or waste.
Photography by Erin Boyle, unless otherwise noted.
1. Get there early: Staking out a table and a grill can be one of the hardest things about having a barbecue in a public park. The key is to plan ahead and stake out a table before the crowds descend. That and a willingness to be friendly–it's amazing how far a smile will go toward getting you a spot at a table, even among hamburger-hungry picnickers.
2. Bring your own tablecloth: Nothing transforms a picnic in the park like a tablecloth. This Breton tablecloth was a wedding present, and it's made an appearance at all of our picnics last summer. A tablecloth makes even a simple gathering feel fancy, and eliminates the need to worry about bird poop or splinters or any of the other unpleasantries that sometimes accompany park dining.
3. Invest in a few lightweight, reusable place settings: It can seem like a pain to carry reusable plates to a picnic, but if you do a bit of planning and invest in finds from thrift stores, it can be worth it. Using real cutlery and proper plates instantly elevates a picnic, to say nothing of cutting down on your trash. If you like the look of enamelware, see Julie's post, Classic Enamelware for Outdoor Dining.
Committing to reusables can be trickier when there are large groups involved, but there are a number of good compostable options out there. Our favorite is the disposable paper Wasara Tableware line designed in Tokyo by Shinichio Ogata. A pack of eight Large Paper Plates is $10 from Cloth and Goods. For more, see Stylish Outdoor Entertaining With Compostable Tableware.
Above: A set of six sturdy (and classically French) Picardie Clear Tumblers by Duralex is $19.16 from Amazon. For more glassware ideas, see 10 Easy Pieces: Basic Drinking Glasses.  And see page 296 in the Remodelista book for another of our favorite Duralex tumblers.
4. Barbecue tool kit not necessary: A grill brush and a pair of kitchen tongs is all you really need. The Outset Verde Stainless Steel Grill Brush with Bamboo Handle is $11.09 from Vine.
5. Plan your menu around skewers: To make things even easier, I like to plan the majority of my meals around things that can be cooked on a skewer. Grilled veggies are the favorite barbecue food of this vegetarian, but other easy options are sausages, grillable halloumi cheese, and skewered shrimp. Even if it means another thing to carry, metal skewers are a huge improvement over bamboo options.
6. Prepare your food ahead of time: Pulling together the details of the meal at home helps streamline the process at the park. I like to marinate my ingredients ahead of time and bring it to the park ready to cook.
7. Crowdsource your menu: If you're inviting friends along, there's no reason why everyone can't contribute to the meal. Have friends provide snacks, sides, and desserts to round out the meal. (You can also crowdsource a garden; here's how).
8. Know your coals: Or more specifically, know the rules for your coals. Some parks require guests to remove their own charcoal while others ask you to leave your coals in place. Know what's required and come prepared. 
9. BYOB: A lot of public parks have rules against bringing in alcohol, but if you're at a park that's more lenient (or in case you've got a rebellious streak), you might consider bringing along wine that's easy to transport. The Fuori Strada "Off Road" is $12.99 from Astor Wines and comes in a Tetra Pak.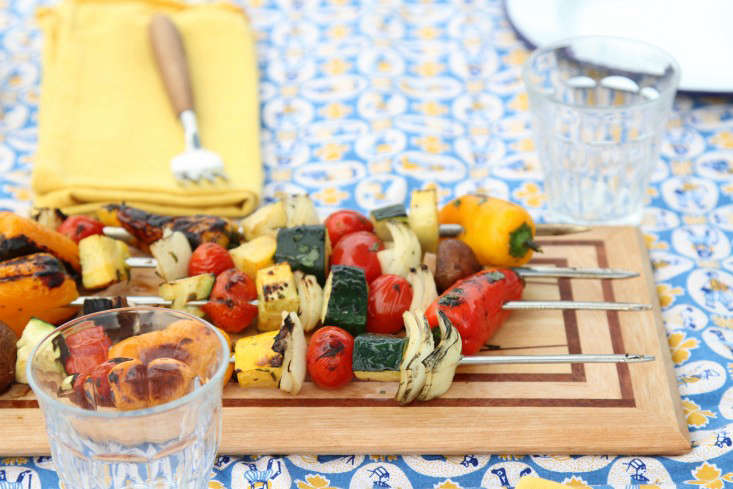 10. Pack a flat cutting board. One of my favorite secrets to picnic success is packing a thin cutting board. Not only does the board serve as a shelf in a picnic basket, it also provides the perfect tray for transporting food from grill to table to back again. Here are some Remodelista favorites.
11. Bring a bag for packing up dishes. If you make the commitment to bringing reusable dishes, make sure that you bring a recyclable (or washable) bag or two for stowing the dirties. 
12. Be courteous: Many parks have time limits for how long you're allowed to grill. Be conscious of the folks around you and make sure you don't hog the grills for too long. And make friends! Last weekend we were at the park and folks were sharing goodies (and recipes) from their grills with nearby parties. See? Grilling in a public park can be fun after all.
In the market for a picnic basket? We've got our eye on Gardenista's Perfect Picnic Basket. 
For more Indoor/Outdoor Living ideas, go to our Gallery of Rooms and Spaces. And if you have a backyard, check out 13 Modern, Fully Equipped Outdoor Kitchens. Looking for a portable grill? Stay tuned for our 10 Easy Pieces post later today.
N.B.: This post is an update; the original story ran on July 3, 2013 as part of our Summer Picnics issue on Gardenista. For more Indoor/Outdoor Living ideas, go to our Gallery of Rooms and Spaces. And if you have a backyard, check out 13 Modern, Fully Equipped Outdoor Kitchens.
You need to login or register to view and manage your bookmarks.