Nicole Hollis drew upon Seattle's rich history of lumber, gold, and sea trading for inspiration in her design for the interiors of the new Palladian Hotel. Housed in a 1910 landmark in happening Belltown, the building provided Hollis and team with an ideal backdrop for her layerings of natural materials such as marble and wood accented with velvet upholstery and metallic touches. The results? A decidedly gritty-glam look befitting the city.
Photography by Laure Joliet.
Above: The landmark building offers iconic views across the Puget Sound.
Above: Hollis cloaked the lobby in the deep blues and greens of Puget Sound. The restored terrazzo floors are original to the building.
Above: In the moody library, the fireplace is stacked with antique books.
Above: Reclaimed marble from Seattle's old King Street Station lines the stairway walls.
Above: Glimmers of gold can be spotted throughout the hotel.
Above: Hollis furnished the rooms like lofts, mixing antique area rugs with leather-bound books and old-fashioned telephones. The leather sling chair is by Sit and Read.
Above: The custom lighting throughout the hotel is the work of Ladies & Gentlemen Studio (a Seattle duo who recently decamped to Brooklyn). On the wall is a crocheted Mega Doily Rug made of oversized cotton rope, also by Ladies & Gentlemen Studio.
Above: Brass accents are a staple throughout the hotel, including this kitchen suite.
Above: The custom platform beds have reclaimed wood headboards with brass rivets and inset shelving. Celebrity portrait throw pillows (of David Bowie and Bill Murray, among others) introduce interesting bedmates.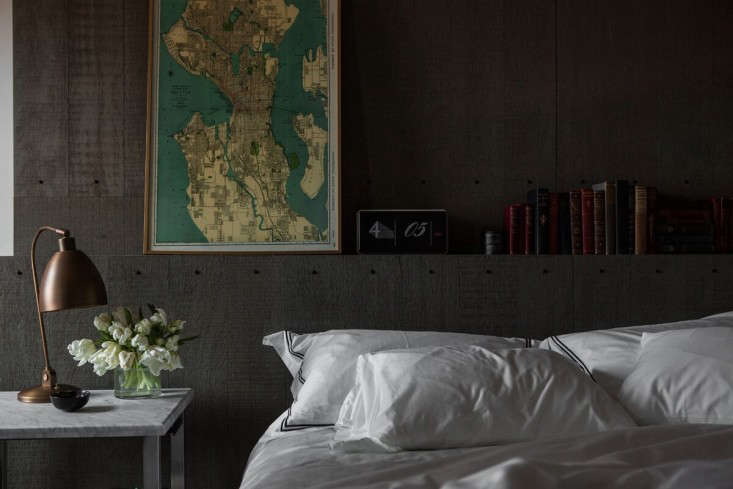 Above: Vintage city maps and pieces by local artists decorate the walls.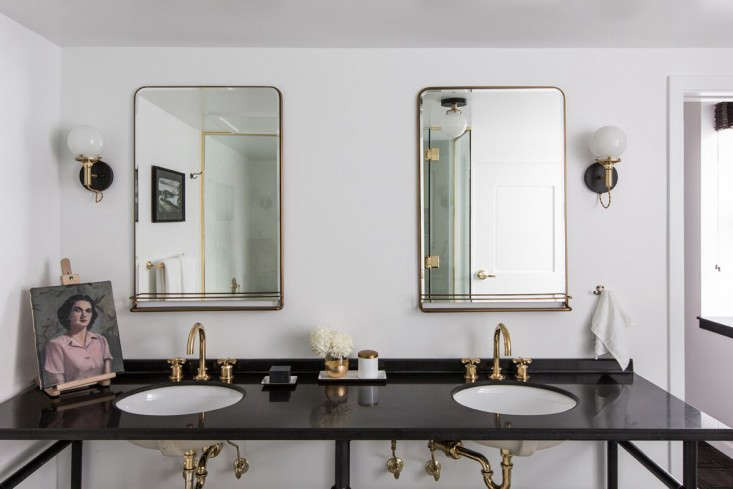 Above: The bathrooms feature custom vanity stands with brass fixtures and vintage-inspired mirrors.
Above: Bathroom floors are lined with classic hexagonal marble tiles, and the larger suites have clawfoot tubs.
For more details, go to the Palladian Hotel.
Nicole Hollis is based in San Francisco and a member of the Remodelista Designer/Architect Directory. To see more work by Nicole Hollis in our posts Old World Meets New World in the Napa Valley and A Serene Sonoma Guest Retreat.
See more lighting by Ladies & Gentlemen Studio. If you're coveting a leather chair, check out these options: 5 Favorites: Modern Leather Sling Chairs.

(Visited 200 times, 4 visits today)