UK designer Caryl Terlezki has lived on islands for the past twenty years, developing and designing commercial and residential properties. From beach bars to luxury residential beach homes and mega-yachts, she is well versed in the island habitat, so it was only natural that when she moved back to the UK, she should look for a place by the sea; her beach cottage in the village of Aberporth in Cardigan Bay where she used to holiday as a teen. "Having sailed and lived on boats and in homes on the sea in the Mediterranean, the States, the West Indie's and the Virgin Islands, I have been heavily influenced by the beach and sea," she says. "My style has evolved around this striking natural environment."
Photography by Kristin Perers.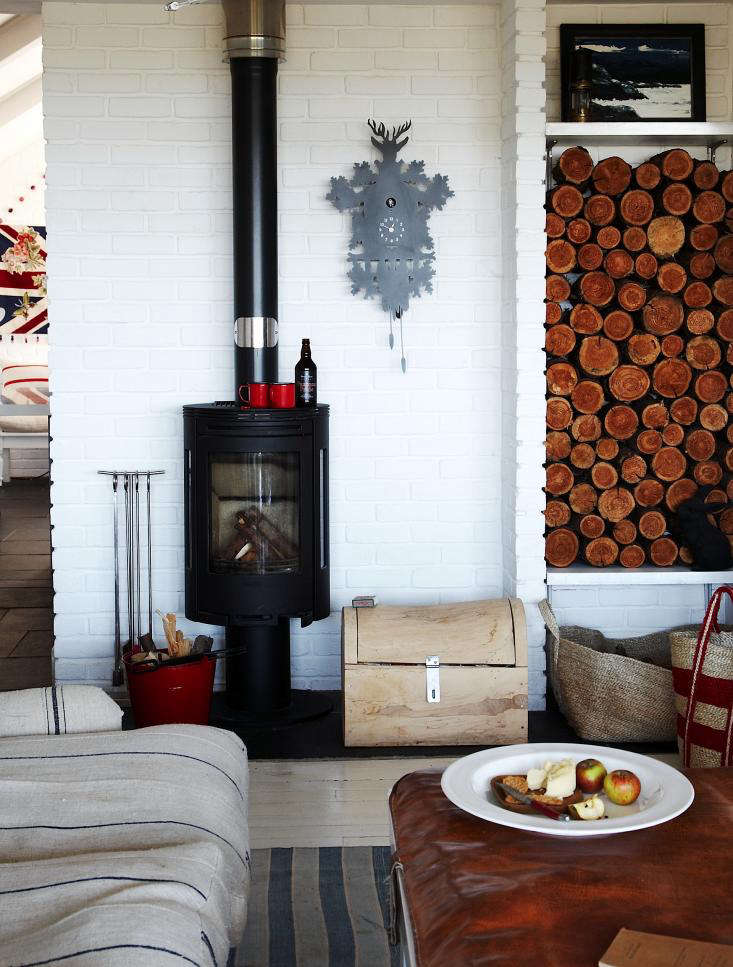 Above: Undaunted by the notoriously unpredictable and changeable weather in Wales, Terlezki weaves a casual island aesthetic around the reality of the weather in Wales. "My wood stove is a fantastic source of heat," she says. "I do also have under-floor heating and radiators, though–after all, this is Wales." By painting the brick walls, Terlezki created a white background for her personal mix of natural finishes and textiles. The wood chest carved from a tree trunk holds the kindling wood for her wood stove.
Above: "I keep a neutral background and layer paintings, art, and different fabrics and textiles with lots of color," Terlezki says. "I think this emphasizes their originality and character." Terlezki is currently opening a branch of her company Design Stuff UK in Cowes on the Isle of Wight, where she has developed a selection of boat paraphernalia converted into functional home decor.  For more information, contact her at Design Stuff UK.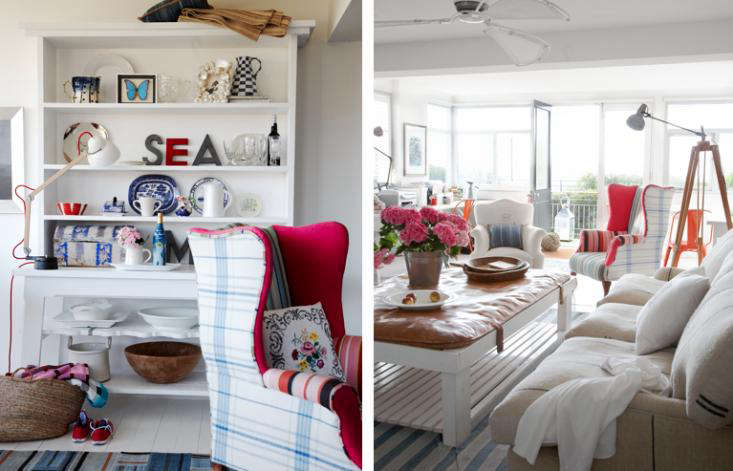 Above L: The designer found this wingback chair and had it covered with odd scraps of fabric that she had been collecting for years. "I loved all the swatches which were a mixture of Welsh plaid wool, deck chair stripe,s and old French mattress covers, but they were all small and I wasn't sure what I would use them for," Terlezki says. Above R: The designer covered her coffee table with a vintage leather gym mat. "I love a coffee table where you can with your feet up," she says. "This one is over two meters (six feet) square."
Above: Terlezki designed her kitchen extension to look like a brick barn. "I included a porthole because it is an obvious seaside window and is a practical way to let in light while creating character at the same time," she says. 
Above L: Terlezki hangs "Jubilee," a wool wallhanging by Lucinda Chambers from The Rug Company, for dramatic effect in her kitchen. Above R: The kitchen table pairs a Carrara marble top with a custom-designed painted wood base. 
Above: The designer uses a vintage Welsh metal milk churn as a bar stool in her kitchen. Terlezki's kitchen cabinets are a mix of bespoke (metal fronts on the cabinets around the island) and standard (white high gloss cabinets).  
Above L: The steel-trimmed bathtub, like all the bathroom fixtures, were sourced from a local bath shop in Cardigan. Above R: A collection of objects that represent Ty Y Mor's (Welsh for The House at the Sea) color scheme include a Welsh dragon from a local craft shop, a gray-veined pebble from the local beach, a white plaster watering can from Italian designer Paola Navona, ash bowls whittled locally by Dai the Wood, and wooden spoons that Terlezki designed, "A contemporary twist on the Welsh classic," she says.
Above: In the bedroom, the palette tones down into a black and white color scheme. "Not every room has to have a riot of color," Terlezki says. The black and white bed linens have been collected through her travels.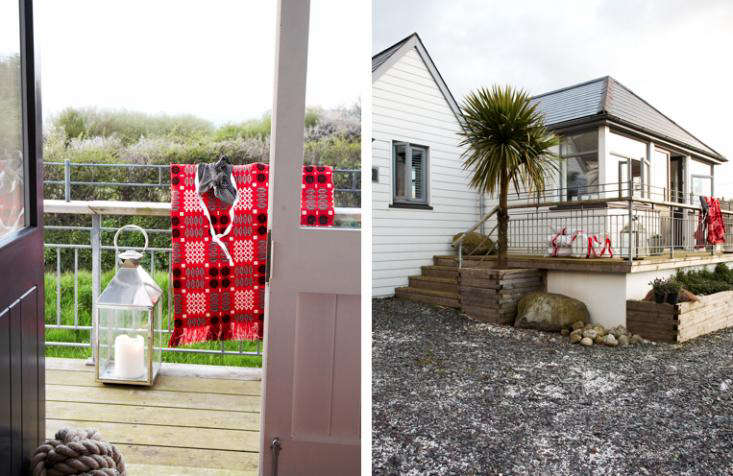 Above L: "I have always enjoyed sourcing old Welsh quilts and blankets," Terlezki says. "They have such a rich history and tell wonderful stories and I particularly love the dragon red Welsh hand-woven tapestry blankets." Above R: Terlezki's beach cottage in Wales was built 40 years ago.
Above: Terlezki's outdoor furniture collection includes a few Adirondack chairs and an old plank table top found on a visit to France. She inserted a galvanized strip of metal to extend the width of the table and placed the plank on French forms which were once used for bending industrial metal parts. "I have some old French mattress covers that I have stuffed with duvets," she says. "On cold nights, we light up the fire pit,  drink some lovely wine, and look up at the sky full of stars."
Hints of red throughout Ty Y Mor bring warmth and contrast. See Red in our Gallery of rooms and spaces to see how other designers use this vibrant color. 
(Visited 595 times, 1 visits today)