For the next 48 hours, Juan Matiz of Matiz Architecture & Design (a member of the Remodelista Architect and Designer Directory), is available to answer any and all reader questions (leave them in the comments section). Fire away!
For the inventive project shown here, Matiz worked with a New York family to link their apartment to an outdoor terrace. Building an internal staircase can compromise valuable living space and incur great costs; which is why before embarking on a project like this, it's prudent to call on the skills of an architect. In this fifth floor Tribeca apartment, Matiz designed a stair that draws light from the roof terrace into the apartment while extending the sense of space from the apartment out to the exterior. The design also manages to harbor a few functional and practical spaces underneath the stair: This unexpected return for relinquished space demonstrates architectural thinking at its best.
For the first installment of our new feature, The Architect is In, Matiz, is a graduate of Pratt Institute who has worked in the past with Polshek Partnership (now known as Ennead Architects), is available for the next 48 hours to answer any questions you may have about working with an architect.
Photography by Ty Cole.
Above: More storage is designed to fit underneath the steps. The metal cables provide stability for the cantilevered stair and serve as rails at the same time.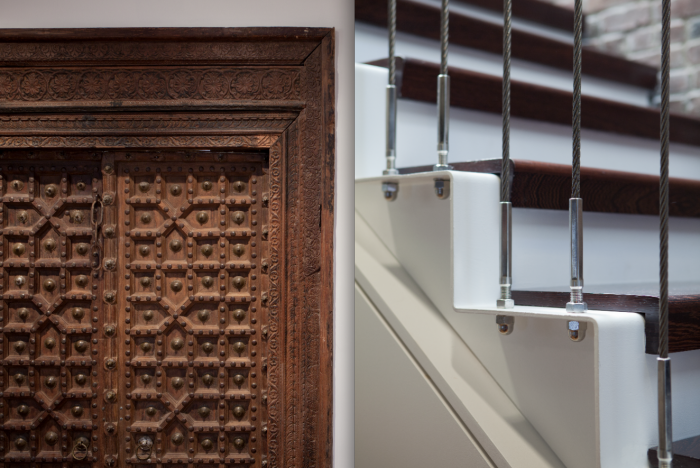 Above L. The wood and metal doors to the master bedroom are from India and are 400 years old. Above R: The detailing of the wenge treads placed on top of the folded plate stair was inspired by the master bedroom doors.
Above: The new staircase provides an opportunity to create a light well drawing light in from above down below. The walls underneath the stairs step out, housing a guest bathroom behind the first translucent panel and a home office behind the second.
Above: A carving from Bali inspired a water fountain designed by Matiz.
Above: Zinc shingles encase the stair enclosure and small openings of alabaster provide an interesting glow at night.
Above: The wall behind the stair enclosure is not part of this building, but Matiz's clients had it resurfaced and painted to tie into the new roof scape.
Above: Upstairs, the enclosure of the stair provides an opportunity to create a sense of place with a seating area of built in benches from which to view the green roof by All Decked Out. The glazing openings around the enclosure create the light well to below.
(Visited 164 times, 2 visits today)