Every Halloween, London architect and interior designer Ben Pentreath turns his Bloomsbury store on Rugby Street into a veritable cabinet of curiosities. Pentreath and his shop overseer Bridie Hall (she's also an artist) create displays using "anything we can get our hands on that sparks an interest, catches our eye, makes us happy, makes us confused, makes us laugh, makes us cry. The aim is to create a feast for the eyes and imagination." For those lucky enough to be in the neighborhood, the display runs through November 8.
Photography by Simon Bevan for Remodelista and Ben Pentreath.
Above: The table à deux is anchored by a tall pair of brass candlesticks with bark-colored candles; bright orange glasses add a dash of fluorescent to the setting.
Above: Autumnal vegetables from the local farmers market become part of the tableau.
Above: A crocodile's skull makes a macabre placeholder for the fox placecard. A striped napkin from Les Toiles du Soleil sits atop a classic Hunslet dinner plate.
Above: A vintage opium bottle from Pentreath friends Fox & Flyte.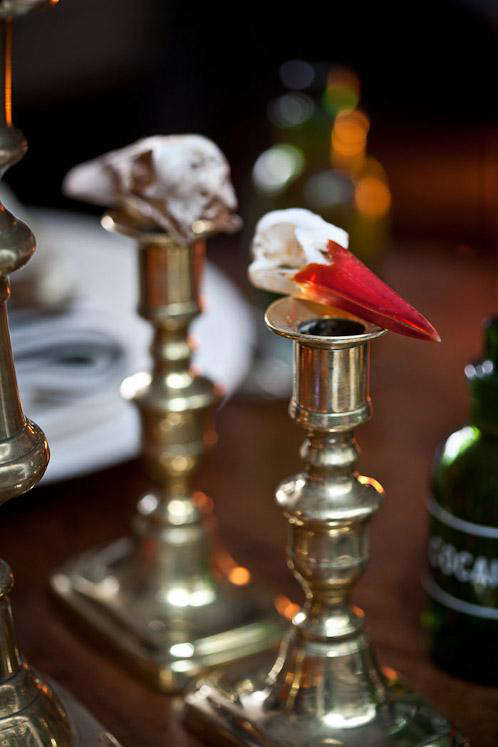 Above: Tiny bird skulls perched atop a pair of brass candlesticks.
Above: A John Derian paperweight guards a copy of Bram Stoker's Dracula, an atmospheric read to start the meal.
Above: A collection of detachable collars (from guests who refused to leave?).
Above: A display of ruby red oblong vases, mercury glass candlesticks, and pink mercury votives.
Above: The entry to Ben Pentreath's jewel-like shop, featuring an assortment of wrapping paper, seagrass square floor coverings, and iikat silk cushions on the Kelim Chaufeusses.
You need to login or register to view and manage your bookmarks.