Minimalists take note, a (mostly) white kitchen is paired-down to the basics: modern kitchen appliances and fixtures are accented with sleek hardware.
Here an appliance, like this ceiling recessed range hood from the BEST® Sorpresa™ line, inspires the design of an entire kitchen; get the look of the kitchen with our sources below.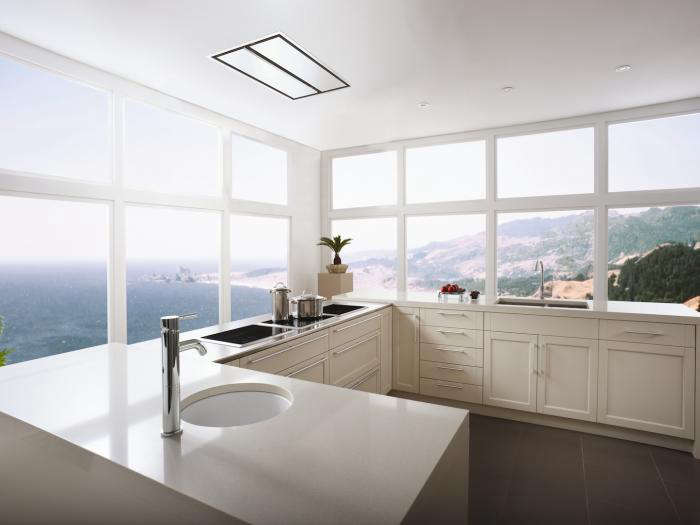 Above: Selecting understated appliances and cabinetry allows for maximum visibility of the panoramic view.
Above: Subtle and virtually out of sight, the Cirrus Range Hood was designed with open-living spaces in mind. Made with stainless steel panels that lie flat against the ceiling, they also feature LED lights and a delay off feature. Considering a new range hood? BEST offers a Sorpresa Visualizer Tool, which enables you to envision hood designs in a range of kitchen motifs.
Above: Bright white countertops made of Corian, a durable nonporous acrylic polymer that comes in over 130 colors. It can also be used for cabinet fronts and sinks.
Above: A sleek cooktop reflects the shape of the Cirrus Range Hood above: The 30 Inch Electric Cooktop is $1,299 from Electrolux.
Above: Choose a simple kitchen faucet like the Gooseneck Four Hole Kitchen Mixer with Metal Lever Handles; $1,816 from Waterworks.
Above: A mini Cycad Plant as kitchen house plant – in the UK, source the Cycad Revoluta for £22.99 from Plant Station; in the US the King Sego from Green Genes.
Above: For a clean look, choose an under-mounted kitchen sink like this Cast Iron Undercounter Kitchen Sink; prices range from $604 to $695 from Faucet Direct.
Above: The Sugatsune HK Folding Handle is ideal for when you need a flat-laying hardware pull; $21.25 at Home Decor Hardware.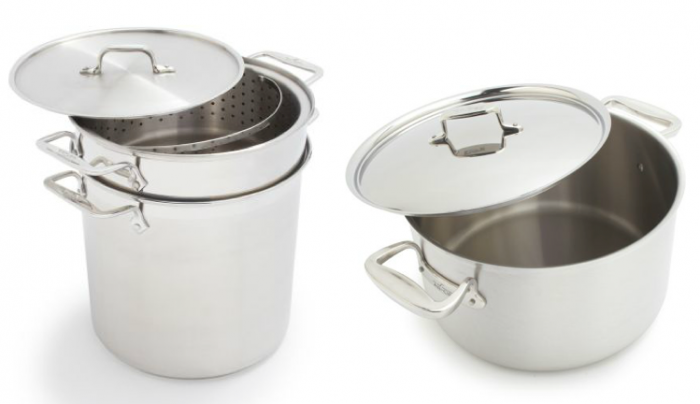 Above: The All-Clad Stainless Steel Multi Cooker (L) is $169.95 and the All-Clad Master Chef Stockpots (R) is $364 for 2 16 quart pots from Sur La Table.
(Visited 72 times, 1 visits today)