This content was produced as advertising by Remodelista in collaboration with Casper. 
As one of the fastest-growing consumer brands of all time, New York–based sleep startup Casper knows a thing or two about creating a better sleep experience. They built their business on the idea that those who prefer a softer bed and those who prefer a more supportive bed could indeed enjoy the same mattress. The brand's initial offering, the award-winning Casper mattress, is proof positive that they can.
Several years in, Casper set out to design a pillow that could make all sleepers just as happy. Their research showed that side, back, and stomach sleepers all change positions throughout the night, so each sleeper's need for a differentiated pillow is a myth that benefits large retailers. Most sleepers can enjoy the same pillow, says Casper—one perfect size really does fit all. Read on to learn about the Casper pillow.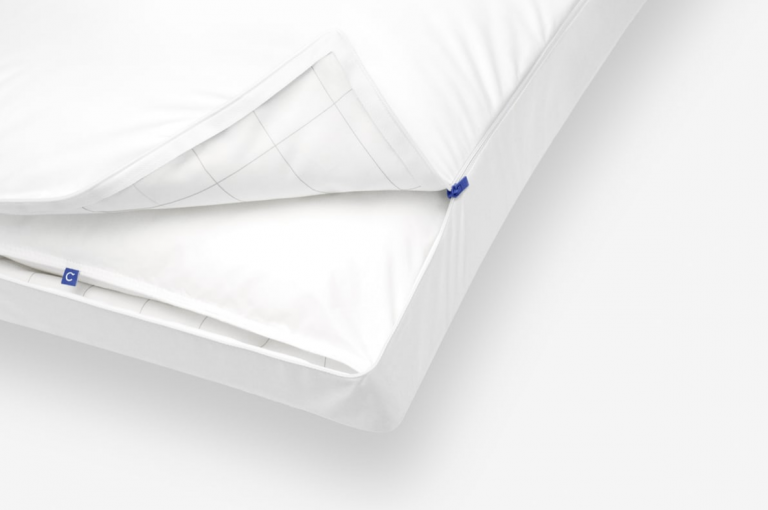 Casper spent months in research and development before releasing their pillow-within-a-pillow design: The firmer inner pillow is made of low-friction, short polyester fibers and provides support during nighttime movements, while the softer outer layer of longer fibers mimics the plushness of a feather-style pillow.
The pillow's advanced fiber composition makes it resistant to clumping, meaning the pillow can be fluffed just like down. Casper recommends fluffing your pillow daily: Just unzip the inner pillow and fluff each layer separately, then put them back together.
When researching materials, Casper diligently tested more than 100 kinds of pillow fibers to find something both soft and durable, because home health experts suggest washing your pillow every three to six months. To wash the Casper pillow, separate the layers and wash in your machine's gentle cycle, running the rinse cycle twice. Tumble dry on low with dryer or tennis balls to help fluff them back up.
Whether you're a side, stomach, or back sleeper, check out the Casper pillow for a happier night's sleep.
For more on Casper and for a Casper mattress discount code, see The Revolutionary Casper Mattress Turns Three.
You need to login or register to view and manage your bookmarks.