On a recent visit to Pot & Pantry's new location in the Mission District of San Francisco, I was taken with owner Donna Suh Wageman's collection of new and mildly used kitchenware: "It's the concept of a vintage store applied to kitchenware," she says. Pot & Pantry offers everything from kitchen linens and local food products (INNA jam and Sightglass Coffee) to Le Creuset and Calphalon cookware. With a custom staircase and shelving by Richard Hubbard of Hubbardfoss, the store feels as though you've stepped into a small Scandinavian kitchen.
Above: Pot & Pantry's new location on Guerrero at 18th Street. Photo by Lydia Chavez for Mission Local.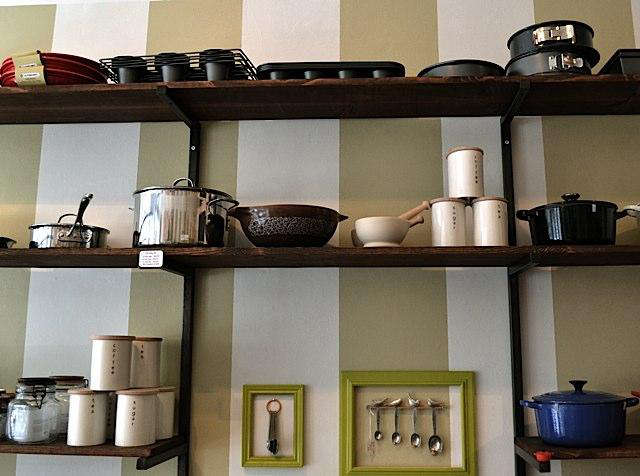 Above: Canister Trio from Wade in the UK ($50) and Mortar & Pestle set ($28).
Above: Framed antique pewter and copper measuring spoons, $96 per set.
Above: Enamel colanders are $16 each and Common Good Dish Soap (in unscented or bergamot) is $5.
Above: The stovetop-safe Japanese Slim Pot is $65; the wood-handled kettle ($59) is a favorite of Wageman's: "It reminds me of an oil can," she says.
Above: An array of textiles for the kitchen: vintage aprons are $14, Wolfum Coaster Sets are $35, and Printed Dishtowels are $11 each.
Photos by Alexa Hotz for Remodelista.
(Visited 9 times, 1 visits today)