March, one of our favorite home furnishings shops in San Francisco, has just gone through a redesign, with a new emphasis on kitchens and tabletop. The formerly moody-gray interiors have been painted bright white and outfitted with wares from notables like Ted Muehling, Christiane Perrochon, and Jasper Conran, alongside handcrafted ceramics and pieces from artisans both local and from afar. Owner Sam Hamilton was inspired by the slow food movement that permeates life in SF in her rethinking of the store; in the same vein as Egg in London and Merci in Paris, she is striving to create "an iconic experience that is contemporary but with a classic through note."
Anchoring the space are three kitchen tables, commissioned by Hamilton to give people ideas for alternatives to the traditional kitchen island. She has also installed an Aga stove in anticipation of the occasional dinners she plans to host in the store: Friday night suppers featuring Jewish food as well as Sunday dinners based on seasonal themes. Finally, Hamilton has created the label MARCH Pantry, with her own line of herbs, preserves, and olive oils, sourced from local purveyors.
A web site is in the works, but in the meantime the only way to experience March is to visit the Sacramento Street store in person. It will not disappoint.
Photography by Angie Silvy.
Above: March's steel sign was made by Berkeley designer Matt Bear (who also made the custom tables).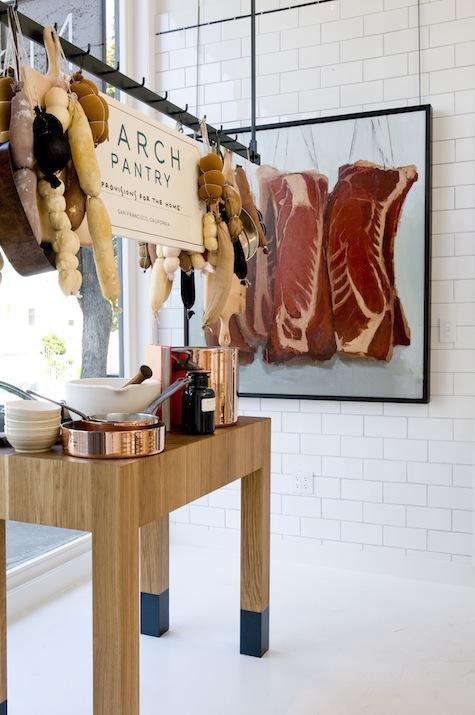 Above: Custom pot rack; $3,500, as shown. The paintings and food sculptures on display are by Carrie Mae Smith.
Above: The new table displays include a custom parson's table with turned oak legs and a Carrara marble top. The custom lights are made from acrylic and fiberglass and fabricated locally.
Above: March is an official Aga dealer, and the in-house stove will used to cook dinners in the store.
Above: The smallest of the custom tables features a chunky marble top. In the background, atop the white-painted vintage armoire, sit three 19th-century English iron pots; $475 each.
Above: A custom oak and steel table has a rail at one side for hanging utensils; price available upon request. The barstools are by Finnish designer Ilmari Tapiovaara for ICF; $6,000 for a set of three.
Above: Wares on display in large kitchen cabinets, which came from a monastery kitchen in Ghent.
Above: Ted Muehling creamer and pitcher.
Above: Fresh herbs from March Pantry, packaged in dark glass containers to maintain freshness.
Above: A collection of Hamilton's finds, including ceramic canisters made by Californian potter Victoria Morris; $265 to $325, and a double-handle cutting board from Blackcreek Mercantile & Trading Co.; $230.
Above: Limited-quantity dinnerware with a dandelion leaf design by Brickett Davda, created in honor of the 40th anniversary of Chez Panisse (MARCH hosted a celebratory dinner for Alice Waters). Dinner plate; $100, smaller plate; $69, and cereal bowl; $52.
(Visited 23 times, 1 visits today)