Shiguchi, new lodgings in Hokkaido, Japan, just opened a scant nine months ago, but its roots are much older.
The name comes from the word for traditional joinery, according to the retreat's website. "Shiguchi, or traditional timber joints, are deceptively simple but can take decades to perfect, and carpenters must not only master many differently shaped wooden joints and specialist tools but also develop an understanding of the vagaries of the wood, climate, and environment. At the heart of their expertise lies the Japanese concept of monozukuri, the dedication to making things well."
That spirit runs through the five renovated guest houses and the restaurant as well. According to its founder and owner, the artist Shouya Grigg: "Shiguchi is not a conventional hotel, nor is it a traditional ryokan. I wanted to create a place that combines impeccable art, crafts and centuries-old architecture with Niseko's extraordinary nature to inspire and reconnect us at a meaningful, personal level."
Join us for a look inside.
Photography by Shouya Grigg.
Somoza Restaurant
Fu
"The villas are named after the five universal elemental symbols: chi (earth), sui (water), ka (fire), fu (wind) and ku (void or spirit)," according to the Shiguchi site. "All five elements should be in harmony and are often reflected in architecture through, for example, a five-story pagoda or a stone stupa with a combination—composed from bottom to top—of a cube, a sphere, a pyramid, a crescent, and a flower, which together symbolize the universe."
Each of the guesthouses is a restored kominka. "'Kominka' means old house and generally refers to a distinctive style of house built of local natural materials such as wood, clay, and straw often found in rural Japan," according to Grigg. "The enormous frames are supported by thick beams and posts of oak or cypress, which fit together like a puzzle. The largely open-plan interiors are flexible, and rooms are sectioned off by sliding 'shoji' partitions. An 'engawa,' or corridor, encircles the kominka."
Ka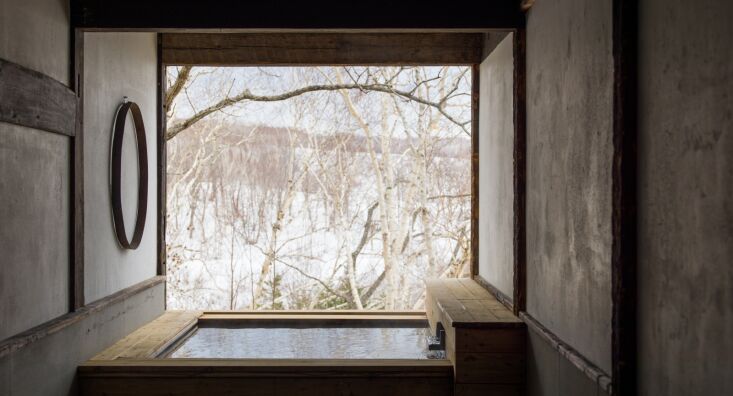 Sui
Chi
Ku
For more on the property and to book, head to Shiguchi. And for much more in Japan, see:
You need to login or register to view and manage your bookmarks.