I've been hearing talk of Shed–downtown Healdsburg's just-opened culinary emporium–for a while now. Four years in the making, the modern grange is owned by Cindy Daniels and Doug Lipton, a civic-minded couple who decamped from San Francisco to Healdsburg over 20 years ago, long before it was fashionable to farm, and established a 15-acre, biodynamic outpost. Shed is the couple's way of bringing their interests in sustainable living together under one large white metal roof, where it can be enjoyed by all.
Designed by Jensen Architects, Shed is built on the site of an old appliance store; Lipton and Daniels tried to keep the original building, but ultimately had to go with something new. The almost 10,000-square-foot barn is made of recycled steel panels with walls of glass and large garage doors that open up and connect with the street. The result is a light, transparent airy building–a modern take on the surrounding agricultural vernacular–that functions as a gathering place for the surrounding community. On offer: local food, produce, and utilitarian goods for the home and garden with a larder, poultry shop, restaurant, and coffee bar added to the mix (plus a wooden mill from Austria for grinding wheat from local farms and corn for flour, meal, and polenta), not to mention a fermentation bar
To see more, go to Shed.
Photography by Sarah Lonsdale, except where noted.
Above: SF-based Jensen Architects designed the transparent steel-clad building, which is divided into three retail sections for cooking, eating, and gardening with a cafe and coffee bar anchoring the middle of the space. Photograph via Jensen Architects.
Above: The demonstration table (designed by Deep Craft) at the front of the building is made from a salvaged slab of sycamore that sits atop two stacks of wood. Once the stacked wood dries, it will be made into one-of-a-kind pieces for the store. Replacement wood will be brought in to dry beneath the sycamore, creating a continual work in progress. Beehives from Germany and the UK are currently on display.

Above: A mix of potted flowers and produce for sale on zinc-covered tables.
Above: Scott Constable of Deep Craft designed the custom bar stools.
Above: Kitchen goods on sale including wares by local potter Kelley Farley.
Above: Daniels was inspired by the kitchen designs of Plain English and designed something similar for the cafe. Glass-paneled garage doors in the building open up to allow for cross breezes.
Above: Fresh local produce on display including vegetables from the couple's own farm.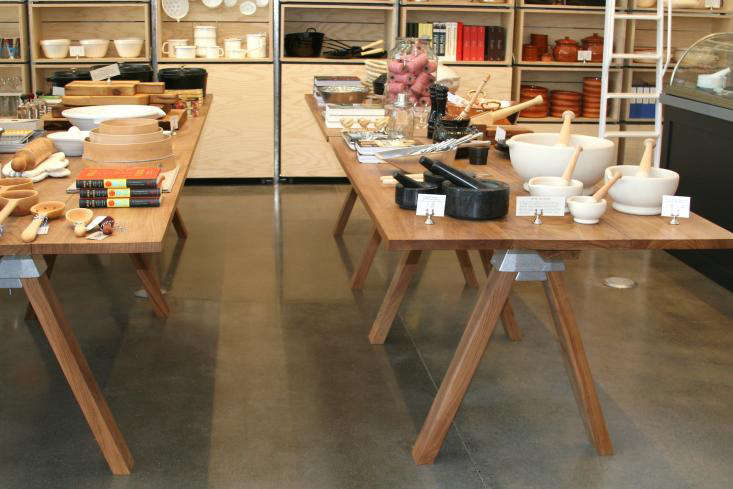 Above: The custom wood tables are made by Scott Constable of Deep Craft and can be custom ordered.
Above: A selection of traditional handmade brushes for housekeeping.
Above: The farm section offers garden tools, supplies, as well as local seeds.
Above: The fermentation bar serves kombucha on tap (possibly a first) as well as local beer and wine. SHED also offers shrubs–a drink made from vinegar syrups and water (I recommend the prickly pear).
Above: Constable designed the long community table in the cafe area from two planks of ash. Daniels had the stools painted a custom pink.
Above: Upstairs on the second floor is a large open hall devoted to community events, guest speakers, and gatherings centered on food crafts, gardening, farming, and sustainable living. The flooring is elm sourced from Evan Shively in Marin (as was much of the wood for the project).  The wooden chairs are by Scott Constable of Deep Craft.
Interesting in more modern granges? For something similar, check out Daylesford in the UK.
Explore Design Travel.
You need to login or register to view and manage your bookmarks.