Primrose Hill in North London is a neighborhood known for its clusters of modestly scaled artists' studios; one such house, built around 1873 for Frederick Barnard, an illustrator of Charles Dickens' books, was recently overhauled by London firm Sevil Peach. The client, a photographer, saw the potential despite the fact that the property had been divided into a series of "small, awkward, stuffy spaces," say the architects. "Our main goal was to transform the property back to its former glory."
Above: The designers uncovered the original oak beams and restored the sash windows, which flood the studio with light.
Above L: A worktable. Above R: Evidence that an artist is in residence.
Above: Sevil Peach kept the palette calm and serene with classic Scandinavian furniture, including a Poet Sofa by Finn Juhl.
Above: A view to the rear garden from the living area.
Above: A single long storage rail holds a kitchen's worth of utensils. (Get more ideas in Trend Alert: 13 Kitchens with Utensil Rails and Ultimate Budget Storage: 10 Kitchens with Ikea's Grundtal Rail System.)
Above: Hans Wegner PP503 Chairs surround the dining table.
Above: A Hans Wegner PP501 Chair in a sunlit hallway.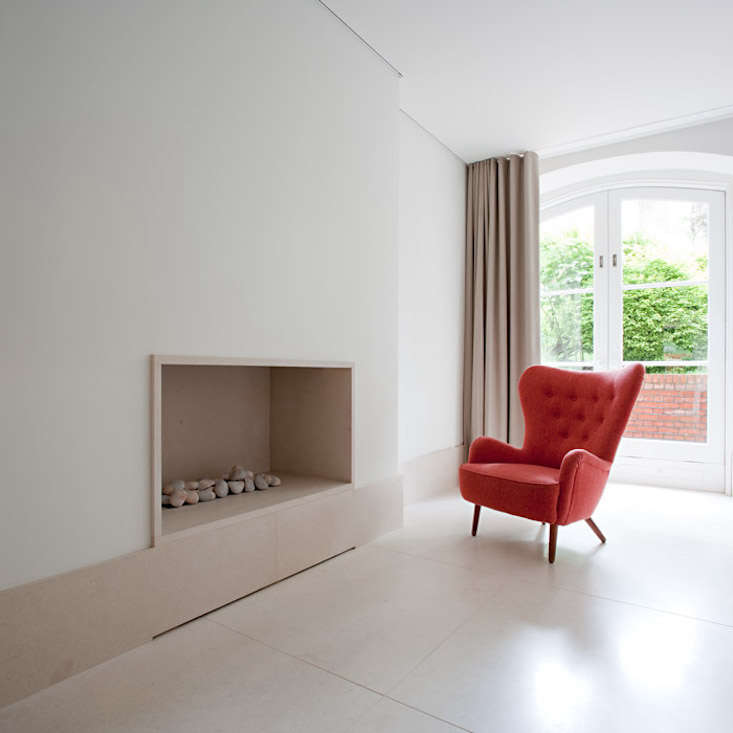 Above: A dash of pink via an Ernest Race armchair.
Above: An ofuro soaking tub and a suite of Noguchi Akari Lanterns create a Japanese spa-like feel in the lower level bedroom/bath area.
Above: Detail of the ofuro soaking tub.
Above: The spa opens directly onto the rear garden.
N.B.: This post is an update; the original story ran on March 25, 2015, as part of our Creatives at Home issue.
You need to login or register to view and manage your bookmarks.