Primrose Hill in North London is a neighborhood known for its clusters of modestly scaled artists' studios; one such house, built around 1873 for Frederick Barnard, an illustrator of Charles Dickens' books, was recently overhauled by London firm Sevil Peach. The client, a photographer, saw the potential despite the fact that the property had been divided into a series of "small, awkward, stuffy spaces," say the architects. "Our main goal was to transform the property back to its former glory."
Above: The designers uncovered the original oak beams and restored the sash windows, which flood the studio with light.
Above L: A worktable. Above R: Evidence that an artist is in residence.
Above: Sevil Peach kept the palette calm and serene with classic Scandinavian furniture, including a Poet Sofa by Finn Juhl.
Above: A view to the rear garden from the living area.
Above: A single long storage rail holds a kitchen's worth of utensils. (Get more ideas in Trend Alert: 13 Kitchens with Utensil Rails and Ultimate Budget Storage: 10 Kitchens with Ikea's Grundtal Rail System.)
Above: Hans Wegner PP503 Chairs surround the dining table.
Above: A Hans Wegner PP501 Chair in a sunlit hallway.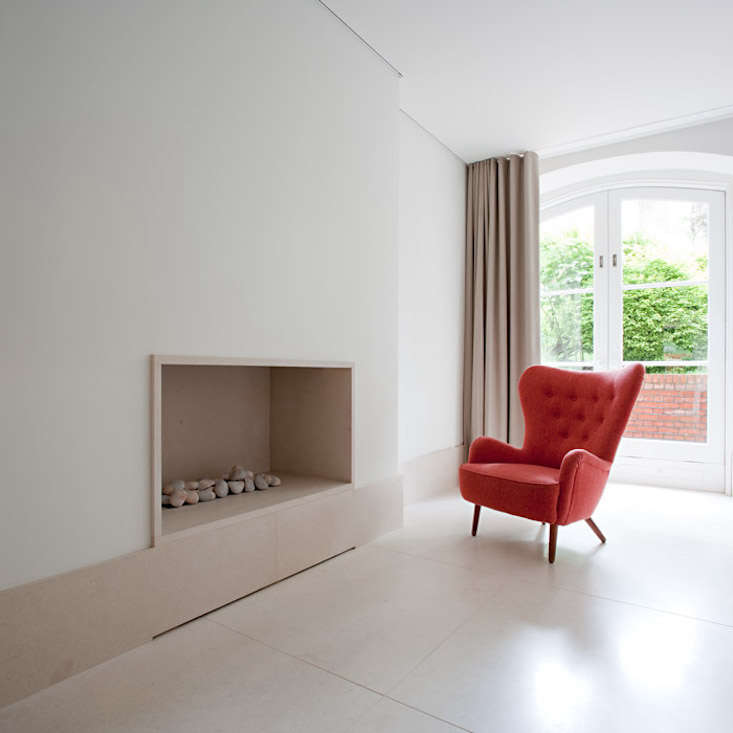 Above: A dash of pink via an Ernest Race armchair.
Above: An ofuro soaking tub and a suite of Noguchi Akari Lanterns create a Japanese spa-like feel in the lower level bedroom/bath area.
Above: Detail of the ofuro soaking tub.
Above: The spa opens directly onto the rear garden.
N.B.: This post is an update; the original story ran on March 25, 2015, as part of our Creatives at Home issue.
(Visited 184 times, 2 visits today)
Frequently asked questions
Who is Sevil Peach?
Sevil Peach is an award-winning designer who founded SevilPeach Architecture + Design in 1994. She is known for her distinctive contemporary designs that focus on the user experience.
Where is Sevil Peach's Studio located?
Sevil Peach's studio is located in the Primrose Hill neighborhood of London, United Kingdom.
What design services does SevilPeach Architecture + Design provide?
SevilPeach Architecture + Design offers architectural design, interior design, and furniture design services for residential and commercial projects.
What is the design philosophy of SevilPeach Architecture + Design?
SevilPeach Architecture + Design believes in creating designs that enhance the human experience by incorporating natural light, tactile materials, and a sense of place.
What type of projects has SevilPeach Architecture + Design worked on?
SevilPeach Architecture + Design has worked on a range of projects, including private homes, hotels, restaurants, and public spaces.
Has Sevil Peach won any awards?
Yes, Sevil Peach has won several awards for her work, including RIBA Awards, the Sunday Times British Homes Awards, and the New London Architecture Awards.
Where can I learn more about SevilPeach Architecture + Design?
You can learn more about SevilPeach Architecture + Design on their website at sevilpeach.co.uk.