Apparel industry alums Todd Barket and Carl Chiara have racked up over 30 years of experience in men's retail (Barket was creative director for the Gap and Chiara was concept director at Levi's), so it was almost inevitable that they would open a store.
Barket took the plunge in 2009, when he opened the doors to Unionmade on Sanchez Street in San Francisco. The store quickly gathered a cult following, so much so that shortly thereafter he enlisted his partner, Chiara, to help run the burgeoning business. Focused on well-made classic goods, Unionmade offers casual, back-to-basics menswear featuring iconic brands such as Filson, Alden, Woolrich, and Barbour with a liberal mix of the likes of Billy Kirk, Golden Bear, Kapital, and Beams.
We asked Barket to share a few of his sartorial insights; read on to learn his secrets (including his method for washing jeans).
Photography by Mimi Giboin for Remodelista, except where noted.
Above: Barket outside his Sanchez Street outpost. Photo via Urban Paddle.
Remodelista: What's your go-to every day jacket?
Todd Barket: An unconstructed indigo blazer from 45 RPM in Japan.
RM: What do you look for in a pair of jeans?
TB: I look for a good fit and an unwashed rigid denim. I wear the 1947 501. I think it's the most classic and looks great on everyone. We sell them at the store and I have worn them for the last 10 years. I tend to get a new pair every year and wear them until they start to fall apart.
RM: On your feet right now?
TB: I have a pair of Alden Leisure Loafers on. They are one of the most comfortable shoes I own. You can dress them up or down and they always look great.
RM: Advice for caring for jeans?
TB: I wash them every few months by filling a bathtub with warm water and soaking them. Then I air dry them.
RM: Latest finds for Unionmade?
TB: We just got back from a buying trip to Paris and NYC for fall; we are most excited about the line Officine Generale. It's designed by Pierre Maheo in Paris. The styling is effortless and his fabrications are next level. Very luxurious. We will have the line for spring and we love the way it evolves for fall.
Above: Unionmade's Marin County Mart Store features a polished concrete floor and a wood-clad ceiling.
Above: In addition to clothing, Unionmade stores feature a selection of lifestyle goods, such as the Tivoli radio shown above.
Above: Unionmade carries a selection of books on subjects ranging from design to cooking as well as a selection of hard-to-find magazines.
Above: Shoe offerings at Unionmade.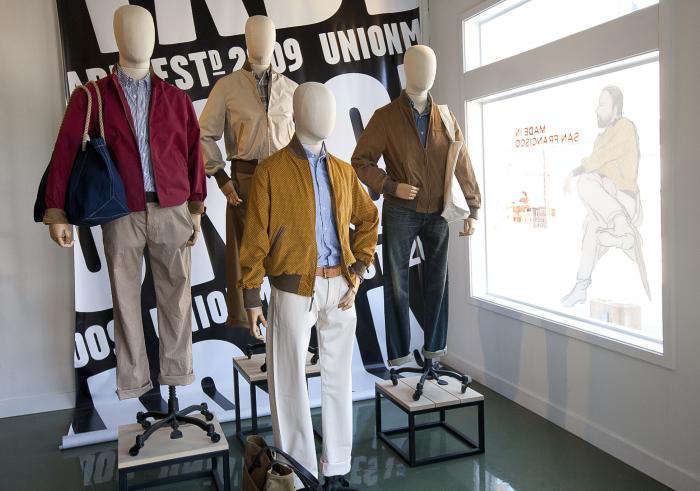 Above: Golden Bear for Unionmade jackets on display matched with Gitman Vintage shirts and a mix of Levis and Unis chinos at the Unionmade outpost in Larkspur.
Above: A range of leather accessories displayed on ceramic platters from Heath. Chiara and Barket have merchandising down to a science and understand the art of good display.
Above: A pair of 1947 501 Levi's Vintage Clothing; $275 from Unionmade.
For more, visit Unionmade (there are two more outposts, one at Brentwood Country Mart in Santa Monica and the other at Marin Country Mart in Larkspur). Women's offerings can be found at their latest venture, Mill Mercantile. Read more of our Style Counsel posts.
You need to login or register to view and manage your bookmarks.