Discovered via Pinterest: Sågverket Möten Rum & Kök. Translation: "Sawmill Meeting Room & Kitchen," a waterside hostel and retreat center with uncommon style.
Situated in northern Sweden's High Coast region, Sågverket occupies four buildings on the grounds of a historic sawmill that many years ago was converted into a nature retreat. More recently, it was given a facelift by visionary owner, David Fahlén, who transformed the spread into a showcase of rustic-luxe Scandi design—cafe-restaurant, gardens, sauna, and wood-fired hot tub included. Just this week, the property changed hands again—it had been listed by Fantastic Frank, who no doubt had a hand in some of the styling. We're assured the new keepers know a good thing and plan to keep the Sawmill buzzing.
Photography via David Fahlén for Sågverket.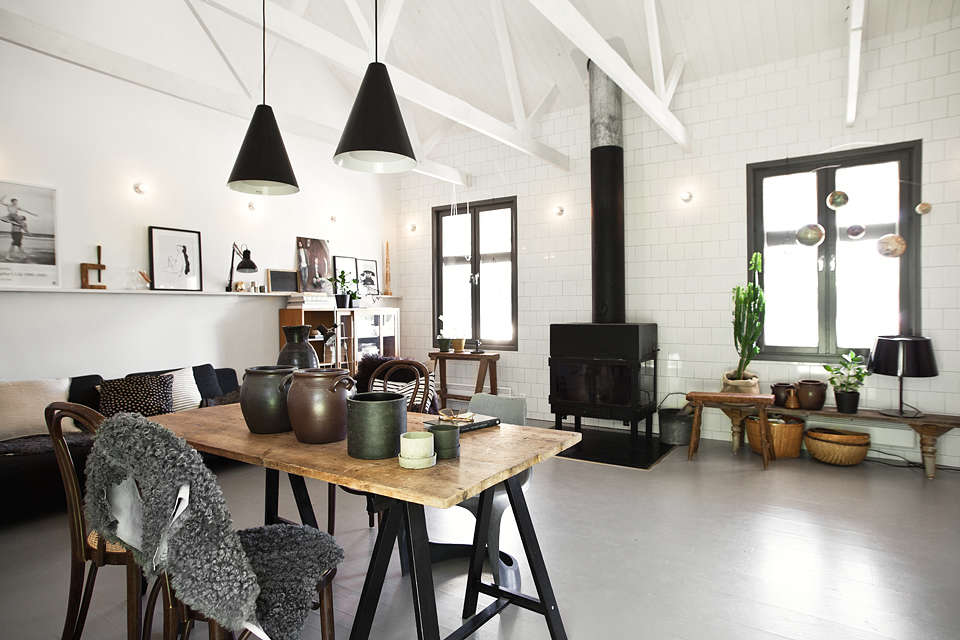 Above: During the cold months, Sågverket operates as a meeting center with a schedule of retreats. From May 15 through August, it morphs into a low-key family hostel. Fahlén furnished the rooms himself with a high-low mix of finds, many of them from yard sales and Ikea.
Above: Tiled walls, pale wood, and dark accents at one end of the restaurant.
Above: Black pendants and Nelson Sepulveda's Z1 Lantern (available from Home Stories in Brooklyn) in the tall-ceilinged dining room. The communal table was built by a local carpenter.
Above L: Details worth copying: Outsize tiles in an offset pattern and a utensil rail (with wicker carpet beater). Above R: Labware vases.
Above: A well-designed kitchen in an apartment for staff or guests.
Above: There are 15 guest rooms in total, no two alike, and all with shared baths. There's no TV (but there is Wi-Fi), and kids and well-behaved pets are welcome.
Above: No hogging the blanket: In the Swedish style, double beds have two sets of covers. Fahlén says he decorated the bedrooms very simply: "The only purpose is for you to rest in a beautiful setting and get a good night's sleep."
Above: As is fitting for a former sawmill, there's a wood shop.
Above: The bright open space upstairs from the restaurant is alternatively put to use as an art galley, conference room, party spot, and yoga studio.
Above: The red shingled main house dates back to 1910. Built with wood from the sawmill, it served until 1933 as the manager's house.
Above: Follow the birch trees to the water. The property is situated on the Ångermanälven, a river that runs to the sea (Hemsön island visible on the other side is a ferry ride away). For more details, go to Sågverket.
Another idyllic place to stay in Sweden during the summer? See Grinda Wardshus in the Heart of the Archipelago. And in Stockholm, consider the Ett Hem.
You need to login or register to view and manage your bookmarks.