"Drink well" is the motto at Super Whatnot, a popular watering hole in Brisbane, Australia, set in a former loading dock and storage area. The establishment fronts a fully operational service alley and takes its aesthetic cues straight from the street. Come slip in for an inspiring lesson in using what you've got. 
Photography by Alicia Taylor. 
Above: Super Whatnot owner, entrepreneur Simon Martin, came to architect Angus Munro of Brisbane's Marc & Co with a shoestring budget and asked him to keep the space largely as found. Munro complied by retaining and reusing existing finishes. And the new materials that he introduced are either salvaged or left raw. An example is the pivot-wheel window, shown here. Fabricated from unfinished, recycled steel, it fronts the bar's entry lounge.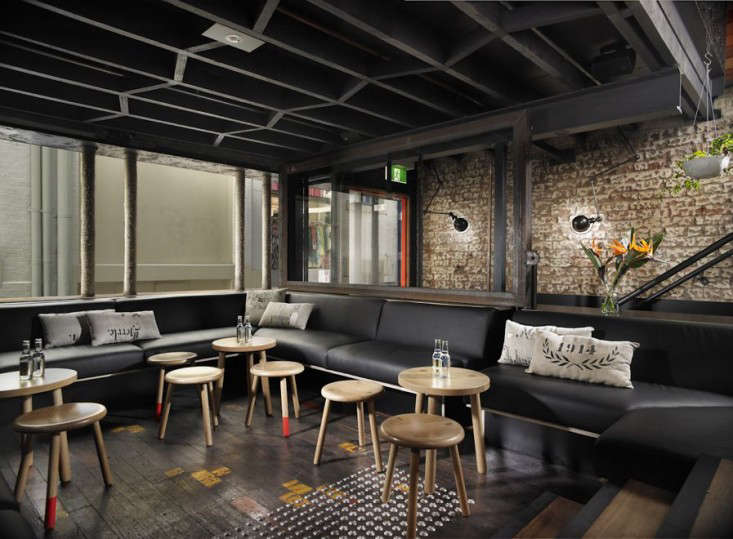 Above: When the steel door is in its open position, the lounge becomes an extension of the street.
Above: Built-in banquette seating wraps around the sunken bar area. Hanging greenery softens the industrial look.
Above: Three-legged stools do double duty as side tables and additional seating.
Above: White penny-round tiles face the bar, creating a fresh and interesting contrast to the existing brick walls. In 5 Favorites: Penny-Round Tile Backsplashes, we show the appeal penny tile can have in the kitchen. 
Above: Bartenders' aprons hang on Muuto Coatrack Dots of different sizes. See what else this versatile hook can do in 5 Favorites: Muuto Dot Hangers Used in Unexpected Ways.
Above: There are three levels: The sunken lounge and mezzanine area are shown here. The bar is situated behind this view.
Above: Reclaimed wood panels, outdoor furniture, and potted plants lend an outdoor-deck vibe to the mezzanine.
Above: Tiling walls with black hexagonal tiles is a low-cost way to achieve a durable surface with a high visual impact. In Tile & Countertop: Basic Black Mosaic Tiles, we explore the LBD (Little Black Dress) of the bathroom.
Above: On the outside, columns are wrapped in rough-hewn rope and the Super Whatnot logo is subtly branded on the raw steel plating.
Above: Super Whatnot fronts a laneway (Aussie for "alley") and the exterior is a visual essay in urban camouflage.
Above: The bar is at 48 Burnett Lane in the middle of Brisbane's emerging city center (see map below).
If you're planning a trip to Australia–where it's high summer now–have a look at our Australia City Guides for our favorite design haunts Down Under. And, on Gardenista, visit what might be the Greenest Coffee Shop in the World.
(Visited 123 times, 1 visits today)