Unassailable wealth and stealth luxury often go hand in hand, and 19th century railroad tycoons, mining magnates, and financiers (think Guggenheims, Vanderbilts, and Morgans) were no different. Their rustic summer houses reflected principles of simplicity and harmony with nature in the great camps of the Adirondacks (this was the stealth part). The luxury? Read on and find out.
In An Elegant Wilderness, Great Camps and Grand Lodges of the Adirondacks, 1855 – 1935, Gladys Montgomery places Adirondack architecture in a historical and cultural context, describing how the members of this leisure class got back to nature in style as they pitched up for the summer with their chefs, servants, and house guests in tow.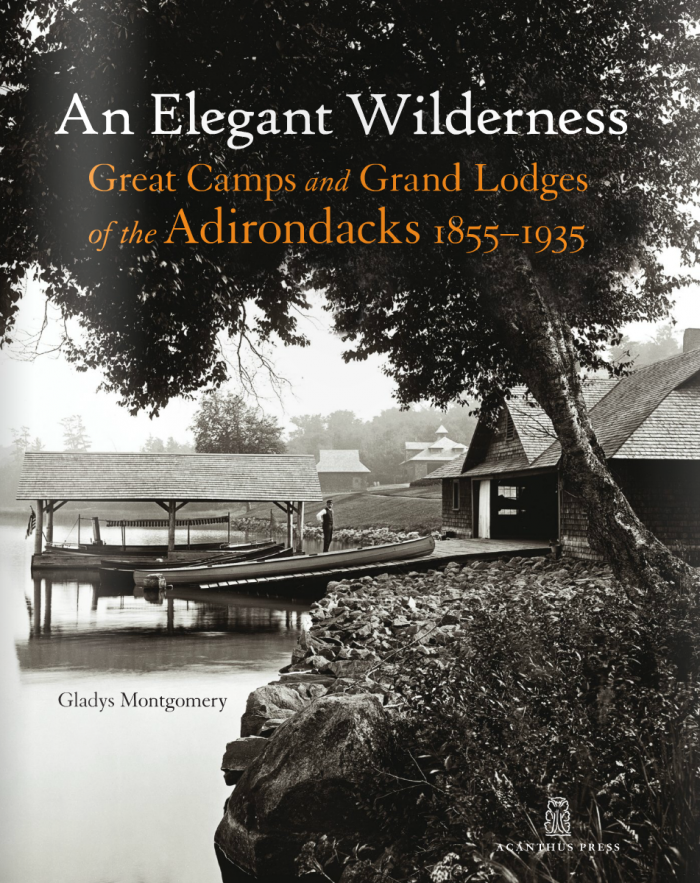 Above: An Elegant Wilderness; Great Camps and Great Lodges of the Adirondacks 1855-1935; $63.38 at Amazon.com; £41.59 at Amazon.co.uk.
Above: A sleeping tent is furnished with modern comforts; woodstove, Turkish carpets, a rustic bed with a canopy, a bureau, and a mirror.
Above: The Shingle-style Nehasane's Forest Lodge was designed by Robert Robertson for the Webb family, who arrived in the Adirondacks every summer on their yacht. Photograph by T. E. Marr.
Above: Canvas tents served as accommodation for the domestic servants at Nehasane's Forest Lodge. Photograph by T. E. Marr.
Above: Tree branches, rough-hewn stones, and animal skins reflect the wilderness that captivated the imaginations of these wealthy industrialists.
Above: The interior of the first cabin built on Upper Regis Lake. The cabin belonged to Ella Spencer Reid, the niece of Whitelaw Reid, the publisher and editor-in-chief of the New York Tribune. The materials used to cover the wall are bark sheathing, panels of straw matting and a bark clad wainscot.
N.B. Yearning for a simpler way of life? See 500 images of Rustic Simplicity in our Gallery of rooms and spaces.
You need to login or register to view and manage your bookmarks.