The winner of the Remodelista Considered Design Awards Best Amateur-Designed Office Space is Caitlin Long of San Francisco. 
Her project was chosen as a finalist by guest judge Jenni Kayne, who said: "I was drawn to this office immediately. I love the mixture of dark-painted wood walls and exposed cedar, as well as the warmth and coziness that the plaid pillows, sheepskin, and layered vintage rugs bring. I like the fact that the interior feels as if it's exactly what the exterior calls for."
Take a look at the project below and read what Long has to say about the remodel, her best secret design source, and how to warm up a concrete wall.
N.B.: This is one of a series of posts spotlighting the winners of the Remodelista Considered Design Awards. We'll be featuring one winning project each weekday for the next few weeks. Go to the
Caitlin Long's Design Statement: I converted this 100-square-foot backyard garden shed into an office space for late-night studying and early morning business calls. I paneled an existing concrete wall with cedar, installed a portable camping woodstove for coziness, and painted the remaining trim a dark gray.
Q: Where do you live?
A: I live in the Cole Valley neighborhood of San Francisco. Our house, which we built in 2007, sits on a typical 26-by-125-foot lot, and the shed, which holds the office, is at the rear of the property. The house is shingled and looks quite traditional from the outside, but it's an open loft space on the main floor with bedrooms on the two floors above.
Q: What were your practical goals for the project?
A: My goal was to turn a dank garden shed into a warm, cozy office that would be comfortable and practical for multiple users. The office decor couldn't be too fussy or precious as it gets traffic directly from the yard, yet it had to feel like a bona fide work space. Stylistically, I was shooting for creating a casual gentleman's space without it looking like a cliché.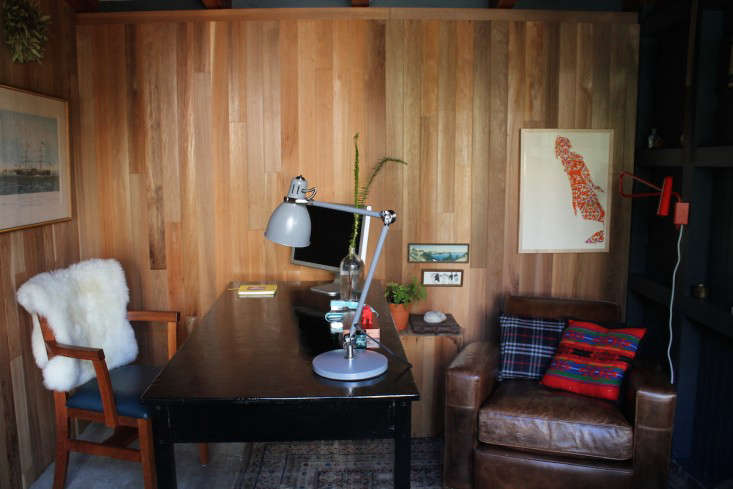 Q: What solutions did you find to your design problems?
A: First and foremost, the room needed to be warmed up. Paneling the two walls–which were concrete–with cedar instantly did that, as did painting out the rest of the trim and beadboard (including the ceiling) in a dark gray. Painting the ceiling dark, a trick much advocated by London designer Abigail Ahern, was scary for me, but it really did unify the room and create a cozy cohesiveness to the space. After that, it was all about authentically layering the room with rugs, texture, and objects to finish the look.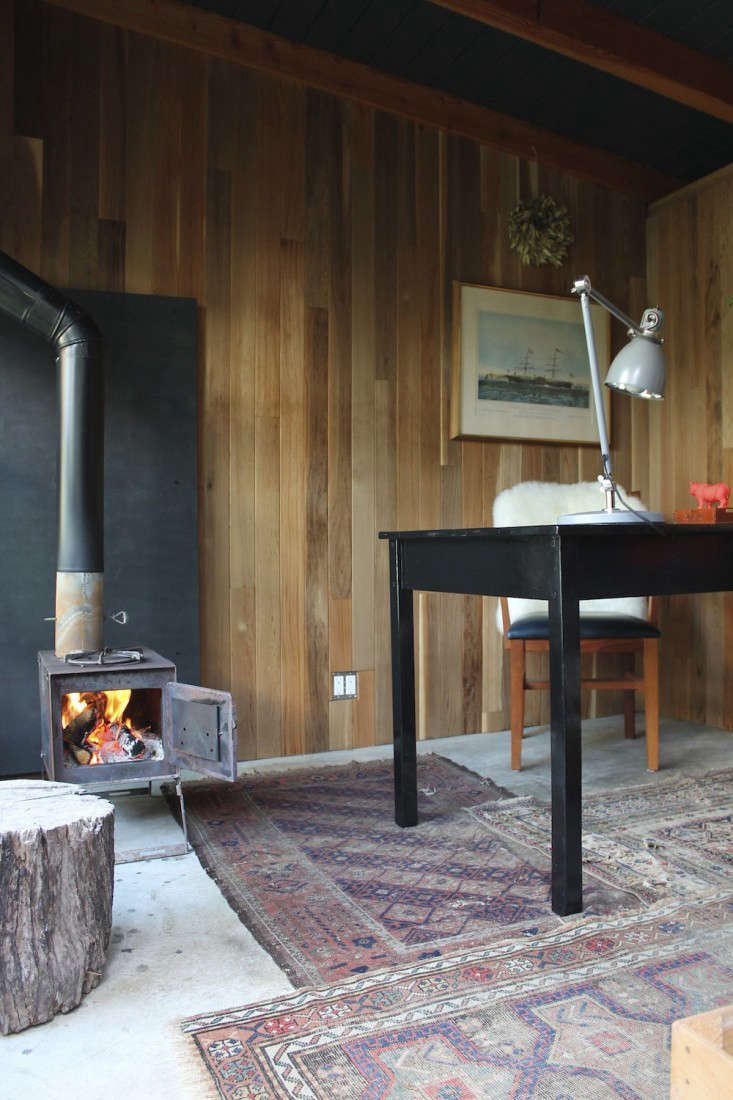 Q: What is your favorite feature of the project?
A: The wood stove! I installed the wood stove (a portable camping stove) with my older son who loves to have a little fire going when he uses the office to study at night. We have a carbon monoxide alarm for safety. Obviously, it isn't freezing here in San Francisco, so the wood stove isn't a necessity for warmth, but it sure does add magic.
Q: What is your day job?
A: Mother to two, avid DIYer, and writer of the blog The Shingled House. Previously I worked in antiques restoration and as a furniture maker/designer of one-of-a-kind pieces.
Q: What is your best secret design source?
A: Urban Ore, in Berkeley, for architectural salvage and vintage furniture. I've scored some great finds there, but you must visit often and do some real digging–and be willing to restore some precious finds.
Q: What is your favorite local shop?
A: Mollusk Surf Shop, in the Outer Sunset. The shop aesthetic is beautiful. They have great art, books, clothes, and surfboards, obviously.
Q: What projects would you tackle if you had an unlimited budget?
A: I'd put in a solar-heated pool in the backyard. It would have to be designed perfectly to work in the space we have, but it could be done.
Q: Where do you get your design inspiration?
A: I am often inspired by visual details rather than the larger picture. I notice and am influenced by patina, color, and texture, mostly in an urban setting. In terms of looking at images of interiors, I get inspired by and am most interested in spaces that reflect the authentic, individual interests of the inhabitant. Some great Internet sources for that are Freunde von Freunden, the Selby, and Orlando and the Fountain. On Instagram my current favorites are @donalddrawbertson and @douglasfriedman.
Q: Which architects or designers do you admire?
A: Mark Cunningham, Steven Volpe, Brian Paquette, Finn Juhl, and Ray and Charles Eames.
Q: What is your next project?
A: An under-the-stairs closet and storage space. I'm striping the walls and sloped ceiling with gaffer's tape and maximizing the storage function.
Congratulations to Caitlin Long! See all winners of the 2014 Remodelista Considered Design Awards here:
You need to login or register to view and manage your bookmarks.