The winner of the Remodelista Considered Design Awards Best Amateur-Designed Living/Dining Space is Theresa di Scianni of East Hampton, New York.
Di Scianni's project was chosen as a finalist by guest judge Luke Hayman, who said, "I like the way the legs of the Eames chairs and the shape of the spiral stairs and stove pipe complement the extreme angles and structure of the A-frame, while the vintage chandelier, old rugs, and quilt add texture and color in a comfortable, inviting way."
Take a look at the project and read what di Scianni has to say about the design challenges and rewards of life in an A-frame. 
N.B.: This is one of a series of posts spotlighting the winners of the Remodelista Considered Design Awards. We're featuring one winning project each weekday for the next week. Go to the 2014 Considered Design Awards to see all the entries, finalists, and winners. And have a look at the winners of the Gardenista Considered Design Awards.
Theresa di Scianni's Design Statement: I love an A-frame; as challenging as they may be, they lift your spirits high. Before moving to the Springs in the Hamptons, we lived in an A-frame in the hills of Los Angeles. My vision was to create a casual living environment that embodies California ease by introducing a bit of nature, treasures from our travels, magical fragrances, colorful textiles, and whatever else opens my heart.
Q: What were your practical goals for the project?
A: Having no straight walls, it was a challenge to keep the space open and light. To remedy that, we painted the floors white and brought in low furniture.
Q: What were the hardest lessons you learned along the way? 
A: Not doing my homework when hiring a contractor.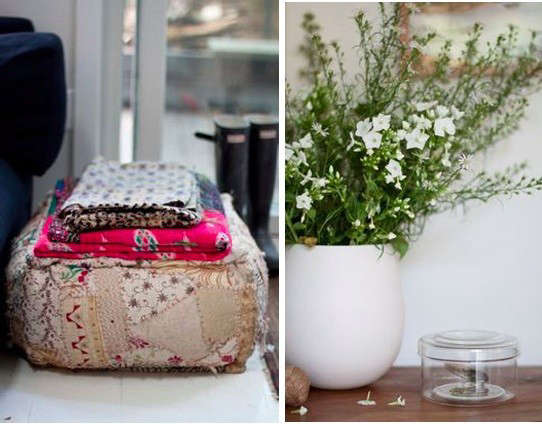 Q: Where do you get your design inspiration? 
A: My design inspiration comes from the smells and treasures of Pablo Neruda's houses in Chile, especially his coastal home in Isla Negra. As a Chilean diplomat, he traveled the world and was a master at finding collectibles at flea markets: exotic woods, colorful bottles, masks, and a million little things. He meticulously curated his houses like his poetry. Isla Negra embodied who Neruda was and what he loved. It inspired me to make my own house very personal.
Q: What is your next project?
A: I want to build an addition to our A-frame. My hope is that I can integrate a dramatic entrance, a practical mudroom, and a serene meditation area all in one space.
Q: What is your day job? 
A: Buyer and merchandiser for Matta in New York City and Sag Harbor.
Q: Which architects or designers do you admire?
A: Luis Barragan for his mastery of space, light, and color.
Q: What projects would you tackle if you had an unlimited budget? 
A: I would buy a sweet hacienda in Mexico with lots of land overlooking the water (preferably near a surf break) and build a hotelito.
Q: Favorite local shop?  
A: Of course my shop, Matta, in Sag Harbor, but I also love Love Adorned, in Amagansett. I can spend hours in there.
Q: Best secret design source?"‹ "‹ 
A: Meditation.
Congratulations to Theresa di Scianni! See all of the winners of the 2014 Remodelista Considered Design Awards here:
(Visited 92 times, 1 visits today)