The clients came to Dash Marshall with an all-too-familiar problem: "They had too much stuff and wanted to be able to live in serenity, without being reminded of their earthly possessions on a daily basis." Marshall responded by "wrapping the apartment in an insulating layer of built-in storage where there's a place for everything." By removing hallways and replacing them with sliding partitions and extensive built-in cabinetry, Marshall completely overhauled the floor plan, making the rooms in the apartment larger. "The new configuration of the interior spaces allows the views to be multiplied and creates a new sense of depth," he says.
In the bedroom, Marshall created a rotating closet wall that enables the couple to create an instant a walk-in closet and added floor-to-ceiling curtains that hide additional storage. It all adds up to what Marshall calls "space age living." To see more of his work, go to Dash Marshall.
Photos by Elizabeth Wentling.
Above: Marshall kept the surfaces sleek and shiny to create a sense of space and lightness.
Above: The rotating closet acts as both a room divider and garment dock.
Above: The partitions can be slid open for a sense of enhanced space.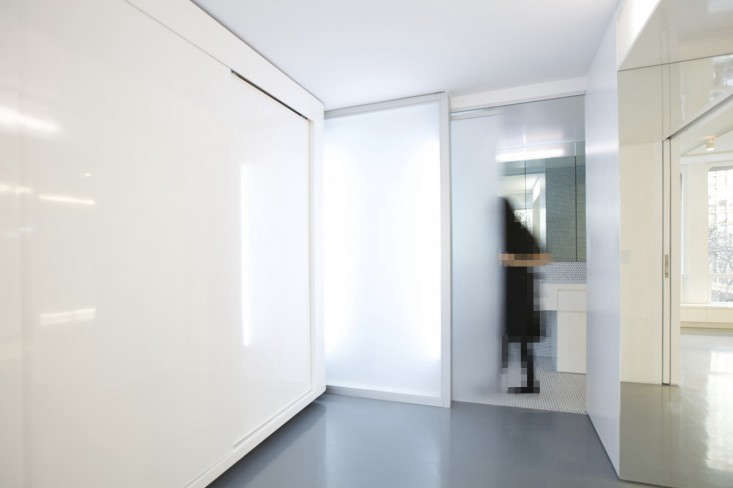 Above: The bathroom is concealed behind a panel of sliding doors.
Above: A view of the bath when closed off.
Above: A view of the storage opportunities.
Above: A view of the bedroom before the renovation.
Above: Another view of the bedroom pre-renovation.
(Visited 57 times, 1 visits today)