Embarking on a fresh start in any stage of your life is a golden opportunity to reassess your living needs. Boston-based interior design firm Bunker Workshop demonstrates how good design makes the most of a 65-square-foot kitchen in an in-law flat.
For a couple in Duxbury, Massachusetts, who were relocating to the in-law unit of their daughter's house, the primary challenge was to fit in a full kitchen, dining area, and workspace into 65 square feet of available space. Chris Greenawalt, the founding principal of Bunker Workshop, used a comment from the initial client conversation as the key driver to unlocking the puzzle. "The client mentioned how much he likes to watch his grandchildren play through the window," Greenawalt says. "I designed a desk that sits in front of the window, which can also roll out and transform into a wider dining table." And from there, everything else fell into place.
Photography by Matthew Delphenich.
Above: Watching the grandchildren play through the window was a key driver of the design solution to this project.
Above: The tiny kitchen is slotted into a corner of the small space.
Above: Having spent much time in Italy, the clients had grown accustomed to living with drying racks above the sink and were prepared to forgo a dishwasher. Much to their delight, Greenawalt was able to provide both. "We were able to squeeze in both the drying racks and a dish drawer, " Greenawalt says. "I designed some drying racks to be built by our metal fabricator, but the cost was too high for the budget. Finally, I realized a much more cost-effective (and elegant) solution with standard steel grating."
Above: A cutting board inside a drawer provides extra counter space when required
Above: A green glass backsplash adds color and reflection to an otherwise all-white kitchen area.
Above: "The Ohio Gratings Company did a wonderful job of fabricating, powder-coating, and delivering the drying racks and shelves for less than half the initial estimate," Greenawalt says.
Above: When not in use, the table sits in front of the window at the same depth as the kitchen cabinets and serves as a desk.
Above: The desk/table is rolled out in preparation for a meal.
Above: Once it's rolled out, the desk/table can be made wider than the counter depth by unlocking the additional leaves and swinging them up.
Above: The pantry and refrigerator face the cooking area.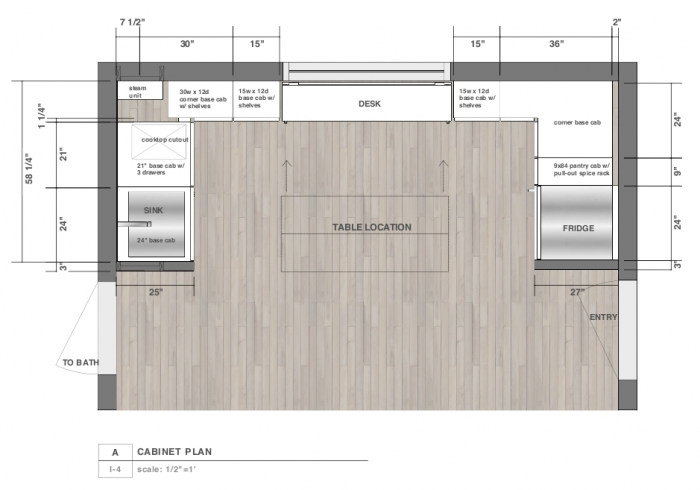 Above: The plan of the the 65-square-foot kitchen area illustrates how the desk moves to the center of the room and becomes a dining table.
N.B.: Ingenious design solutions often come from living in small spaces. For more inspiration, see 1,842 Small Living images in our Gallery of rooms and spaces.
You need to login or register to view and manage your bookmarks.