One of the oldest building materials makes a surprising reappearance in the most contemporary of settings: a sharp-angled, two-story house by CCS Architecture.
Architect Cass Calder Smith (whose firm is a member of the Remodelista Architect/Designer Directory) originally considered using concrete in a house for a family of five, located in Palo Alto. But swayed by the clients' interest in sustainability, Smith turned to rammed earth for the first floor. "We made the walls from the earth we dug out for the foundation," says Smith. "There's a little more beauty to it than concrete; it's a much warmer material to look at year around, which balances well with a really modern building." The massive earthen walls are a counterpoint to the wood-clad second story, which floats above, separated by a transparent band of thin windows.
Above: The house literally is made up of two building blocks, one of wood and the other of earth. To create the rammed earth walls, Smith consulted expert David Easton of Rammed Earth Works, based in Napa.
Above: The home has an inviting informality; the front door is to the left of a breezeway that lets you see through to the back yard.
Above: The wife of the family is Japanese, so Smith designed a genkan, or Japanese entryway, with a built-in bench and dedicated shoe storage. The striations of the rammed-earth walls (to the left) contrast with the white-oak paneling (on the right).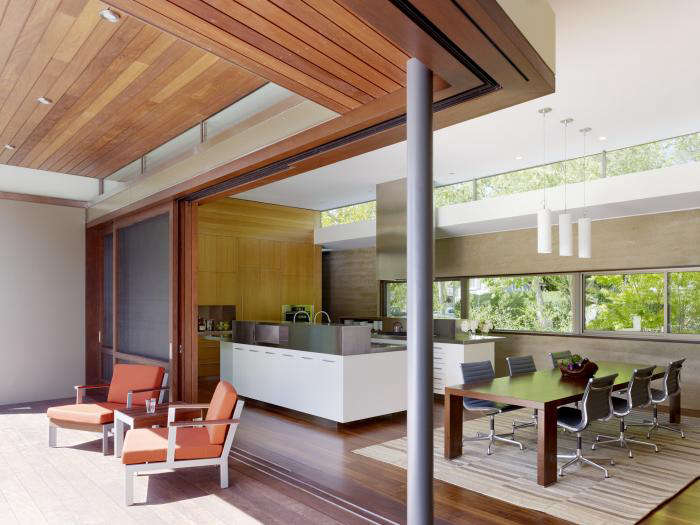 Above: The back of the U-shaped house opens up to a courtyard.
Above: The earthen walls have a stone-like appearance. While rammed earth is not as strong as concrete, it has other advantages: Less energy is used in its production, and the the thermal mass of the walls helps regulate temperature.
Above: The interior compartments of the house, like the stairwell, are like finely-crafted pieces of furniture within the large open structure.
Above: The top of the stairwell has a built-in planter. A wall of shelving holds the family's library. The long hall was designed with skylights to create "a gallery of changing light," says Smith.
Above: The master bedroom is furnished with a custom bed and bedside tables designed by CCS, Jacobsen's Swan Chair, and Tolomeo Wall Lamps by Artemide.
Above: The main bath has a family-sized tub.
Above: At night, the floating quality of the top floor is readily apparent.