Jane Cumberbatch was espousing the virtues of simple, practical, rustic minimalist living long before the word "natural" became an eco buzzword. The British style maven boasts an impressive list of design credentials and has written several excellent design books; for insights and inspiration, check out her website Pure Style.
Below: Irish linen tea towel for £7.50 from Pure Style.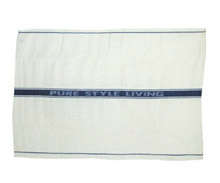 Below: Set of enamel bowls for £12 from Pure Style.
Below: Simple dining, Cumberbatch style; more images at Pure Style.
Below: Cumberbatch's classic book, Pure Style, $11.01 at Amazon
.
You need to login or register to view and manage your bookmarks.