Back when he was looking for housing for his newly rescued miniature pincher, Peter Pracilio was uninspired by the "jail-like" or "obtrusive" crates then on the market. Thus the grad student in industrial design at Pratt set about forging his own doggy digs, and a business was born: GO!PETDESIGN. 
Today the part-time product design professor can be found in his Brooklyn-based studio, which he runs with his girlfriend, Leonora. Here Peter conceives and makes by hand original accommodations and accoutrements for design-savvy pets and their people. Being a responsible pet owner himself (Peter now has three dogs, or "product testers"), Peter ensures that each GO!PET product is built to last from pet-safe, US-made, and reclaimed materials.
Above: "Attention all four-legged personnel! Your barracks have been upgraded." So writes Peter of his Field Tents, available in two styles: one made from heavy duty canvas that is hand dyed in orange or fucshia ombre, and another inspired by vintage military designs made from waxed canvas. Both are available in 26 inches, good for sheltering smaller pets (cats and toy breeds) in style, or 30 inches; $200 and $300. For purists, a plain canvas tent is also available. And to cushion your pet, Peter makes a handy Sherpa Fleece to go inside; $50.
Above: Rations-on-the-go can be delivered via GO!PET's field waterproof Field Sink, made from vintage military issue pup tents. Available in tan, olive, and navy; $28.
Above: Meri Mice are made from eco-friendly wool and all natural dyes; $22 for four.
Above: Made from recycled lumber, GO!PET's Ammo Box feeder is styled after vintage ammunitions boxes; $160.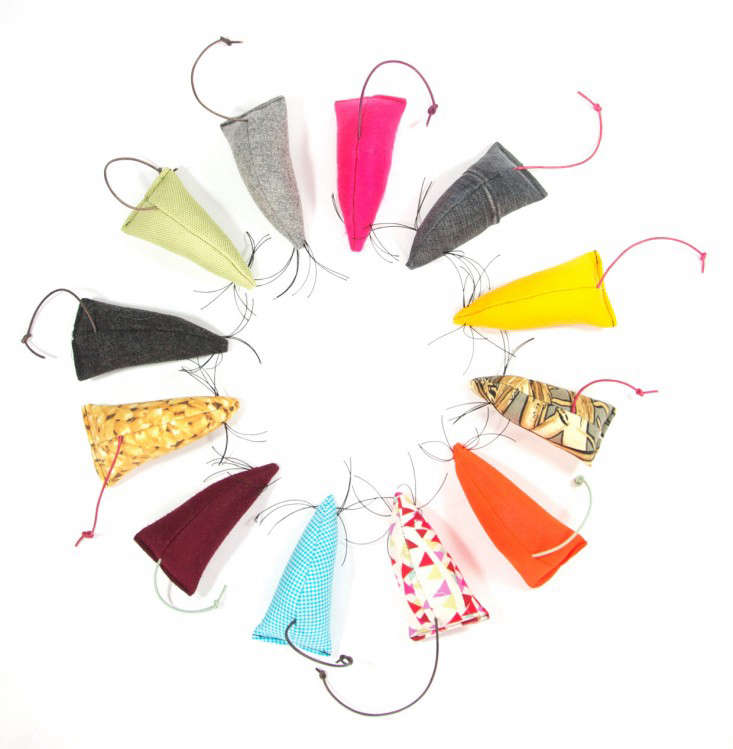 Above: Catnip never looked so good: GO!PET's Scrappy Rats are made from bits of upcycled material from NYC's fashion district; $13 for two. Also available in Pendleton Blanket.
Above: The design that launched it all: Peter's original eiCrates stand in various stages of assembly. As much art as practical pet-crate, each design is hand welded by Peter; $1,100.
Above: In the studio, an array of pet toys and other GO!PET products await packaging.
Above: At GO!PETDESIGN's product tester at work. Image by GO!PETDESIGN via Etsy, where you can read more about Peter's studio in this article.
N.B. And while we're on the subject, stylish pet-owners may wish to check out our other favorites design-savvy accessories for four-legged friends.
You need to login or register to view and manage your bookmarks.