Romance as business: Pierre, a Parisian, met Charlotte, an Australian, in Tokyo when they were teenagers. After living in Paris (where he played in a rock band and she worked in film), they moved to Melbourne and started their bespoke furniture company. The couple's influences range from Japan to Scandinavia and France; to see the full line, go to Pierre + Charlotte, or if you're in Melbourne, visit their showroom at 15 Purcell Street.
Above: The Pye Dining Table features an oval top fixed to a pedestal base. Price available on request.
Above: The Kokeshi Sideboard is made of American oak.
Above: The M15 Lounge Chair has a removable cotton cover that comes in 48 colors. 
Above: The Pacman Table Light is AU $440.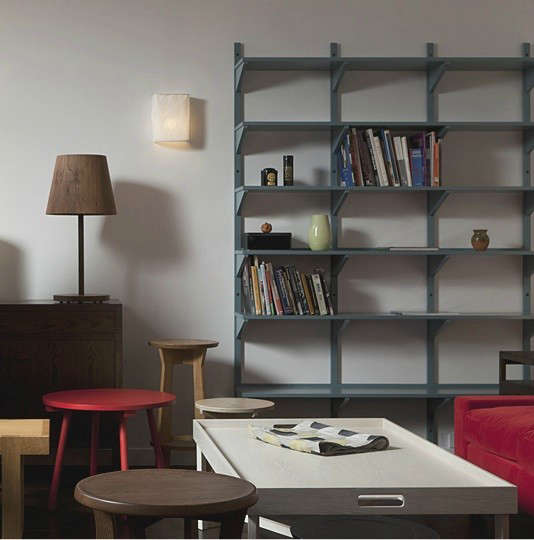 Above: A view of the shop with the rectangular Pierre + Charlotte Butler's Coffee Table in the center. Available in a range of finishes, it's shown here in bleached and limed oak.
Above: The Pacman Pendant Light is AU $440.
Above: On a trip to Japan, the couple met a master dyer in Kyoto who uses a natural fermentation process to dye cotton with indigo. Their indigo wall sconce (shown above) makes use of his fabric wrapped on a steel frame (it's also available in white linen).
Above: The wall-mounted indigo sconce is AU $330.
Looking for small furniture workshops? See our Furniture posts, and take a look at Another Country in London, and Sawkille Co. in upstate New York.
This post is an update; the original ran on August 11, 2014.
(Visited 104 times, 1 visits today)