On every thought-through holiday itinerary is a special shop, and this summer, The Merchant's Table is on ours. This handsome, double-fronted, contemporary craft store can be found on Church Street in Woodbridge, a pretty market town in east Suffolk on the banks of the River Deben. "When I bought the property—which I had loved for decades—it came with a Georgian shop at the front," explains the owner, Susanna Cook. "Over the years, it has been a saddle-makers; a clock-makers; a gun shop; an antique shop, many of which were passed through generations of families."
"Researching the history of the property, I discovered the original house dates back to the 16th century and was originally built for a merchant," Susanna says. "The plan was to hold suppers and workshops, and so The Merchant's Table was established in 2018. The Merchant is always present, but what is on the table does change."
Here's a look:
Behind the shop is Susanna's design studio, Allies Design Studio, her own home, and a beautiful walled garden. "My background is graphic design and my agency has always specialized in food branding and packaging," she explains. "Our clients are independent businesses—the best in their field—and I wanted the concept of the shop to relate to our design work. The thread was independents—independent makers, rather than mass-produced brands."
In addition to selling contemporary British crafts for the home, the shop also hosts workshops with individual makers and intimate suppers for up to 16 guests, which are often linked to Susanna's design clients or local food producers. "We work with local wine merchants and always wine pair each course," Susanna says. "Of course, the food is served off ceramics and glasses by our makers."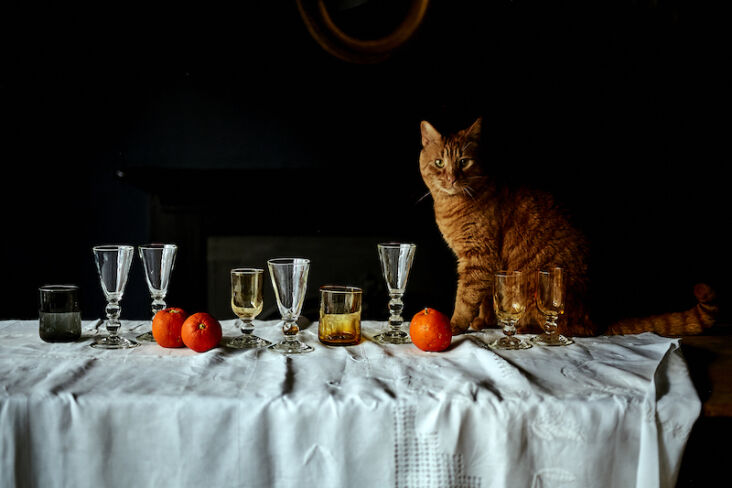 The ceramicist Steven James Will has worked with The Merchant's Table from the beginning. "We first commissioned Steven to produce a small range of coffee cups, specially shaped and sized to create the perfect espresso, cappuccino, latte," Susanna explains. He forages for local clay and ash to throw and glaze with from his former-blacksmith's studio in nearby Sudbourne Park.
Susanna also works with the willow weaver Jo Hammond. Together, they have rediscovered and recreated historic baskets once used in local industry. The Oyster Tendle, for example, is an ancient basket indigenous to the East Anglian estuaries. Woven entirely from wild hedgerow elm that Jo gathers on foot, it's a shallow frame basket once used to carry oysters picked from the estuary mud.
Lighting designer Charlotte Packe creates sculptural lighting from carefully selected materials. She has collaborated with Susanna on a sconce light that incorporates a British scallop shell. A mirrored brass backplates reflects candlelight, whilst the slightly translucent shell protects the flame and gently diffuses the light.
In all, there are around 30 British makers working with Susanna to stock The Merchant's Table. "I select makers which I feel compliment each other," Susanna says. "I look for work that demonstrates historic skills, a strong narrative, a sense of provenance and a purpose—although a few decorative pieces are here simply for the joy they bring!" She continues: "The makers' hand is always present and nothing is mass produced. I like to think that, over time, our customers will keep adding to their collection."
The Merchant's Table is open on Thursdays, Fridays and Saturdays.
You need to login or register to view and manage your bookmarks.